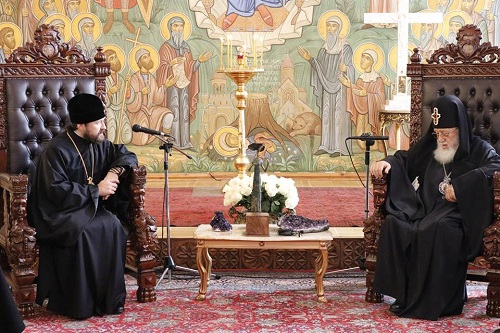 Metropolitan Hilarion with Ilia II, November 1, 2017. Photo: Georgian Orthodox Church
Georgian and Russian Orthodox Churches are considering to establish a working group on church-related affairs in Abkhazia, which is under the canonical jurisdiction of the Georgian Orthodox Church, but remains inaccessible for its clergy.
The initiative was voiced in Tbilisi on November 1 during a meeting of Ilia II, Patriarch of Georgia's Orthodox Church, with Metropolitan Hilarion (Alfeyev) of Volokolamsk.
Metropolitan Hilarion, who runs the Moscow Patriarchate's department for external church relations, invited Ilia II to Moscow to take part in the celebration of the 100th anniversary of the restoration of the Patriarchy in the Russian Church, with Ilia II responding that he would attend the anniversary if permitted by his health.
Patriarch Ilia II and Metropolitan Ilarion then briefly spoke on the church-related situation in Abkhazia, including on the establishment of a joint working group on church affairs in the region. Ilia II said the working group should consist of three persons from each of the sides, but added that the Georgian Patriarchate would "think over the idea and inform you of our response."
While Abkhazia is a canonical territory of the Georgian Orthodox Church under the name of the Tskhum-Abkhazeti Eparchy, Georgian priests had been driven out from the region, along with the rest of the Georgian population, in 1993.
In 2009, an Abkhaz priest Vissarion Aplia announced separation from the Georgian Orthodox Church and establishment of the "Abkhazian Orthodox Church," which is loyal to the Russian Orthodox Church and is backed by the region's local authorities. In 2011, a group of priests broke away from Aplia's church, naming themselves the "Holy Metropolis of Abkhazia" and seeking patronage from the Ecumenical Patriarchate of Constantinople. Neither of the groups have been formally recognized by the Moscow Patriarchate.