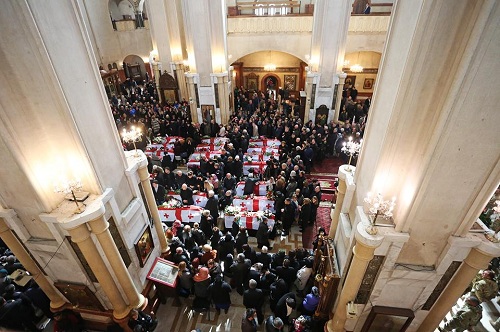 Funeral Service at the Holy Trinity Cathedral, October 17, 2017. Photo: gov.ge
Thousands of Georgians gathered at the Holy Trinity Cathedral in Tbilisi on October 17 to honor the remains of 25 persons, who had been missing since the 1992-1993 war in Abkhazia and whose bodies were recently transferred from the region.
The bodies, including those belonging to the officials of the regional government of Abkhazia, were uncovered and handed over to their families within the framework of the coordination mechanism, established under the auspices of the International Committee of the Red Cross (ICRC) in 2010.
The victims were captured and murdered during the fall of Sokhumi in 1993, among them Security Service colonel Mamia Alasania, and Sokhumi Mayor Guram Gabeskiria, who was posthumously awarded the title of a National Hero by President Giorgi Margvelashvili.
Prime Minister Giorgi Kvirikashvili, who paid tribute to the victims together with other cabinet ministers, voiced his condolences to the families and expressed gratitude to the International Committee of the Red Cross.
He also thanked the Abkhaz for their assistance in the process and spoke on the reconciliation. PM Kvirikashvili stressed that the war had been "fratricidal," and said it was "inevitable" that the Georgians, the Abkhaz and the [South] Ossetians would build "a united and strong Georgia."
The Prime Minister also noted that he nominated Mamia Alasania on the title of a National Hero and nine others for the Vakhtang Gorgasali Order of the First Grade.
President Giorgi Margvelashvili released a statement on the matter, saying that the dedication of the deceased to their homeland is exemplary for every citizen, particularly the young. "I would like to express my gratitude to everyone who contributed and spared no efforts to make this possible," he also noted, adding that through this "humane act the pain that their families have lived in for many years will be eased a little bit."
Parliamentary Chairman Irakli Kobakhidze, who also attended the funeral service, said he was paying his respect to "the heroes," who devoted their lives to their homeland. Davit Bakradze, leader of the European Georgia and the former Parliamentary Chairman, echoed Kobakhidze's words, expressing his respect to the fallen heroes and adding that "our duty towards those who sacrificed their lives will be fulfilled when we manage to return Tskhinvali and Sokhumi with peaceful, political means."
Most of the bodies have been laid to rest today at the Dighomi Cemetery with full military honors. Others will be buried by their families at other locations across the country.
The Georgian government dispatched troops to the Autonomous Republic of Abkhazia in 1992 to protect the Abkhazia section of the Russian-Georgian railway. The government troops were forced to withdraw from the region in September 1993. Reportedly, more than 12,000 people died during the 13-month long armed conflict. Over 2,400 people are still unaccounted for and around 300 000 remain displaced.