News
Authorities Remove Minaret Forcibly, Sparking Muslim Community's Protest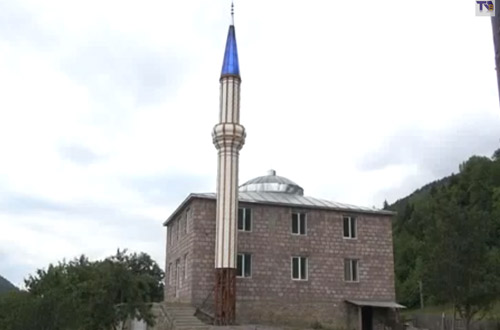 A screengrab from Akhaltsikhe-based TV station Channel 9's video showing a mosque in the village of Chela with its minaret before the latter was removed on August 26.
A clash erupted between local residents and police in the village of Chela in Samtskhe-Javakheti region on Monday as locals tried in vain to prevent authorities from removing a 24-meter long minaret from a mosque in the village.
A local newspaper Samkhretis Karibche reported on its website citing local residents that several people were beaten by the police and about dozen arrested and taken to the police station in Akhaltsikhe.
Small village of Chela, like several other nearby villages in Adigeni municipality, is populated by ethnic Georgians – some of them Muslims, who resettled there from Adjara and others are Orthodox Christians, who migrated from Racha region.
The minaret, brought in from Turkey, was assembled and attached to the mosque in Chela in July. But on August 20 a local city council (Sakrebulo) in Adigeni passed a decision according to which the minaret was constructed illegally without obtaining permission from the local authorities.
On August 26 Chela was sealed off by the police not allowing anyone to move in direction of the village and there was a heavy police presence inside the village at the mosque as the authorities were disassembling the minaret amid protest of local Muslim community, according to local media reports.
According to local residents clashes erupted with the police during which at least six locals were beaten and at least 11 men arrested; the Interior Ministry confirmed the arrest of several local residents for resisting police. Some of them were released as of late Monday.
Police left the village after the minaret was disassembled. A video footage from Samkhretis Karibche showed a truck loaded with removed two large portions of minaret heading from the village, accompanied by about dozen of police vehicles.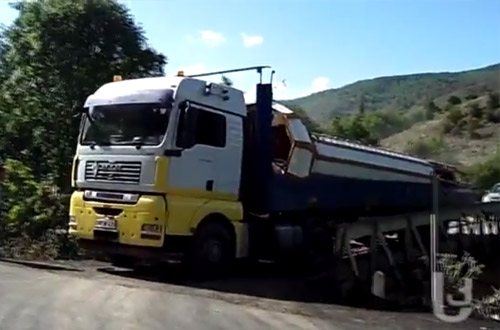 A screengrab from Samkhretis Karibche's video footage, showing a truck carrying two large portions of the minaret, removed from the mosque in the village of Chela on August 26.
After the police left, dozens of local residents from Muslim community arrived in Akhaltsikhe and continued protesting outside the regional police headquarters.
"Prayer [place] was destroyed," one protester was telling policemen, who were guarding the gate leading to the yard of the police station. "Are you going to return Abkhazia with such [moves]?" another protester was saying.
At one point protesters tried to break into the police station during which several men were arrested by the police.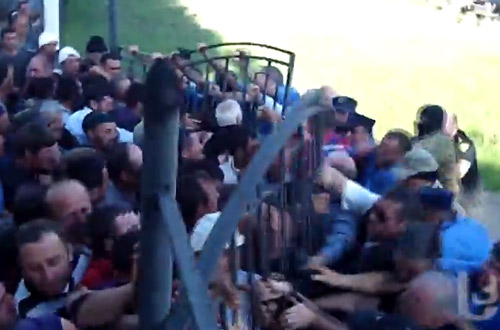 A screengrab from Samkhretis Karibche's video footage showing protesters trying to break into the regional police headquarters in Akhaltsikhe after the minaret was removed by the authorities from a mosque in the village of Chela on August 26.
Although initially it was believed that the minaret was removed pursuant to Adigeni Sakrebulo decision, which found that minaret was constructed without permission, it emerged later that the Revenue Service at the Finance Ministry was behind the move.
On Monday evening the Revenue Service released a written statement saying that the minaret was removed for the purpose of its inspection to verify if the metal construction materials, used for building of the minaret, were properly declared when cargo was imported into Georgia on July 14. The Revenue Service said it suspects that construction material was not correctly classified by importer in its declaration with a purpose of reducing amount due to be paid on import tax.
"Because weight of minaret's construction and its product code might possibly not match with declared data, it [the minaret] was disassembled on August 26 upon the decision of the Revenue Service. The Revenue Service is providing disassembling and then its restoration works," the statement reads. "The Revenue Service requests local residents and all the stakeholders not to allow politicization of this case and to allow relevant agencies to carry out comprehensive and prompt product expertise."
In a statement on August 26 the Georgian Muslims Union condemned removal of the minaret and called on PM Ivanishvili to spare no efforts "for defusing tense situation that has recently emerged in respect of Muslims."
"It is also important to have an answer on a question what was the necessity in disassembling of the minaret in such a provocative manner," Tariel Nakaidze, chairman of the Georgian Muslims Union said in the statement. "We call on the relevant state agencies to immediately undertake measures in order to restore the minaret in the village of Chela."
Since November, 2012 there have been several cases in three villages with mixed Muslim and Christian population when local Christian community confronted local Muslims and barred them to perform prayer in houses converted into mosques. Such incidents occurred in Nigvziani in western Georgian region of Guria, Tsintskaro in Kvemo Kartli region and Samtatskaro in Kakheti region.
The case of Chela is different from developments in those three villages as no conflict between local Muslim and Christian residents of Chela was reported. After the minaret was erected at the mosque in Chela in July, and before it was removed on August 26, the local newspaper Samkhretis Karibche was reporting, quoting local Christian residents of the Chela village, that they had no problems with their Muslim neighbors and were not against of building the minaret.
After the minaret was erected in Chela, a local non-governmental organization based in Adigeni, chaired by Goderdzi Kublashvili, started a campaign demanding its removal. Kublashvili, who chaired the Adigeni Sakrebulo in early 2000s, was planning a protest rally in Adigeni to demand minaret's removal, but on August 6 he told Akhaltsikhe-based Channel 9 TV that he decided to cancel the rally "to prevent provocations" and to "give the authorities reasonable timeframe to resolve the issue." Signatures of citizens were reportedly also collected requesting minaret's removal, but locals in Chela were telling SKnews that they were not aware who was behind the campaign and that they were not joining it.
This post is also available in: ქართული (Georgian) Русский (Russian)