News
New Supreme Court Chair Takes Office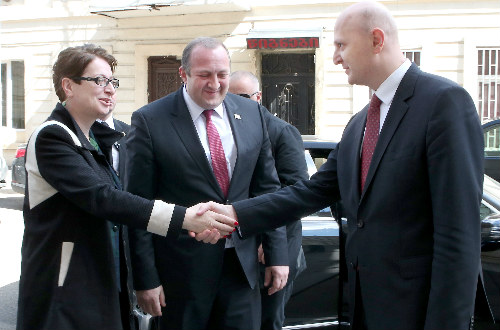 New chairperson of the Supreme Court Nino Gvenetadze (left) shakes hands with her predecessor Kote Kublashvili (right) in presence of President Giorgi Margvelashvili (center) outside the Supreme Court building in Tbilisi, March 23, 2015. Photo: Supreme Court press office
President Giorgi Margvelashvili presented on March 23 to judges and members of the High Council of Justice new chairperson of the Supreme Court, Nino Gvenetadze, whom the Parliament confirmed on the post for a ten-year term last week, replacing Kote Kublashvili.
"I believe that today we are taking another firm step to establish fair judiciary, which has no obligation to take account politicians' interests," President Margvelashvili said at an event held in the Supreme Court building on March 23.
President Margvelashvili, who nominated Gvenetadze after a month-long selection process, said that before the confirmation, unlike her predecessors, she went through a thorough process of hearings and scrutiny by the media, lawmakers and the public. In his speech the President stressed that the entire process was completely transparent, "unfolding in front of public eyes."
He also stressed the importance of "institutional legacy" and thanked former chief justice Kote Kublashvili, whom Gvenetadze has replaced, for attending the ceremony.
"We may have different opinions, but our homeland is the most important and this is how we strengthen its institutions," the President said. "Strengthening of institutions is very important for each of us; therefore, I want to thank batoni [a Georgian polite form of addressing a man] Kote for being here."
"One chairperson goes, another comes, but institutions remain – that's the most important," he added.
In his speech the former chairman of Supreme Court said that a lot of progress has been made in the judiciary over the past ten years, but shortcomings still remain. He wished his successor to "eradicate the remaining shortcomings in the judiciary."
Gvenetadze, who is Georgia's first ever female chief justice, served as a judge of the Supreme Court from 1999 till December, 2005 before she was sacked following judicial disciplinary commission's decision, which accused her of misconduct. Gvenetadze and several other judges, also dismissed at the time, argued that it was retaliation for their resistance to yield to pressure exerted by the authorities and then chairman of Supreme Court Kublashvili. Gvenetadze and several other judges spoke out publicly about what they called pressure on judges in November, 2005 and because of that they were dubbed by media as "rebel judges."
"The country has a real chance to have truly independent and unbiased judiciary and we should use this chance," Gvenetadze told judges present at the event on March 23, also attended by representatives of foreign diplomatic missions in Tbilisi.
"Each of you should feel yourself independent in order not to allow statements of government representatives or public misperceptions have an influence on your decisions," she added.
President Margvelashvili said that it was a "historic moment" for the judiciary – full of "challenges and huge opportunities."

"Today we have political elite both in the legislative and executive branches of the government, which stress unambiguously and firmly that the judiciary should be independent," he said.
"Depoliticization of the judiciary is a precondition for sustainability of the Georgian statehood," Margvelashvili said.
This post is also available in: ქართული (Georgian) Русский (Russian)