News
Ivanishvili Says After his Resignation Situation will Remain 'Absolutely Stable'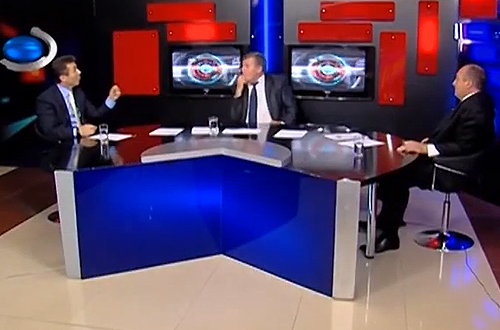 PM Ivanishvili (left) and GD presidential candidate Giorgi Margvelashvili (right) in Tbilisi-based Kavkasia TV's studio during a talk show, which was a two-hour long friendly conversation between guests and a host of the talk show, Davit Akubardia (middle), on October 24.
PM Ivanishvili said his pre-term resignation will cause any disturbance or instability and no one will be able "to turn situation upside down."
"Situation will be absolutely stable," Ivanishvili told Kavkasia TV on October 24 when asked about concerns that his pre-term resignation after the October 27 presidential election may lead to political instability. "Don't think that I am crazy or fool… Do you think that I came, sorted everything out, then I'll go and let someone destroy it? No, that's not how it works. [Situation] will be so stable that no one will be able to even shake it; no one will be able to reverse this course."
"Yes, I understand some politicians are making some kind of statements and people are getting anxious… No one will be able to turn [situation upside] down; no one will be able to turn us from Europe or to change our Euro-Atlantic course. No one should have any illusion about it. Those who are saying it or those who will try to do it will only harm themselves," he said.
"Here comes the man, who knows very well in which direction to lead the country," Ivanishvili said pointing at GD presidential candidate Giorgi Margvelashvili who was sitting in front of him in Kavkasia TV studio, "and the same is about each minister and it will be the same about [new] Prime Minister."
"And I am not going anywhere, we the society will have the power and [after the resignation] I will put my weight and my [public] confidence that I have in the service of the society… and together we will provide oversight" over the authorities, Ivanishvili added.
He also stressed on importance of high voter turnout. "I request you very much to go to elections," he appealed to supporters.
He said that although he is confident that Margvelashvili will win in the first round, it's important to have a convincing victory, which can be achieved if GD supporters turn out at polling stations in large numbers on Sunday.
Otherwise, he said, UNM presidential candidate, Davit Bakradze, may get up to 20% of votes. "You yourself will be disappointed about it," he told supporters. "And then you will see them [UNM] swaggering, saying: 'we are a real force'."
This post is also available in: ქართული (Georgian) Русский (Russian)