News
Rasmussen on Georgia's NATO Integration
Georgia is 'on the right path and making real progress';
'With consistent efforts Georgia will walk through NATO's open door';
'October presidential elections are next important test';
'Saakashvili, his successor and PM will all be remembered as builders of democracy;'
'Allies have some concerns over judicial processes against ex-govt officials';
'Georgia cannot afford even the perception of selective justice';
'I trust the Georgian authorities to uphold the rule of law';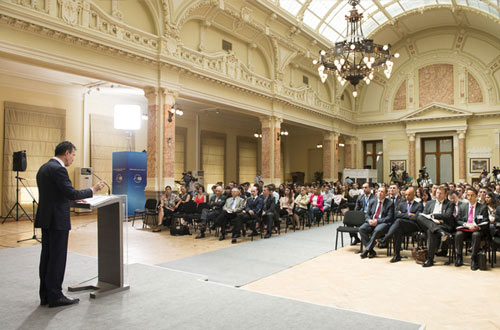 NATO Secretary General, Anders Fogh Rasmussen, speaks to an audience in the Georgian National Library in Tbilisi on June 27. Photo: NATO
NATO Secretary General, Anders Fogh Rasmussen, said on June 27 in Tbilisi that Georgia "is on the right path", which moved "a lot closer to NATO", but "the burden may still be on you now to continue to deliver the necessary reforms."
"But once you have delivered, the burden will be on us to live up to our pledge that Georgia will be a member of NATO," he said in a speech before a group of students in the National Library on the second day of the visit to Georgia by NATO's main political decision-making body North Atlantic Council (NAC).
Earlier on June 27, the NATO Secretary General and ambassadors from the NATO-member states from the North Atlantic Council met Parliamentary Chairman Davit Usupashvili and senior lawmakers from both the parliamentary minority and majority groups.
At that meeting the NATO Secretary General said that the presidential elections in October, 2013 would be the "next important test" for Georgia's NATO aspirations.
Parliament speaker Usupashvili said: "Georgia is moving with firm steps and getting closer to NATO membership, which is the choice of the Georgian people and the goal which the current government serves and the goal which the previous government was serving."
"The Georgian people and we the parliamentarians and politicians expect that there will be reciprocal steps made by NATO and its member states to demonstrate next year that integration process has deepened,"
Davit Bakradze, the UNM parliamentary minority leader, said at the same meeting that the major political groups in the country were unanimous in respect of the Euro-Atlantic integration. "It's difficult to find an issue which so many politicians will agree on, but NATO membership is an issue which all we agree on," Bakradze said.
In a speech before students in the National Library, the NATO Secretary General laid out the priority areas Georgia should pay attention and said that the country should "continue to work to ensure the highest democratic standards."
"You are on the right path, because it is the path to NATO's open door. You are making real progress. With consistent and determined efforts, you will reach your destination. And you will walk through that open door," Rasmussen said.
He said that a resolution on foreign policy and constitutional amendments, which were unanimously passed by the Parliament, was demonstrating political compromise and dialogue in the country.
"But the Allies do have some concerns, particularly regarding the judicial processes against former government officials," Rasmussen continued. "Georgia cannot afford even the perception of selective justice."
"Let me stress, corrupt or criminal officials must be prosecuted. But prosecution must never become, or be seen to be, an exercise in political revenge," he said.
"The Georgian government is committed to promoting due process, a politically independent and strong judiciary, and public confidence in the courts. And during my meeting with members of the government they all reaffirmed these basic values. So I trust the Georgian authorities to uphold the rule of law in each and every case. And I trust the Georgian people to stay actively engaged in holding your institutions of government to the highest standards," the NATO Secretary General said.
He also stressed on the need for "greater tolerance" and said that the violence that took place in Tbilisi on May 17 against anti-homophobia rally had no place in democracy.
Rasmussen, who met PM Bidzina Ivanishvili on June 26 and met President Saakashvili on June 27, said that in last October's parliamentary elections Georgia experienced the peaceful transfer of power and for this the Prime Minister "deserves congratulations" and the President "deserves credit."
"Later this year, President Saakashvili will step down. And when he does, he, his successor, and the Prime Minister will all be remembered as builders of democracy," the NATO Secretary General said.
Rasmussen again mentioned the previous and current governments when speaking about Georgia's relations with Russia and said: "Your new government has stepped up the efforts of the previous government to improve relations with Russia."
"NATO welcomes these efforts. They show political courage and a realistic understanding of what is achievable. But it takes two to tango. And Russia has to help in this regard," he said and called on Russia to reciprocate on Georgia's non-use of force commitment.
He also expressed concern over installation of fences along the South Ossetian administrative boundary line by the Russian troops and said that "such moves are contrary to international law and they are contrary to the ceasefire agreement."
"Fence-building impedes freedom of movement. It can further inflame tensions. It is not acceptable, and should be reversed," Rasmussen said.
In his speech the NATO Secretary General reiterated that Georgia's contribution to ISAF mission was not a mean of buying entry into NATO.
"I know that many Georgians are asking how many more of their brave soldiers will be lost in order to gain NATO membership. Let me stress. Your soldiers are not in Afghanistan as a means of buying entry into NATO. They are there, first and foremost, because it is in Georgia's security interests for them to be there," he said.
This post is also available in: ქართული (Georgian) Русский (Russian)