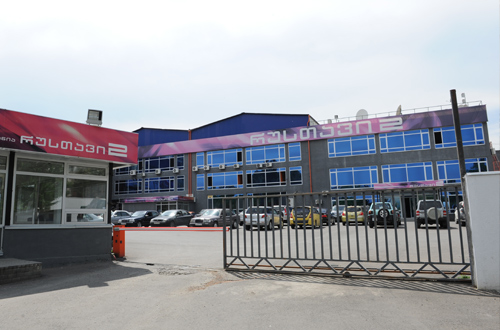 File photo of headquarters of Rustavi 2 TV in Tbilisi. Photo: Eana Korbezashvili/Civil.ge
Kibar Khalvashi, who co-owned Tbilisi-based Rustavi 2 television station in 2004-2006, has filed a lawsuit seeking to claim back his shares in the broadcaster.

The move prompted Rustavi 2 TV and some opposition parties, especially UNM, to allege that Khalvashi's bid to reclaim the broadcaster is orchestrated by the government, which, they claim, wants to gain control over the television station critical of GD ruling coalition's policies. PM Irakli Garibashvili denied allegations and said the government has nothing to do with the dispute.
91% of shares in Rustavi 2 TV, which now earns more in advertisement revenue than several of its main competitors combined, are currently owned, directly and indirectly, by Levan Karamanishvili and Giorgi Karamanishvili. It had over GEL 21.5 million in advertising revenue in the first half of 2015, more than twice as much as its main competitor Imedi TV.
Since 2004 the television station has changed hands multiple times and most of those changes in its ownership structure were intertwined with politics, creating complex web of controversial deals and multitude of former owners of which Khalvashi is not the only one who now wants to reclaim the broadcaster. As the channel was passing from one owner to another, every new shareholder was either an ally of then president Mikheil Saakashvili or an obscure offshore firm. Current owners of majority stakes in Rustavi 2 TV, Levan Karamanishvili and Giorgi Karamanishvili, are also believed to be Saakashvili's associates.
In 2004 Kibar Khalvashi, a businessman with close links to then interior minister and Saakashvili's ally Irakli Okruashvili, obtained controlling stakes in Rustavi 2 TV from three of its founders – Davit Dvali, Jarji Akimidze and the late Erosi Kitsmarishvili, each holding 30% of shares. Khalvashi claims that he paid USD 7 million, but it was disputed by the former owners years after the deal and public records show that deal was made on much lower sum.
Rustavi 2 TV, which was co-founded by Kitsmarishvili in 1994, played an important role in the 2003 Rose Revolution, which brought Saakashvili into power. It gave Kitsmarishvili political influence, exerted by him from behind the scenes. But he was then sidelined, apparently after falling out with then PM Zurab Zhvania, who died in February, 2005.
In November 2008, after going into opposition against Saakashvili, Kitsmarishvili claimed that in 2004 he was forced by the authorities to give up his shares in the Rustavi 2 TV in favor of Khalvashi. Two other former co-owners, Dvali and Akimidze, filed a complaint with the prosecutor's office after the change of government in late 2012, seeking to reclaim ownership of the channel and claiming that they were forced by the previous authorities to give up their shares in 2004; they were also on bad terms with Kitsmarishvili. The latter died last summer; he was found dead in his car with a single gunshot wound in the head. Investigators believe it was a suicide, but Kitsmarishvili's relatives dispute the findings.
Khalvashi held shares in Rustavi 2 TV as long as Okruashvili remained Saakashvili's ally. On November 20, 2006 it was announced that the broadcaster changed hands; it came just few days after Okruashvili quit the government after falling out with Saakashvili. The deal, which is now disputed by Khalvashi, was finalized in December. Georgian Industrial Group, a business conglomerate affiliated to then ruling party UNM lawmaker Davit Bezhuashvili, brother of then foreign minister Gela Bezhuashvili, became shareholder of the company, which was also uniting two smaller TV stations. Since then Rustavi 2 TV changed hands for several more times; as a result there were several other owners before current holders of majority stakes Levan Karamanishvili and Giorgi Karamanishvili appeared in the broadcaster's ownership structure. For few days after the October, 2012 elections in which UNM was defeated by the GD ruling coalition, some of the broadcaster's shares were also held by former defense minister Davit Kezerashvili.
Khalvashi's lawyer, Paata Salia, said on August 5 that his client has been demanding in vain for years from the prosecutor's office to launch investigation into, what he says was, the case of "encroachment on property rights". The lawyer said that no progress has been made to restore his client's rights after the GD coalition came into power and as a result Khalvashi had to file a lawsuit in the court on August 4.
As an interim measure, pending verdict, the applicant also seeks freezing of shares, barring shareholders from selling their stakes in the broadcaster. The lawyer says that his client will also seek freeze of Rustavi 2 TV assets, pending the final court verdict.
Citing court order, the National Bureau of Enforcement has already frozen some of Rustavi 2 TV's assets, in particular its vehicles, meaning that the company will not be able to either sell or rent out vehicles, but otherwise can continue using them.
Nika Gvaramia, director general of the Rustavi 2 TV, says that bid by Khalvashi, whose sister Pati Khalvashi is a lawmaker from GD ruling coalition, to regain the broadcaster is in fact government's attempt to take over the channel.
Gvaramia, who held senior government posts till late 2009 when Saakashvili was the president, said on August 5: "It is very ridiculous and cynical, when predator Kibar Khalvashi blames others for seizing [assets]."
"It is obvious that this is not Khalvashi's game, this is government's game, which is obsessed with totalitarian schizophrenia," he said. "All the previous attacks on Rustavi 2 TV have failed and now it seems that Khalvashi is their [authorities] last remaining 'trump card' which they will try to play, but it will also fail and Rustavi 2 TV will stand firmly in defense of its interests and in defense of the Georgian democracy."
He said that Khalvashi has "zero chances" of winning legal battle against current owners. Gvaramia also suggested that court's ruling to freeze shares would not change existing situation as minority shareholder is already "blocking" any potential deal.
9% of shares in Rustavi 2 TV are currently held by Nino Nizharadze, who inherited these shares from her husband Gogi Gegeshidze, who died in March, 2014. Gvaramia has claimed that Nizharadze is now under the government's influence, blocking any deal related to sale of shares and by doing so she is "blocking company's economic development."
UNM opposition party has also accused the government of being behind Khalvashi's bid.
"Campaign against Rustavi 2 TV will have the boomerang effect for the government, and will have grave consequences for the government," UNM parliamentary minority leader, Davit Bakradze, said.
"The government has waged battle against Rustavi 2 and free media… This is a challenge for the entire society. The government and [ex-PM Bidzina] Ivanishvili will lose this battle," UNM MP Sergo Ratiani said.
The government has denied any involvement in the case.
"The most important for us is to support development of free media and I think that everyone has seen over the past three years that we are maximally supporting media and the media is completely free today – that would not have been the case if the government had other intentions," PM Irakli Garibashvili said on August 6.
"As far as this specific dispute is concerned, I cannot comment on that other than to note that as a citizen and as a prime minister, I am always in favor of restoration of justice, but this is a dispute between two entities and the court will decide and government's involvement in this is equal to zero," Garibashvili said.
"I have no information about this case except of what we heard that Mr. Khalvashi appealed to the court to restore his violated rights and I cannot add anything but to say that I am in favor of court to resolve this dispute and let the court take final decision," he said.
Paata Salia, a lawyer for Kibar Khalvashi, has called on the political parties not use this dispute over Rustavi 2 TV ownership for "scoring political points."
"It will damage the media outlet itself. Our dispute is directed against Rustavi 2 TV's nominal owners and not against its staff. Businessman Kibar Khalvashi promises to guarantee editorial independence of the broadcaster if he reclaims it," Khalvashi's lawyer said and also called on local and international rights groups, as well as Tbilisi-based foreign diplomats to monitor the case. "Their involvement will guarantee transparency of the process and protect the legal proceedings from political meddling."
This post is also available in: ქართული (Georgian) Русский (Russian)