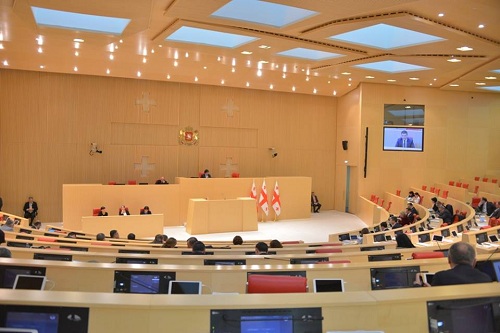 Parliament of Georgia, March 21, 2018. Photo: parliament.gov.ge
The Parliament of Georgia adopted on March 21 a bipartisan resolution condemning "gross human rights violations in the Russian-occupied Abkhazia and Tskhinvali Region," including the recent death of a Georgian citizen, Archil Tatunashvili.
The resolution, which is a combined version of drafts submitted by the ruling Georgian Dream and the opposition European Georgia parties earlier this month, denounces "the occupation of Abkhazia and Tskhinvali Region by the Russian Federation," and "steps taken towards their annexation," as well as the so called borderization process across the occupation lines.
The Parliament also condemns human rights violations in the two regions, including the "deprivation of lives" of Archil Tatunashvili, and Giga Otkhozoria, who has been killed in the area adjacent to Abkhazia in May 2016, saying the responsibility for both cases "rests entirely with the Russian Federation as the power exercising control over the occupied territories."
The resolution develops on the initiative proposed by the European Georgia, and tasks the Government with compiling the so called "Otkhozoria-Tatunashvili List," which would include persons convicted or charged with grave crimes (murder, kidnapping, torture, inhuman treatment and inflicting severe injury) committed against the citizens of Georgia in the occupied territories, as well as those who have had a part in concealing these crimes.
The resolution also calls on the Government to work with foreign partners and international organizations on imposing visa restrictions against individuals included in the list, and to ban their financial and property transactions. The European Georgia's initial proposal to deny the Georgian state-funded social benefits schemes to these individuals was dropped in the joint document.
Lawmakers from the opposition United National Movement did not participate in the voting, with MP Roman Gotsiridze saying the resolution would have "no effect," since it "narrowed" the scope of potential entrants to the sanctions list. He also criticized the fact that their proposal on working with international partners to apply sanctions on Russia for its violation of the August 12, 2008 ceasefire agreement was not reflected in the resolution text.
The Alliance of Patriots legislators skipped the vote as well, with MP Ada Marshania criticizing the resolution for its provisions, which could hamper "the possibility of direct dialogue" with Russia.
The European Georgia voiced the initiative for the so-called "Otkhozoria-Tatunashvili List" on February 23, a day after Archil Tatunashvili, a thirty-five-year old Georgian citizen, died at the hands of the Russian-backed Tskhinvali authorities.
The party presented the draft resolution on March 1. The ruling party lawmakers submitted a resolution text of their own a day later, on March 2. Two week-long political consultations between majority and opposition lawmakers ended on March 16, with ruling party MPs agreeing to include the so called "Otkhozoria-Tatunashvili List" in the resolution text.