News
Estonian President Visits Georgia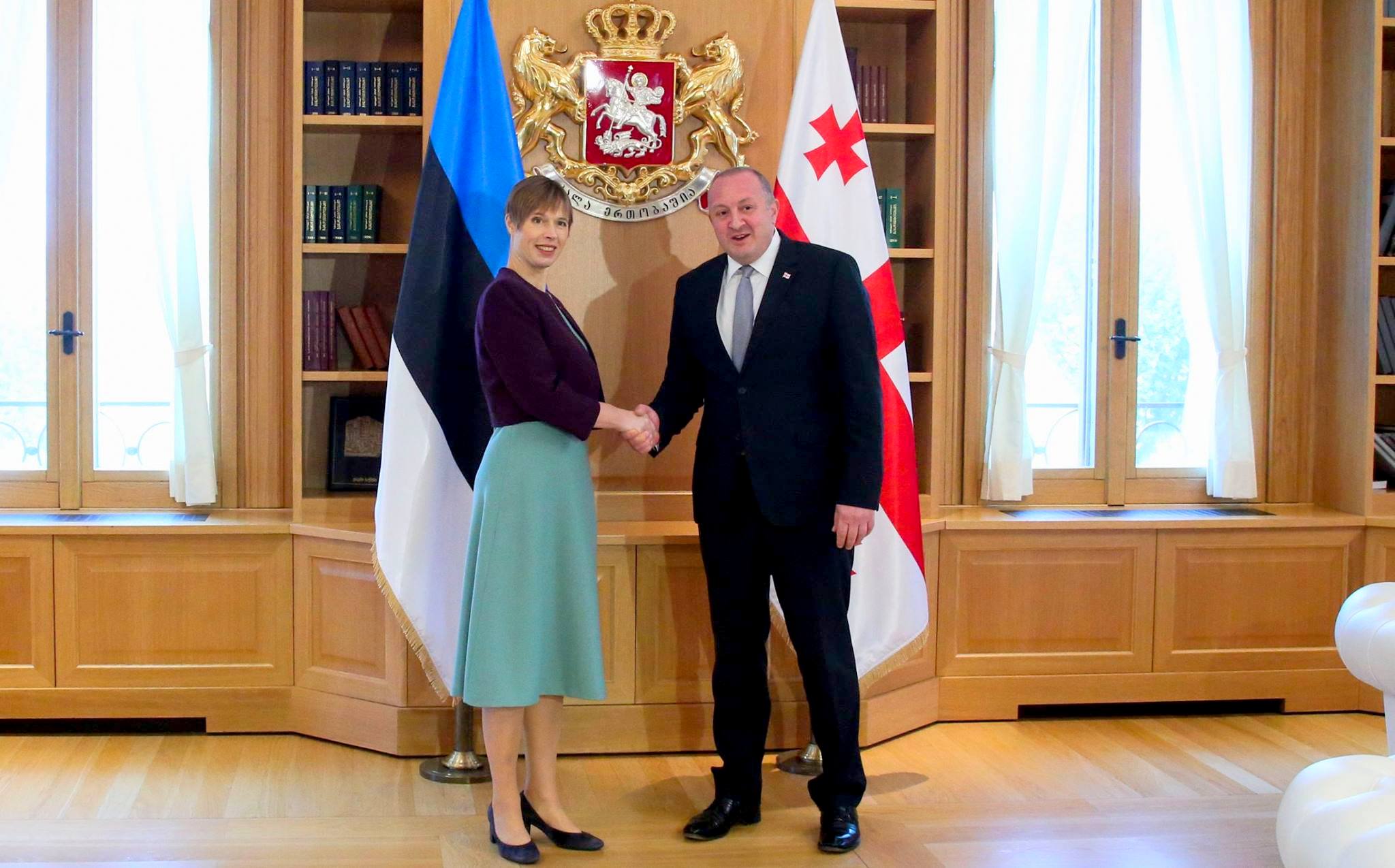 Kersti Kaljulaid and Giorgi Margvelashvili. Photo: president.gov.ge
Estonian President Kersti Kaljulaid, who is paying a three-day state visit to Georgia on October 31-November 2, held talks with Georgian President, Prime Minister and Parliamentary Chairman.
Accompanying President Kaljulaid are Minister of Economy and Infrastructure Kadri Simson, Minister of Culture Indrek Saar, Chairman of the Riigikogu (Estonian Parliament) Committee of Foreign Affairs Marko Mihkelson, member of the Committee of European Affairs Kalle Palling, Commander of the Estonian Defense Forces Riho Terras, and Rector of University of Tartu Volli Kalm.
A business delegation of 33 members, led by Chairman of the Management Board of Estonian Chamber of Commerce and Industry, Toomas Luman, has also come to Georgia, with the Georgian-Estonian business forum taking place on November 1.
In a meeting with President Giorgi Margvelashvili on October 31, President Kaljulaid reiterated her nation's support for the territorial integrity of Georgia and its efforts to join the European Union and NATO. She said Georgia was expected to continue down the road of democratic freedoms and values, adding that "it is a bit complicated to achieve this in a situation where a fifth of a country is occupied."
The President of Estonia stressed that Russia's military attacks against Georgia in 2008 and against Ukraine in 2014 "were not just attacks on the futures of two countries," but "against the value-based security architecture in general." President Kaljulaid called for continued international support for the nations targeted by the Russian aggression, saying that "international community must not grow tired and take this as a done deal."
Margvelashvili called Estonia "a very serious supporter of Georgia's European and Euro-Atlantic integration," which also supports Georgia regarding "the matters of our territorial integrity, our sovereignty, non-recognition of the occupation and return of displaced persons."
The two presidents signed a joint declaration, highlighting traditional ties between Georgia and Estonia, noting the 25th anniversary of establishment of diplomatic relations between the two countries, and stressing Estonia's continued support for Georgia's European and Euro-Atlantic integration, as well as its territorial integrity and sovereignty.
Margvelashvili and Kaljulaid also agreed to coordinate their preparation for the future NATO and Eastern Partnership summits. The Georgian President invited his Estonian counterpart to participate in Georgian Independence Day celebration on May 26, 2018.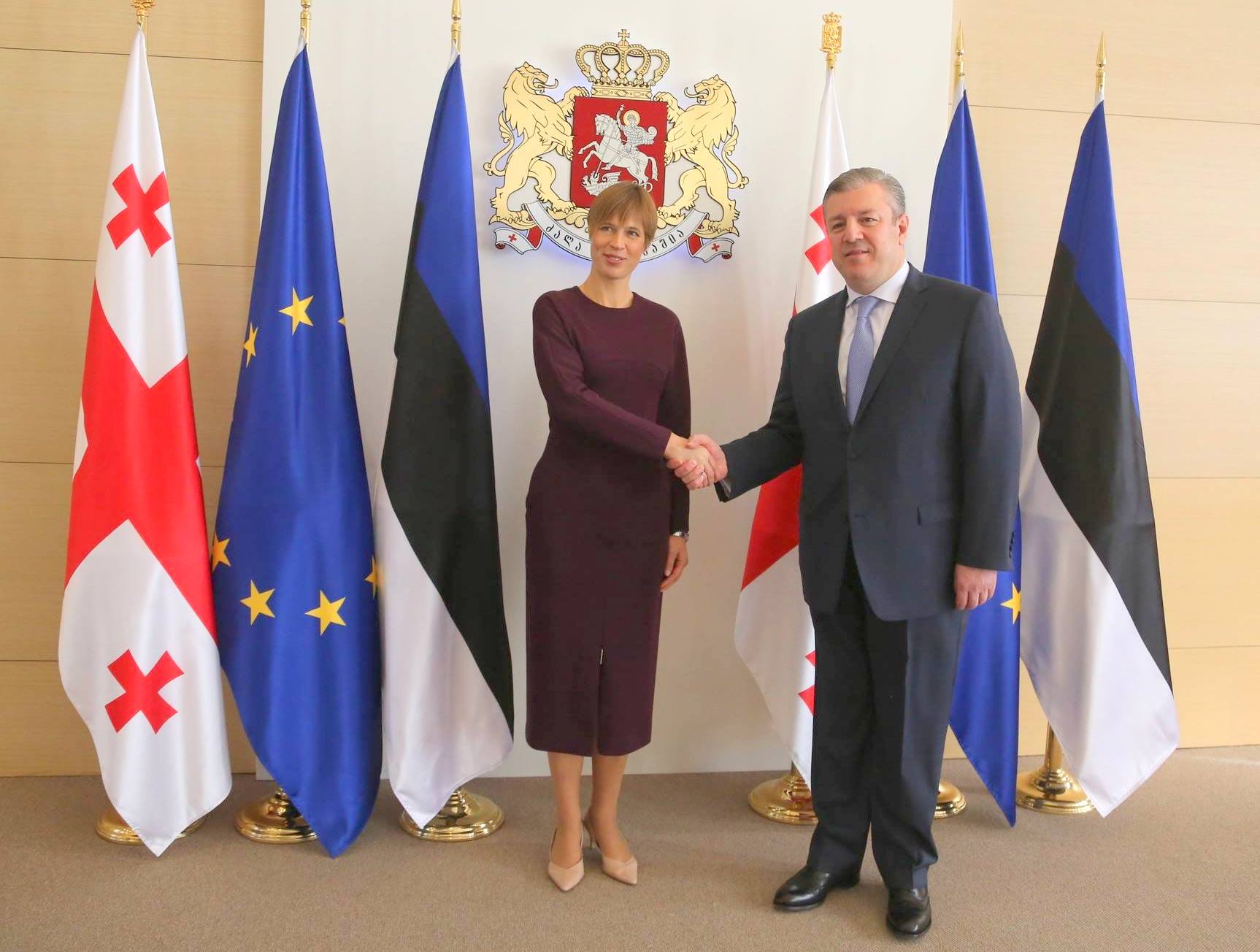 Kersti Kaljulaid and Giorgi Kvirikashvili. Photo: gov.ge
Political, economic and trade relations between the two states were discussed in President Kaljulaid's meeting with Georgian Prime Minister Giorgi Kvirikashvili, held on November 1. Kvirikashvili spoke about positive investment environment in Georgia and noted that "Estonia, as one of the contributor-states, may freely share the success achieved by Georgia over the last few years."
The two leaders also discussed the Eastern Partnership summit that will be held in November, and the situation in Georgia's two occupied regions.
Also on November 1, the Estonian President met with Georgian Parliamentary Chairman Irakli Kobakhidze. President Kaljulaid pledged to continue providing Georgia with active diplomatic support in all international formats, while Kobakhidze stressed particular importance for Georgia of close cooperation with Estonia.
On November 2 – the final day of the visit – the President of Estonia will visit the Tskhinvali Region/South Ossetia occupation line in village Khurvaleti. She will also travel to Kutaisi, where she is scheduled to give a public speech at the local university.