News
Mukhtarli Case: MEPs Express Concern, Urge Georgia Action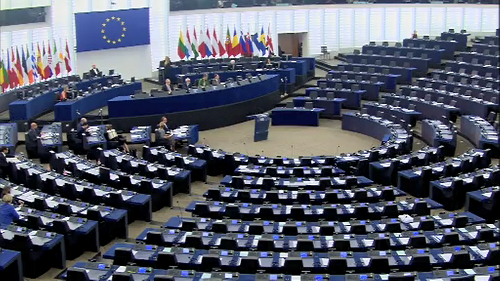 European Parliament Chamber in Strasbourg, June 15, 2017.
The European Parliament passed a resolution on the case of Afgan Mukhtarli, an Azeri journalist who went missing from the Georgian capital on May 29 and has resurfaced a day later under arrest in Baku. The vote was preceded by a 36-minute parliamentary debate, where MEPs expressed grave concern with allegations of the journalist's abduction, urging investigation into a possible complicity of the Georgian officials.
MEP from the UK Charles Tannock of the European Conservatives and Reformists (ECR) Group, who was one of the resolution's co-authors, spoke first, saying "the alleged abduction of Azerbaijani citizen Afghan Mukhtarli on Georgian soil is an extremely concerning and serious case particularly given his background as a journalist who has fled there in search of safe haven from persecution by the Azerbaijani authorities."
"Allegations that the Georgian security services may have in some way been complicit in this event is also of deep concern," MEP Tannock noted, adding that he welcomes the clause of the resolution urging the Georgian authorities to ensure "a prompt, thorough, transparent and effective" investigation into the matter.
The importance of "prompt and transparent" investigation by Georgia was also raised by another author of the resolution, Lithuanian MEP Petras Auštrevičius from the group of the Alliance of Liberals and Democrats for Europe (ALDE). He stressed Baku and Tbilisi "must be partners in investigation and we have to receive all and final information on this case", "otherwise, there are many doubts about future partnerships."
Polish MEP Anna Elżbieta Fotyga of the European Conservatives and Reformists group (ECR) spoke on the need of thorough investigation as well, saying Mukhtarli's "abduction allegedly by Georgian services is a serious blow to the reputation of this country." "The investigation as energetic as possible should be carried in both countries," she added.
Irish MEP Seán Kelly of the European People's Party (EPP) was critical of the Georgian authorities as well. "Afgan Mukhtarli's abduction and imprisonment is a clear violation of international law and it is crucial that Azerbaijani government be held accountable. The alleged involvement of Georgian officials in this case has also to be scrutinized in terms of respect of fundamental rights and integrity of government. Especially as he fled there and finished up in Baku," he said.
MEP from Finland Heidi Hautala of the group of the Greens/European Free Alliance calling the reported abduction "an unforeseen, an unprecedented case." "There was a reported abduction from the territory of an independent country and I fully see why President Margvelashvili of Georgia has said that this is not only the question of upholding freedom of the media but it is also about defending Georgian statehood," MEP Hautala argued.
"That's why we all have the reason to believe that Georgia is conducting a totally transparent and independent investigation into what happened. We are faced with two completely different stories on what happened and we need to get this right, because this should never happen again," she added.
The MEPs debated the request of Commissioner for European Neighborhood Policy and Enlargement Negotiations Johannes Hahn, who had, according to some MEPs, appealed to the European Parliament to defer the vote, citing his visit to Baku on June 16. The motion for resolution on posponing the vote was, however, dismissed by the majority of MEPs with 315 against and 272 in favor.
Initially there were six separate drafts of resolution tabled by major political groups in the European Parliament. But on June 14 a joint motion for a draft resolution was made by EPP, S&D, ECR, ALDE, GUE/NGL, EFDD and Verts/ALE groups.
This post is also available in: ქართული (Georgian)