News
President's Independence Day Address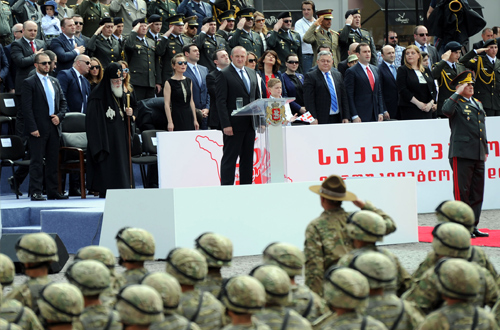 President Margvelashvili ahead of delivering his speech at the oath-taking ceremony of soldiers marking the Independence Day, May 26, 2014. Photo: InterPressNews
President Giorgi Margvelashvili used his address before newly sworn in solders on the occasion of Georgia's Independence Day on May 26 to highlight importance of providing freedoms for every single citizen.
"Independence is a cornerstone on which country's statehood is built," Margvelashvili said, adding that Georgia's independence is still "fragile" with parts of its territory remaining under "occupation" and the state not being able to protect the rights of those citizens who "live beyond the barbed wire fences" in breakaway Abkhazia and South Ossetia.
The oath-taking ceremony of 200 soldiers on Freedom Square in Tbilisi was one of the main official events marking the Independence Day, which was attended by PM Irakli Garibashvili and other government members, parliament speaker Davit Usupashvili, as well as head of the Georgian Orthodox Church, Patriarch Ilia II. Although military parade was not held, similar to last year's Independence Day, the military component was still present as various armored vehicles, weaponry and military equipment were on display for public viewing in Tbilisi center and in several other towns.
After the oath-taking ceremony of soldiers, which also included addresses by PM Garibashvili and Defense Minister Irakli Alasania, the President and the PM took a walk together on Rustaveli Avenue where government ministries were displaying exhibits about their activities – an event resembling the one organized by the government in September, 2009. Joint appearance at a public event by the PM and the President came amid growing speculation about the two being at odds with each other most recently demonstrated in a dispute over who should sign the Association Agreement with the EU next month.
President Margvelashvili said that although Georgia's independence, declared on May 26, 1918 was short-lived, Georgia restored its independence in April, 1991 and did it through a nationwide referendum, which, he said, was held with participation of residents in Abkhazia and South Ossetia (referendum was not held in parts of Abkhazia and South Ossetia as by that time separatist movements had already been underway).
"Today from Tbilisi I want to thank our citizens living beyond barbed wire fences based on whose free will we restored Georgia's independence and created united state," Margvelashvili said. "I want to tell them that this emotion, which we had 23 years ago, will not wane even slightly and Georgia will develop as democratic, independent and free state. We will breathe new life into this will to live together in united state and we will not stop moving in this direction even for a second."
He said that the independence is an "absolute condition" for further progress and the "supreme goal" is freedom.
"There are independent states, but not all of them are free," Margvelashvili said. "Freedom of the country is sum of freedom of every single citizen living in this country."
"Free is the country, whose citizens are free and that implies political, economic, cultural and other freedoms; it means freedom of expression, freedom of speech, freedom of media, freedom of assembly, freedom to choose faith and freedom to exercise it; right to work and live in healthy environment; it means not to be discriminated on any grounds, but to be protected," he said, adding that freedom is also a responsibility, which implies respect and protection of freedom of others.
This post is also available in: ქართული (Georgian) Русский (Russian)