News
Van Rompuy: Association Agreement 'Not the Final Goal'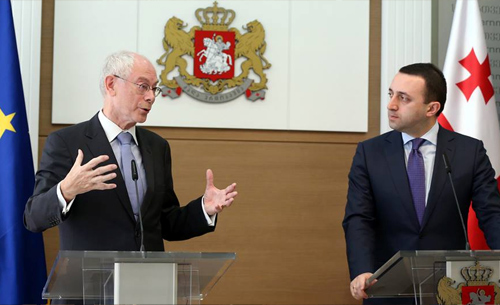 President of the European Council Herman Van Rompuy and Georgian PM Irakli Garibashvili at a news conference after the meeting in Tbilisi on May 14, 2014. Photo: Georgian PM's office
President of the European Council Herman Van Rompuy, who is holding talks with the Georgian leadership in Tbilisi on May 14, said that signing of the EU-Georgia Association Agreement on June 27 in Brussels "is not the final goal in our cooperation."
From the Georgian side the agreement, which also includes deep and comprehensive free trade treaty, will be signed by PM Irakli Garibashvili at a ceremony in Brussels in presence of EU heads of states and governments.
"This important milestone will mark the beginning of a new phase in our relations and in the history of your country," Van Rompuy said after meeting PM Garibashvili in Tbilisi. "By choosing this path, Georgia is signaling its commitment to strong democratic institutions, respect for the rights of its citizens, and firmly upholding the rule of law."
Van Rompuy, who arrived in Tbilisi after visiting Ukraine and Moldova, said that the EU "will stand firmly by Georgia's side" as it embarks on implementation of the agreement.
Along with Georgia, EU will also sign the Association Agreement with Moldova in Brussels on June 27.
Speaking at a joint news conference after the meeting, PM Garibashvili reaffirmed that Georgia follows European integration course "unwaveringly".
"This is the cornerstone of our country's domestic and foreign policy and most importantly this is the choice of our people," Garibashvili said.
"We understand that association process is very laborious, requiring wide-ranging reforms; so we are ready to further intensify our efforts in this regard," the Georgian PM added.
The President of the European Council expressed "strong appreciation for the efforts, which the Prime Minister has made to implement an ambitious reform agenda", which, among others, also includes "the impartiality of the judiciary and the fight against abuses."

He welcomed adoption of anti-discrimination legislation by Georgia and said that the "diversity is in our DNA".
"Modern societies defend human rights and the dignity of all human beings, irrespective of their skin color, religion, gender or sexual orientation. This is not about 'traditional values' or 'European values'. It's about universal human values. By adopting the anti-discrimination law, Georgia has demonstrated that it shares those values and is prepared to defend them – to the benefit of all citizens," Van Rompuy said.
He also said that Georgia "continues to have a strong record on democratic elections" and avoiding "polarization will make this even stronger."
The President of the European Council said that "troubling regional situation" was also discussed during the meeting. He reiterated EU's support to Georgia's territorial integrity and said that the EU is "concerned by obstacles to free movement" across the administrative boundary lines of Georgia's breakaway regions.
On Ukraine, Van Rompuy said that the EU is ready to "increase the cost for Russia" should it take more steps to further destabilize the situation. "For now the immediate goal is to ensure free and fair presidential elections" in Ukraine on May 25, he said.
The Georgian PM said that in the view of "current difficulties in the Eastern Partnership region, we expect EU's more active efforts."
"We believe that the EU will provide more assistance and help to the Eastern Partnership countries, which have made the European choice," PM Garibashvili said.
"Europe whole and free has not yet been accomplished; we hope that united, strong and successful European Union will play an active role in achieving this goal," he added.
The President of the European Council spoke more about Georgia's association process with the EU and challenges on this path in his speech delivered at Europe House in Tbilisi before meeting President Giorgi Margvelashvili.
Van Rompuy said that choosing the path of political association and market integration with the EU "should not be seen as a rejection of close relationships with other partners."
"It should not be seen as a zero-sum game. Russia is a neighbor. But good neighbors respect each other's borders. Respect of territorial integrity is a precondition for stability, here and elsewhere in Europe," he said. "The Association Agreement, with its free trade aspect, is fully compatible with improved trade across the Caucasus."
He said that there's always a risk that security challenges could be played on "to scare you."
"But your country knows how to resist such pressure. You are the ones who are best placed not to let such risk happen. Don't let yourselves be abused by appearances: violence is not strength. Don't let yourselves fall victim of those who want to 'divide and rule'. Your way of life as a free society is your greatest strength," Van Rompuy said.
Speaking about internal challenges, Van Rompuy stressed that the Association Agreement is about values and the EU is looking to Georgia to uphold these values.

"This relates to the independence of the courts, the respect of the presumption of innocence, pluralism, and the fight against abuses. This also relates to a normal interaction between opposition and majority, away from polarization. All this gives content to the notion of a mature and healthy democracy," Van Rompuy said.
This post is also available in: ქართული (Georgian) Русский (Russian)