News
Georgia's 1H 2013 Foreign Trade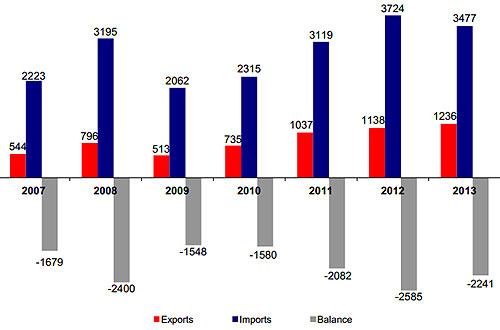 Georgia's January-June foreign trade figures between 2007 and 2013 in million U.S. dollars. Source: Geostat.
Georgia's foreign trade declined 3% year-to-year in the first half of 2013 to USD 4.71 billion with the trade gap also declining 13.3% y/y to USD 2.24 billion, according to figures released by the state statistics office, Geostat, on July 24.

Decline in the foreign trade is mainly due to reduction in volume of imports, which were down by 7% y/y to USD 3.47 billion in the first six months of 2013.
Georgia's export amounted to USD 1.23 billion in January-June, up by 9% y/y, according to Geostat. Volume of export had mainly upward trend in most of the part of the first half of this year – March and May were the only exceptions when 10.5% and 8% y/y declines, respectively, were posted in volume of export; there was a 30% y/y increase in export in June.
Re-export of cars lead the pack with USD 318.1 million, increasing 21.9% y/y and accounting 25.7% of Georgia's total exports in the first half of 2013, followed by ferroalloys – USD 129.5 million, making 10.5% of country's exports; nitrogen fertilizers – USD 54.3 million (4.4%); copper ores and concentrates – USD 49.3 million (4%).
Export of mineral waters increased 45.7% y/y to USD 44.36 million in the first half of 2013 and export of wines increased 31.5% y/y to USD 33.61 million; the increase, at least to some extent, is apparently due to resumption of export of Georgian wines and mineral waters to Russia. Mineral waters and wines accounted 3.6% and 2.7%, respectively, of Georgia's total exports in H1 of 2013.
Total volume of export from Georgia to Russia more than doubled from USD 19.58 million in the first half of 2012 to USD 41.91 million in the same period of 2013.
Other products in top ten exported commodities include non-denatured ethyl alcohol and spirits, which amounted to USD 40.28 million, making 3.3% of country's total exports; raw or semi-processed gold – USD 35.52 million (2.9%); iron and non-alloy steel – USD 29.12 million (2.4%); medicines – USD 26.74 million (2.2%).
Oil products top the list of imports totaling USD 390.53 million, making its share in total imports 11.2% in January-June 2013, followed by cars – USD 340.6 million (9.8%); hydrocarbons – USD 144.4 million (4.2%); medicines – USD 132.2 million (3.8%); mobile and other wireless phones – USD 60.9 million (1.8%); cigarettes – USD 46 million (1.3%); wheat – USD 44 million (1.3%); refrigerating and freezing equipment – USD 37.6 million (1.1%); computers – USD 35.1 million (1%); trucks – USD 33.3 million (1%).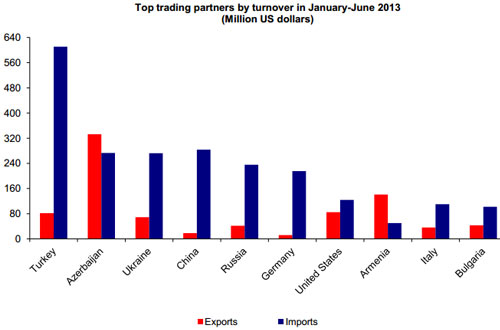 Georgia's top trade partners in the first half of 2013. Source: Geostat
Turkey remains Georgia's largest trade partner, which accounted USD 692.75 million in the first half of 2013; while import from Turkey amounted to USD 610.87 million , export from Georgia to Turkey was only USD 81.88 million.
Azerbaijan comes second with total trade turnover of USD 605.97 million in Jan.-June 2013 with Georgian exports to Azerbaijan amounting to USD 332.8 million, mainly thanks to re-export of cars worth USD 189.5 million, and imports from Azerbaijan amounting to USD 273.16 million.
Azerbaijan is followed by Ukraine with total trade turnover of USD 341.6 million in the first half of 2013; China – USD 301.7 million; Russia – USD 277.46 million; Germany – USD 227.7 million; the United States – USD 208.86 million; Armenia – USD 191.1 million; Italy – USD 146.4 million; Bulgaria – USD 145.2 million.
This post is also available in: ქართული (Georgian) Русский (Russian)