News
Ex-First Lady Roelofs Stands for Majoritarian MP in Zugdidi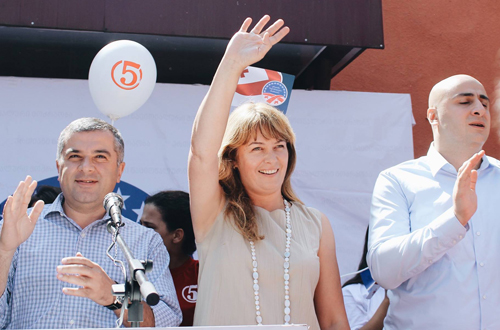 Sandra Roelofs greets supporters at a campaign rally in the village of Kortskheli, Zugdidi municipality, August 19, 2016. One of UNM leaders MP Davit Bakradze (left) and UNM's chief of campaign Nika Melia (right) are also seen. Photo from Sandra Roelofs' Facebook page
Sandra Roelofs, wife of Georgia's ex-president Mikheil Saakashvili, will run for a majoritarian MP seat in Zugdidi municipality of Samegrelo region in western Georgia.
She will stand for MP in Zugdidi's district No.66 as a candidate from opposition United National Movement (UNM) party, which was chaired by now governor of Odessa region in Ukraine, Mikheil Saakashvili, before he lost Georgian citizenship.
Roelofs, 47, who has been appearing at UNM's campaign events in various regions of Georgia since July, told supporters at an outdoor rally in the village of Kortskheli in the Zugdidi municipality on August 19 that Georgia has been in a "pause mode" for past four years and she does not want to be a passive onlooker anymore and took this "difficult decision" to go into politics.
"I don't want to just sit passively at home; many told me: 'don't go to politics, it is full of mudslinging, scandals, dirt' – yes, I know and I am concerned about it, but I am more concerned that the country may disappear from map… Do we want this? We want Georgia to progress," Roelofs, who is of Dutch origin, told the campaign rally in Georgian also using Megrelian expressions in her speech.
"But many people also told me: 'you have the strength, clean conscience, clean heart to enter politics'. Of course it was a very, very difficult decision," said Roelofs, standing alongside with MP Davit Bakradze and some other leaders from the UNM party.
"I've been talking to Misha very often, telling him that bad things that happened [when UNM was in government] should never be repeated – and believe me, I would not be standing here if I was not sure about [it]," she said.
MP Davit Bakradze, who is a leader of UNM's group in outgoing parliament, said that the venue of this campaign rally – the village of Kortskheli – was chosen as "a symbol" of UNM's victory.
In May by-election for a vacant seat in Zugdidi's local council, UNM's candidate won the race in the Kortskheli village with a 10 vote margin over his closest rival from GDDG party. During the by-election a fistfight erupted outside a polling station in Kortskheli in which some leaders and activists of UNM were beaten up by supporters of GDDG.
"Kortskheli will also be a symbol of a victory, which we will gain in Zugdidi and in entire Georgia" in the October 8 parliamentary elections, MP Bakradze told the rally. "The goal of our political struggle is to stop backsliding and Georgia's return back into dark past, which the Georgian Dream and [ex-PM Bidzina] Ivanishvili are now offering."
"We lost elections in 2012 not undeservedly – there were mistakes, but neither Ivanishvili will lose upcoming elections just by accident… We've seen over the past four years that Ivanishvili has failed to do anything, except of developing his own businesses at the expense of people," Nika Melia, UNM's chief of campaign, told the rally in Kortskheli.
GDDG ruling party's majoritarian MP candidate in Zugdidi's district No.66, where Sandra Roelofs is running, is head [gamgebeli] of Zugdidi municipality Edisher Toloraia.
Toloraia was elected as Zugdidi gamgebeli in 2014 local elections with 52.1% of votes, defeating his closest rival from UNM Tengiz Gunava, who garnered 41.1% of votes.
Georgia has a mixed electoral system in which 73 lawmakers in 150-seat Parliament are elected in 73 single-member constituencies, known in Georgia as "majoritarian" mandates.
A majoritarian MP candidate has to win over 50% of votes in order to be an outright winner otherwise a second round should be held.
The rest 77 seats in the Parliament are allocated proportionally under the party-list contest among political parties, which clear 5% threshold in nationwide popular vote.
This post is also available in: ქართული (Georgian) Русский (Russian)