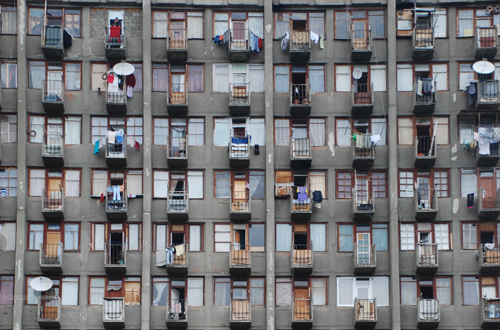 One of collective centers for internally displaced persons in Tbilisi, located in the Bagebi neighborhood. Photo: Monica Ellena
On October 8 the Georgian government signed an agreement with an unnamed "international donor" for almost GEL 500 million to build a total of 6,783 flats for internally displaced persons.

"These GEL 487 million come at a crucial moment," says Davit Darakhvelidze, Minister of Internally Displaced Persons from the Occupied Territories, Accommodation and Refugees (MRA). "We estimate there are still 40,000 families in need of durable housing solutions. It will not solve the problem but we will be able to build apartment blocks in two locations in Tbilisi – Varketili and Krtsanisi, plus in Batumi."

The ministry plans to disclose donor's identity when the first of the three planned installments will be transferred to the MRA, in January.
UNHCR and other stakeholders are unaware who the "international donor" is.

Coincidentally, the money came after a high level meeting in Geneva with UNHCR, during which the MRA appealed for help to resolve the plight of displaced people.

"We presented our appeal for USD 1.5 billion to provide housing to 40,000 families and to assist, them and others with livelihoods," says Darakhvelidze, himself an IDP from Abkhazia. "With this help, we will be actually able to close this chapter, helping people to locally integrate and get on with their lives, pending return to their place of origin."

But Simone Wolken, UNHCR country director in Georgia doesn't see this sum "on the horizon yet" and "it will require a lot of work to pass the message onto international donors."

"If you look at IDPs situation globally," she adds "Georgia is unique, a prime example in which IDPs can achieve durable solutions, even if they cannot yet return. There is a clear policy and a clear strategy, but what is lacking are resources."

More than 270,000 people have been displaced by armed conflicts in Georgia since it became independent. In the early 1990s, ethnic Georgians fled wars in Abkhazia and South Ossetia. A new wave of displacement followed the brief war with Russia over South Ossetia in August 2008.

Georgia struggled to cope with these waves of people. Friends and relatives offered shelters, while disused schools, hotel, and hospitals were turned into collective centers. The luxurious 18-storey Radisson Hotel in the centre of Tbilisi was once the capital's largest collective centre, home to over 800 IDPs.

For over a decade, politicians focused on their return as one way of underlining Georgia's territorial integrity; helping them settle permanently in the rest of Georgia, they thought, would be tantamount to giving that up.

But with negotiations over the breakaway regions yielding little by way of success, most people were left in limbo: encouraged to think to return home, yet left no alternative to staying put. In fact, roughly 46,000 people did return to the Gali area of Abkhazia, but with widespread poverty and occasional instability, life there is difficult.

The winds changed in 2007, when the government adopted a new strategy that focused on improving IDPs' current living conditions rather than waiting for their eventual return.
That strategy maintains the right to return to the place of origin, but focuses on integrating IDPs locally, because of the need to give IDPs a stake in Georgian society. Implementation of that policy gathered pace after the 2008 war, when the prospect of return became even more distant.

To address displacement-related issues the government has been heavily dependent on foreign aid, the European Union alone has channeled over €150 million since 2008. But UNHCR is critical of the tendency to leave the MRA alone to implement the government's IDP action plan.

"It has to be an inter-ministerial effort," stresses Wolken. "Much as the MRA would have a lot to say on a lot of issues, everyone has to chip in."

Walking the Walk
The main obstacles to local integration remain inadequate housing and displacement-related barriers to livelihood and employment. The demand for permanent housing far outweighs the current supply.
The plan envisages three phases: renovation of living space in some collective centres and the transfer of ownership rights to their occupants; the construction of new apartment blocks and transfer of ownership; and financial support for families to buy or improve their own housing.

"I am still waiting for another example, anywhere in the world, where a government has been so generous as to say, not only you are allowed to live in this property, but it is going to be yours to own," Wolken says. "This is totally independent from compensation for properties left behind in the occupied territories."

But it has not been a smooth process. In 2010 and 2011, forced evictions from centres that could not be repaired or subject to unclear ownership proved highly controversial, even through the MRA offered alternative accommodation to those affected. Moreover, as families living in collective centres make up less than half of the total IDP population, addressing the needs of IDPs in private accommodation is a pressing challenge.

In August the MRA started the re-registration of IDPs across the country, in part of redress the balance. "The re-registration is necessary to move forward," explains Darakhvelidze. "Estimates put between 70 and 80 percent of IDPs in private accommodation. This exercise will provide us with the numbers we need to address their needs."

IDPs have to re-register in person. For the returnees to the Gali area, that means crossing the Enguri river into Georgia proper: not an easy task.
"About 70 percent of IDPs residing in Gali already registered," states the Minister. "We estimate that only a handful of people will not be able to travel to Zugdidi, for whom we'll find alternative ways to register."

Individuals failing to register will lose their allowance, although, according to the MRA, they will re-gain it as soon as they re-register, even after the re-registration exercise is finished.

Precise details will also help to make better use of limited resources. Increase of monthly allowance for IDPs to GEL 45 is planned. The allowance is now GEL 22 for people in collective centres and GEL 28 for individuals in private accommodation. The allowance is a right granted to all displaced persons, regardless of their housing situation, employment, and current location. According to the MRA, roughly 10,000 IDPs live outside Georgia.
Shifting from Status to Needs Based Assistance
"The allowance and the general assistance are still stuck in a status-based approach, rather than a needs-based one," stresses Tina Gewis, Protection officer at the Norwegian Refugee Council (NRC). "IDP status is the ticket for housing, for property registration and, ultimately, for return. Still, a blanket allowance for everyone is inefficient: there are vulnerable families for whom the 45 GEL are vital and others who have managed to find other sources of income."

The minister has proposed a GEL 1,500 monthly threshold for the allowance, so to save much needed cash for vulnerable families, notwithstanding the IDPs status and the right to return.

"It is now necessary to distinguish between the needs of IDPs and the needs of Georgians who haven't been displaced. Very often you will find that the needs, like unemployment are the same," Wolken adds.
NRC will phase out of Georgia at the end of 2013 after almost two decades, because, Gewis says, "the remaining needs are no longer displacement related, but poverty related, thus require longer term economic development investment."

The recent fencing step-up along the administrative border line with breakaway South Ossetia is posing a possible new challenge. While the MRA claims it is creating a new wave of displacement, UNHCR quenches the tones explaining that so far, the fence has limited or banned the access to land to people who are living on the Tbilisi-controlled side of the administrative border.

"I am not saying it will not happen in the future," specifies Wolken. "What is important is to differentiate between two things: what the fence can physically mean if let's say it goes through your property, which at this stage it concerns a small number of people, and its psychological impact on people's sense of security. The human security aspect of it is what is really worrisome."
About the author:
Monica Ellena is a Tbilisi-based freelance journalist