News
Police Say Merabishvili Tries to Hinder Probe into 'Fake Passport'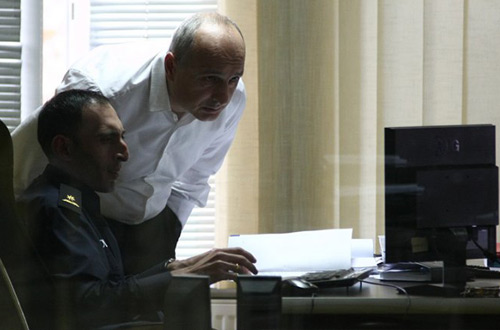 On this Interior Ministry photo, a police investigator and ex-PM and former interior minister Vano Merabishvili are seen looking at a computer monitor during Merabishvili's questioning on December 7.
The Interior Ministry said after about five hours of questioning of former PM Vano Merabishvili into the case of alleged fake passport, that he was hindering the probe by providing "false information".
"Despite of incontrovertible evidence obtained by investigators and despite of testimonies by witnesses, the former Prime Minister has not again cooperated with the investigation," the Interior Ministry said.
"By deliberately providing false information, he is trying to hinder to establish objective truth into the case," it said.
"Investigation into the case continues," the Interior Ministry said, adding that additional evidence available in this case will be made public in few days.
Merabishvili's lawyer said that the former PM and secretary general of the UNM party was gave "thorough" answers to investigators questions.
After the questioning Merabishvili told journalists that by launching legal proceedings against the political opponents, the authorities were trying to silence the opposition.
"We will continue our daily work," Merabishvili said. "We will dedicate all of our time… to offering the Georgian society those proposals, which should make life in Georgia much better."
This post is also available in: ქართული (Georgian) Русский (Russian)