News
Medvedev Congratulates Georgian Patriarch on Enthronement Anniversary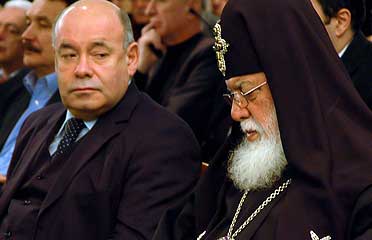 Mikhail Shvidkoy, the Russian President's special envoy for international cultural relations, (left) and Ilia II attending a conference Faith and Knowledge in Tbilisi on December 24. Photo: InterPressNews
Russian President, Dmitry Medvedev, has congratulated the Patriarch of the Georgian Orthodox Church on the 31st anniversary of his enthronement in a message read out by a Russian official in the Holy Trinity Cathedral in Tbilisi on December 25.
Mikhail Shvidkoy, the Russian President's special envoy for international cultural relations, has conveyed Medvedev's congratulations to the Georgian Patriarch after a sermon dedicated to the anniversary was held in the cathedral.
"Your Holiness, I want to congratulate you on your enthronement, wish you health, inexhaustible energy, long and successful years for active and ascendant service," the Russian President's message reads. "Largely thanks to your efforts Russian-Georgian cultural-humanitarian ties and relations between the two churches continue to serve basis for maintaining good tradition of friendship and mutual understanding between our people… You have become genuine spiritual leader of the Georgian people."
Ilia II met with Medvedev in Moscow on December 9, when the Georgian Patriarch attended Russia's late Patriarch Alexy II's funeral.
Shvidkoy leads a delegation of some Russian public figures, which is visiting Tbilisi. Shvidkoy, who is Russia's former education minister, said the visit was part of public diplomacy aimed at promoting contacts between ordinary people.
"I think that relations between the Georgian and Russian people, between Georgian and Russian culture should not be suspended under any circumstances," Shvidkoy told journalists on December 24. "There are tragic collisions which disconnected our states, but states these are not peoples; peoples of Georgia and Russia should be together… Politics is one thing and life is another. We came here to establish normal human relations."
Sermon in the Holy Trinity Cathedral on December 25 was also attended by President Saakashvili.
Ilia II said after the sermon in the cathedral that the fact that both Russians and Georgians were of the same faith – Orthodox Christianity – would play a positive role in the future bilateral relations. "I address the Russian population, leaders, president, I address our president and Georgian people – we should not lose the mercy of the god and everything will be improved," he added.
This post is also available in: ქართული (Georgian) Русский (Russian)