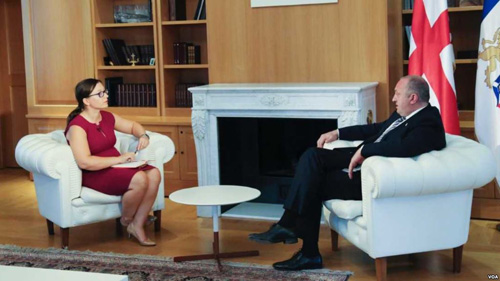 VOA Interview with President Giorgi Margvelashvili in Tbilisi. Photo: VOA
Voice of America's Nana Sajaia sat down with President Giorgi Margvelashvili in Tbilisi to discuss different aspects of Georgia's foreign and domestic policies, as well as to talk about U.S.-Georgia relations and assess the importance of Vice President Mike Pence's recent visit to Tbilisi.

Vice President Mike Pence is the highest official of the current U.S. administration who visited Georgia. What is the takeout from his visit?
The Vice President's visit was extremely important, and so is the timing. The administration is six months in office but we have seen continued stable support for Georgia from the Senate, the House and the White House. We see how very carefully, very targeted the new U.S. administration treats our issues.
If you listened to V.P. Pence's speech, the clarity; there was no ambiguity. He was clear in his language as he spoke of freedom, our territorial integrity, our sovereignty, our partnership with the U.S., but most importantly, the future goals of my country, goals such as the Euro-Atlantic integration.
V.P. Pence mentioned that the future of Georgia will be in NATO, and the U.S. is backing up the 2008 NATO summit decision on future prospects of Georgia. And the second and the most important issue for my country is territorial integrity and reunification of Georgian sovereignty. This was clearly defined by V.P. Pence.
What other issues did you discuss with Pence during the bilateral meeting?
I suggested to V.P. Pence a whole new upgrade of our bilateral relationships – I suggested that we get a new format in the form of a special representative.
Like Ukraine got recently?

Like Ukraine but also like Georgia had in the past. Georgia had a pleasure of having the special representative back in the end of 1990s which helped pursue global projects we are now celebrating – such as pipelines and corporations that we have built in the region. I suggested that we replicate this, taking into consideration the highly standing emotional and political readiness of our two countries.
A couple of weeks ago Kurt Volker – former U.S. envoy to NATO and very well-known Russia hawk – was appointed as special envoy on Ukraine issues. The fact that we did not have anyone dedicated to Georgia separately, does that mean Georgia was forgotten or was not considered a priority in U.S. foreign policy?
The language we have seen from [Capitol] Hill supports Georgia; the language from the legislation backs up a non-recognition policy by concrete budgetary mechanisms. The language that we see in supporting Georgia for its aspirations to build a stronger military, and the Vice President's clear and defined speech, I could not say that Georgia is underestimated in the U.S. administration. I would say the Georgian issue is there.
President Trump's campaign raised lots of issues … he came to office with ambiguous messages regarding Russia and calling NATO an obsolete organization. Are you confident when it comes to U.S. support in deterring Russia?
We have seen lots of discussions around those issues and let me not get into the U.S.'s domestic policy, but let me approach those questions from the Georgian perspective. We saw the Vice President applauding Georgia's aspirations toward NATO. He also applauded our commitment and desire to strengthen our military. He has applauded our engagement in global security missions. He has applauded our standards of being so close to NATO requirements. And V.P. Pence has stated that the U.S. backs up Article 5. So, from [the] Georgian perspective, we see a new and dedicated leadership on Georgia's integration to NATO and that was said by V.P. Pence just a couple of hours ago.
On this European tour of V.P. Pence, Georgia is the only non-NATO member. With Estonia being an example of a successful transformation, and Montenegro a very recent member of the Alliance, what does it mean that Mike Pence visited Georgia on this tour?

It means that the NATO policy of open doors remains, and the dedication to Georgia that it we will be NATO's member is clear. It has been repeated by V.P. Pence and it is an important message for us.
Is this a sign of a change in the U.S. cautious politics toward Russia?
We are happy with how things are developing. We are happy with the military cooperation we started building last year, happy for active engagement from the U.S. to build resilience and defensibility of my country, we are happy with the role this administration has politically toward Russia, we are happy with the active Russia-restraining policy of the United States.
Russia has clearly declared their interest to the region and other neighbors. They have called these areas, "area of special interest." I believe that a clear policy to restrain this aggressive, non-cooperative, destabilizing policy is going to be of a better good for Georgia, Ukraine [and] Europe, but Russia as well.
The term you just mentioned, sphere of influence, is a very post WWII, post Cold War term. Many are saying we have entered a second Cold War… what is the responsibility of the West in that? Some argue that it is because the United States is missing grand strategy-based foreign policy.
Some things that are happening in our region are sometimes even pre-Second World War logic-based. When the troops march from one location to the other and occupy the country and that country becomes another country, e.g. Crimea annexation, this is something that led the humankind to this logic – the logic of big powers occupying the territories of their smaller neighbors.
Occupation of Georgia did not start in 2008 but in the 1990s. In 90s, there was not a term of "hybrid war" – something introduced after Ukraine – but from the first days of Georgian independence, two conflicts in Georgia emerged backed up by the Russian secret services and militaries. This became evident in 2008 when the regular army engaged… in 2008 it was legitimized as if it was because of NATO inspirations. No, it was just used as a reason.
Do you agree with the statement that in 2008 NATO Bucharest Summit, when Ukraine and Georgia were denied Membership Action Plan (MAP), that emboldened Russia's aggression in Georgia and later in Ukraine?

No. Same was happening here in the beginning of the 1990s. There was no NATO summit, there was no NATO policy in the very beginning of 1990s, since Georgia declared its independence.
Ever since Georgia got its independence every government was pro-European or for Euro-Atlantic aspirations and it always had a very strong support of the population of Georgia – according to the recent NDI polls 67% of Georgians support Georgia's integration into NATO. Though, only one third of people think they might see a time when Georgia becomes a full-fledged member of the Alliance. Are you worried that the disappointment might increase?
The disappointment will increase but the choice will not change. I do not believe Georgians will change the European aspirations because this is a cultural foundation of our nation that's who we are as an old traditional culture-based nation. For millennia of history we have been Europeans in our mentality, in our culture, in our inclination. The decision to be a part of European or Euro-Atlantic society, part of the western defense umbrella will not change.
What gives you that optimism?

We have gone through the most dramatic breakdowns that the previous ex-Soviet countries could go through, a very dramatic collapse of our sovereignty by occupation of our territories, a war that was fought with the Russian Federation. Some of the harshest treatment by previous soviet countries. Did morale break? Did we have a pro-Russian parliament? Did we have a pro-Russian government? Did we have a change in geo-political orientation? No. That is what makes me talk.
Before taking this office you have been teaching principles of democracy to future leaders of Georgia and checks and balances were at the core of the class. Many would argue that the ongoing constitutional amendments are weakening the idea of the checks and balances. How do you think that is affecting the perception of Georgia in the West?"

I pity that none of the new cheerleaders for the new constitutional changes was present at my classes to touch [upon] the basics of the checks and balances and the democratic process. And I pity the image that we are creating though this unilateral changes in the West.
New changes in the constitution are not backed up by anyone but one party – the Georgian Dream. They are not backed up by the opposition, they are not backed up by the civil society, they are not backed by me. There is just one signature on the constitutional project.
We have heard the disappointing words from the Venice commission. I would not even call it a disappointment. We have heard that wording from our good friend's – the National Democratic Institute.
Those are the hints that are given to the crusaders who think that the constitution is only a legal document. Citizens of Georgia have the right to participate and I have to take their thoughts into account. That is a European discourse. That is what creates a European society.

The controversial amendments to the electoral system are creating a new system where the winner takes all. And constitutional reform is something that very often comes up while discussing Georgia in the West. How is that communicated with you? You are not supporting the amendments. When you speak with your Western counterparts or supporters of Georgia, what are the impressions you are getting about the amendments?
The whole "winner takes it all" approach or "diversity makes you weak" is the post-soviet approach.
We have to build a European approach. We have to build an approach, where any kind of consensus is viewed by politicians and by citizens as the foundation and the basis of the strength of the state. Because that is how it is. Our state is strong when there is a consensus. Political system is strong when you can embrace difference. Power in the state is effective where all of your citizens agree with its legitimacy.
If political leadership adopts this new constitution, this will not make the country stronger and resilient.
In 2012 when we had a peaceful transition of power, Georgia was very much praised for it, for peaceful elections. Why was the Georgian Dream government unable to grasp the momentum when it came with a very strong support and the moral advantage?
I think that I was very emotional those days. Actually that is why I am here, at this place right now, because I believed we had goals and targets to achieve, which would make us unique and would serve the goals which were very much achievable. And the goals were, to strengthen the state, to take care of our people, to release the hardship of the state control, to make media totally free, to try to overcome economic challenges.
One is theory and the other is real life and I think that in some cases we had success. We are definitely not a nation that has been putting 10 percent of its population into prison, which was happening before. We are not a police state. We have free media which determines the political landscape, though there are issues with media. And we all have to be very careful in securing the free media. We have not achieved to reform the court system. We have not been able to create a multi-party democracy in previous elections.
I would say that I have seen often the backsides from the very main principles that united us when we were in opposition. Is it normal? Yes, it happens. Should we get used to it and accept it? No, we should not get used to it and we should always be faithful to the spirit that united us in 2012.

Just a couple of days ago, you hosted President of Ukraine Petro Poroshenko and you signed a declaration on establishing strategic partnership. Tell us more about that.

[Ukraine is] challenged with the same challenge that we were going through for 25 years. And they backed us up during these 25 years; they were supporting our independence. Now we are supporting them. We are supporting their right for a free, strong and sovereign state.
We signed one of the most important documents in the relationship of two nations, the strategic partnership that has set up a whole new agenda and a whole new benchmark to intensify already good relationship between the nations.

Shortly after that visit, Poroshenko revoked citizenship to former President of Georgia Mikheil Saakashvili. Was that issue discussed during your meetings?
No, I did not discuss that issue. I think I have my personal record with Saakashvili. I was in opposition and I was criticizing him, and I would say I have the record of being in opposition to the previous president starting from 2003. I criticized him and I had a lot of his criticism and I think that when something finishes that is when you draw the line and you start thinking about the future. So after the president finished his duty, I never criticized him. I would not discuss with Poroshenko his relationship with him.
The only living ex-president of Georgia is now a stateless man. Would you consider giving him citizenship?

I think that he should not have abandoned Georgian citizenship, what he did when he became a Ukrainian citizen, he became a hideout in the Ukrainian government. That is the only time when I openly said I did not like the way he behaved. Because, I believe if the nation trusted you twice on being the commander in chief and the president of this nation, you should honor that nation's passport. Now, about the future, it is up to him whether he will apply or what will be the next steps. We could discuss this in the future.
He also said that the passport was a ticket to jail, that is why he received the Ukrainian citizenship… if he applies, would you consider granting him citizenship?

I cannot understand how can a passport be a ticket. I would not comment on Saakashvili's comments. I will not discuss pervious President or his comments. As for the citizenship, let's look what will be the procedures, what will be his steps.
Next year, your first term expires. Are you considering re-running for the office?

I, frankly, do not know. It, of course, depends on many factors and I cannot answer you today.
What do you want to be your legacy?
Well, I think I have built a part of my legacy as a president that is able to build a presidency which is able to embrace all different parties beyond political party discourse and be serving only the nation. This was a new precedent, and I believe I have been able to make a step into that direction. That is a step into the direction of the European culture of political communication. I think I was able to overcome political differences for the greater good.
The material was prepared for Civil.ge by the Voice of America. In order to license this and other content free of charge, please contact Adam Gartner.