News
Polish, Swedish FMs Hail Georgia's Progress, Warn Against Selective Justice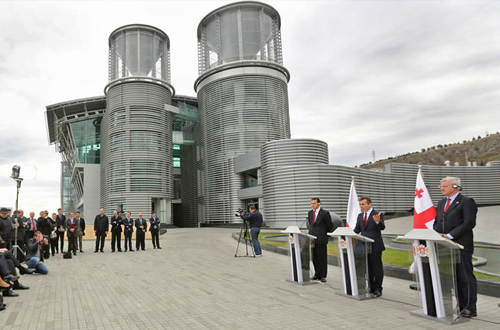 Foreign Minister of Poland Radosław Sikorski; Georgian PM Ivanishvili and Foreign Minister of Sweden Carl Bildt at a joint news conference outside Ivanishvili's private residence in Tbilisi, October 23. Photo: PM's press office
The foreign ministers of Poland and Sweden have hailed Georgia's progress ahead of the Eastern Partnership summit in Vilnius in late November, but warned against selective justice and in particular warned against, as the Swedish foreign minister put it, repeating mistakes of Ukraine.
Foreign ministers of Sweden and Poland, Carl Bildt and Radosław Sikorski, respectively, who were behind initiating the Eastern Partnership in 2009, arrived in Tbilisi late on Tuesday evening as part of their trip, which also included Moldova and Ukraine.
Visit to Georgia comes less than a week before the October 27 presidential election.
Late on Tuesday the Polish and Swedish foreign ministers met outgoing President Saakashvili, whose second and final term in office expires after the October 27 presidential election.
"He made great contribution to Georgia," Swedish foreign minister, Carl Bildt, tweeted about Saakashvili.
On Wednesday morning the two foreign ministers were received in his private residence by PM Ivanishvili, who is also stepping down as he has announced about pre-term resignation after the presidential election.
"Standing in this extraordinary place over your beautiful city I am conscious with an extraordinary moment this is. I am standing next to a man, who has voluntarily agreed to leave the post of Prime Minister – something unprecedented in politics," Polish Foreign Minister Radosław Sikorski said during a joint news conference outside Ivanishvili's private hilltop residence overlooking Tbilisi.
PM Ivanishvili said that EU integration and upcoming presidential election were the focus of discussions and also added: "Of course they were interested about the post-election period, and probably they were even more interested about it. They have inquired about my plans and how do I see further developments, whether there will be political stability in Georgia."
"I think that I managed to convince them that the situation will be rather stable, but they still have certain doubts, which is normal, because two most visible leaders are quitting the politics actually simultaneously," Ivanishvili said referring to himself and Saakashvili, although the latter has never indicated about intention to quit politics after expiration of his presidential term; on the most recent UNM convention, Saakashvili was re-elected as chairman of the party, which he founded over ten years ago.
Ivanishvili said that he will be quitting "about in a week" after the inauguration of the new president on November 17 – this date of presidential inauguration, cited by Ivanishvili, is still tentative, because the date will change if the October 27 presidential vote goes into second round.
In his opening remarks during the joint press conference after the meeting, PM Ivanishvili also spoke about "concerns", he said, the Polish and Swedish foreign ministers have about the process, which the Georgian Dream governing coalition calls "restoration of justice" and President Saakashvili's UNM denounces as politically-motivated prosecution of former high-level officials.
"They have concerns; they [are] against of continuation of process of restoration of justice for too long," Ivanishvili said. "And I agree with them."
"You know that I have stated for multiple times and I can reiterate it today that it is not in my interest to permanently look into [past] and to think only about punishment. Our goal is to get the entire Georgia united and to accelerate our progress towards Europe. And in this regard our views are fully concurring"
"We fully agree with each other that by looking in the past we will lose the pace and it should not continue for a long time… We should look in the future," he said.
Ivanishvili, however, then also add: "But don't understand it as if I gave some guarantee or promise. I explained them very well our situation and noted differences in our views well as."
He said that "the only difference" originates from the fact that "they know less than we do about our realities and internal situation and that's normal."
"We tried to show that it's not so simple and that there is sense within the society about the need for restoration of justice, but we have scaled that sense down to minimal level," Ivanishvili said.
"I have said it for multiple times and repeat it now that we should be looking back less and we should be looking more into the future; we should have less of this sense of revenge and have more sense of forgiveness and reconciliation," he added.
Swedish Foreign Minister, Carl Bildt, said that Georgia has made a progress on its European path and is heading towards the Vilnius summit to initial, together with Moldova, Association Agreement with the EU, which also includes deep and comprehensive free trade agreement.

"It begins to open up a new chapter in the development of your country… But it's only the beginning of the phase," Bildt said, adding that then the phase of signature, ratification and implementation should follow.
"The eyes of Europe will be upon you and as the Prime Minister indicated, we discussed some of the concerns so that you do not repeat the mistakes that have been done by some others, notably Ukraine," Bildt said and noted need for moving the country forward and for being "inclusive to each and everyone."
"You know what happened to Ukraine," he said. "They completed their negotiations for the [Association] Agreement quite some time ago. Then they arrested [former PM] Yulia Timoshenko on charges that did not stand the test, they were clearly trumped up. Accordingly, we put hold on the Ukraine theme. Whether Ukraine will be able to sign, meet the conditions of the European Union in Vilnius is still an open question. It was not only that – several others were put in prison, the others are now out, Yulia is still there. And there have been concerns of election law, there have been concerns on the aspects of judicial system of Ukraine."
"You can learn from the successes but I think, it is also very important to learn from the mistakes of others," he added.
Polish Foreign Minister, Radosław Sikorski, said he's "confident that Georgia will initial the Association Agreement in Vilnius at the end of next month and if that happens, you can sign that agreement next year."
"I completely agree with the Prime Minister when he says that the country needs to be united, that vendettas are no part of the European society. I will just add that the opposition is part of the political system in a democracy," he said.
"The best that Georgia can do to get to signature and then the implementation of the Association Agreement is to continue to modernize and avoid both the substance and even the appearance of politically motivated justice," Sikorski added.
On upcoming presidential election, the Swedish Foreign Minister said: "It's a normal election campaign which seems to be so far in accordance with the standards that we have the right to expect of Georgia and we should congratulate the country on that, as well."
The Polish Foreign Minister said that electoral process in Georgia has "so far met European standards, I hope it continues that way."
"I hope Georgia continues to be one of the most successful members of Eastern Partnership and I hope that we can next year welcome Georgia into a full association with the European Union," Sikorski said.
"Making Georgia a success story, making Georgia a democratic, Europe-associated state is, I think, the best way to restore Georgia's territorial integrity – something that both Poland and European Union upholds on principle," the Polish Foreign Minister said.
This post is also available in: ქართული (Georgian) Русский (Russian)