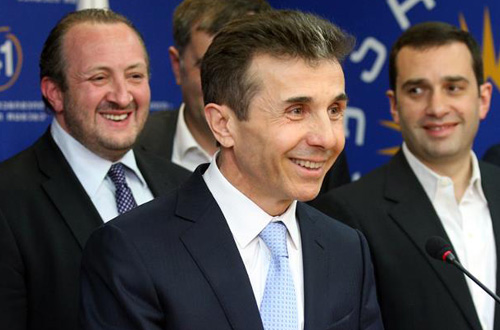 Prime Minister Ivanishvili (center) announces Education Minister Giorgi Margvelashvili (seen on the left) as GD's presidential candidate; Defense Minister Irakli Alasania seen on the right. Photo: PM's press office
Education Minister Giorgi Margvelashvili, whom PM Ivanishvili once described as his "friend" and "exemplary" minister, has been named by the Georgian Dream coalition as its presidential candidate for October 2013 elections.
The announcement was made at a news conference late on Saturday afternoon by PM Bidzina Ivanishvili, who said that Margvelashvili was picked by the GD coalition leadership "unanimously".
Margvelashvili, 43, who was a rector of a Tbilisi-based Georgian Institute of Public Affairs (GIPA) in 2000-2006 and then again in 2010-2012 before becoming an education minister in PM Ivanishvili's cabinet, was repeatedly named in media speculations among potential candidates GD was considering.
Margvelashvili is not a member of any political party.
PM Ivanishvili said while announcing the candidate on May 11 that Margvelashvili was one of his closest confidants.
In parallel of holding his education portfolio in the cabinet, in February Margvelashvili was promoted to also become Deputy PM.
It happened after PM Ivanishvili stripped this status of first vice-premier from Defense Minister Irakli Alasania; at the time Ivanishvili said that he demoted Alasania after the latter's discussions within his Free Democrats party, which is part of GD coalition, and behind PM's back about Alasania's possible presidential candidacy triggered unhelpful rumors.
New constitutional provision, which will go into force after inauguration of new president following elections this October, will significantly increase PM's authority at the expense of cutting presidential powers.
"I want to thank the coalition for this trust. Of course this is a huge honor and responsibility for me," Margvelashvili said.
There was a lot of praise of Margvelashvili from PM Ivanishvili during the press conference.
"This man [Giorgi Margvelashvili] has all the features in abundance to be a good president," said PM Ivanishvili.
He was standing alongside with other senior figures from the GD coalition, including parliament speaker Davit Usupashvili, while announcing GD's presidential candidate in the coalition headquarters in Tbilisi. Margvelashvili was also there.
"That's the best option; I would even say that it is the ideal option," Ivanishvili said.
"He's very creative and he's unique in crisis situations; he's experienced in management; he is experienced in politics too; he is a good analyst, good expert; I don't know what else to list," Ivanishvili said, adding that Margvelashvili "is also a good team-player".
"Whenever I come across difficulties I always call Giorgi and ask him [for advice]; I have two or three such persons with whom I can sit down and talk about any issues and any problem," he added.
"I am happy that I know such a person and I think that especially at this stage, when our democracy is still fragile… and our team has an ambition to establish a genuine democracy, such a president would be very much acceptable," Ivanishvili said. "We should prove to the entire world in the shortest period of time that Georgians are Europeans and we deserve to become EU member state as soon as possible… and such persons like [Margvelashvili] and such president give us reason to have such an ambition."
The announcement came after the PM and other leaders of the coalition met for about an hour and a half to discuss GD's presidential candidate. The meeting was then held with GD lawmakers.
Asked to name other potential candidates from which Margvelashvili was picked by the GD, Ivanishvili responded: "There was only one candidate under consideration today."
"No one was against of [Margvelashvili's] candidacy, so there was no need of discussing other potential candidates," he said.
Asked if Defense Ministry Irakli Alasania was among potential candidates, Ivanishvili responded negatively and added: "Alasania has an important task to do; he leads a very powerful ministry; Irakli and I have a very concrete target for next year, which our country should achieve."
Ivanishvili was apparently referring to the target which has announced recently involving getting Membership Action Plan (MAP) from NATO at its next year's summit.
Alasania, who was present at the announcement of GD presidential candidate, said that he was "fully supporting" Margvelashvili's candidacy.
"I really believe that he's the best possible candidate and I am sure that this dignified candidate will win the upcoming presidential elections," Alasania said.
Asked whether he had any regrets that he was not named as the candidate, Alasania responded: "There was no talk of my candidacy within the team, because the leader of the coalition knew about my position; we have agreed that I should complete those reforms which we have launched at the Defense Ministry."
During the press conference PM Ivanishvili also said that at the initial stage of discussions some time ago "not a bad idea" was floated to pick someone with ethnic Abkhaz background as a presidential candidate.

UNM has not yet named its presidential candidate. President Saakashvili's party has said that it would select its candidate through internal elections, primaries.
Commenting on UNM's chances in the upcoming presidential elections, Ivanishvili said on May 11: "Unfortunately, not a single member of the United National Movement will be a competitor to our candidate."
"I think that if there are independent candidates [in October presidential elections] – and I think there will be many of them as Georgians love high posts – the National Movement will be on the last place [in election results]," Ivanishvili said.

Ivanishvili said that no decision was yet made who would replace Margvelashvili on the post of Education Minister. President Saakashvili has yet to declare election date and Margvelashvili has no legal obligation yet to quit his cabinet post. Ivanishvili called on the President to set the date of elections.
In early 1990s Margvelashvili, who holds doctoral degree in philosophy from the Tbilisi State University, worked as a mountain guide at travel agency, Caucasus Travel; he joined National Democratic Institute's Tbilisi office as a program consultant in 1995 and worked there before becoming a rector of the Georgian Institute of Public Affairs in 2000.
Margvelashvili was not directly involved in GD's election campaign in 2012; he, however, was a frequent guest of opposition-minded television stations and a commentator on political affairs, supporting Ivanishvili and his coalition. After the elections, Ivanishvili invited Margvelashvili in his cabinet as education minister.
In March public opinion survey, commissioned by the National Democratic Institute, as Education Minister Margvelashvili had 29% positive performance rating, far below than Justice Minister Tea Tsulukiani; Defense Minister Irakli Alasania; Interior Minister Irakli Garibashvili; Foreign Minister Maia Panjikidze, who were among top four cabinet ministers with highest positive performance ratings; five other ministers also had better standing in this rating than Margvelashvili.
During his tenure as the Education Minister, Margvelashvili's first serious challenge came in March when he was accused of political meddling in academic institution after his ministry canceled authorization of the Agrarian University, run by an entity founded by ex-economy minister Kakha Bendukidze. The authorization to the university was then restored after the ministry said that the Agrarian University redressed those shortcomings for which the authorization was canceled.
In April Margvelashvili announced that his ministry would provide to country's 650,000 school students with text books free of charge starting from next academic year. The move, however, was marred by a controversy as publishers said the scheme was done by the ministry in a way that was hitting a serious financial blow to the publishing business; opponents accused Margvelashvili of taking this populist move in violation of intellectual property rights – the allegation denied by the Education Ministry, which said that the program was done without violations of existing contracts with publishers.
The most recently Margvelashvili came into media spotlight after he slammed proposed amendments to the labor code, calling them "nightmare" for business.