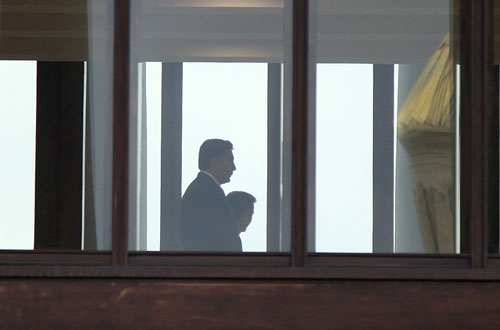 President Saakashvili and Georgian Dream leader, Bidzina Ivanishvili, seen walking in a corridor of the presidential palace before their meeting. Photo: Guram Muradov/Civil.ge
A week after conceding defeat of his UNM party in the elections, President Saakashvili received in presidential palace leader of Georgian Dream coalition Bidzina Ivanishvili, who is set to become new PM.
After shaking hands in front of TV cameras the two rivals, accompanied by their top aides and allies, went inside the glass-domed presidential palace. About 35 minutes later they all emerged before TV cameras with Saakashvili and Ivanishvili making press statements.
Ivanishvili was the first to make a statement in which he emphasized on three points.
He started by saying that it was his coalition which made history by replacing incumbent government democratically and added it would "always be mentioned in a dignified manner in Georgia's history". He also noted that it was "good" that President Saakashvili conceded defeat of his party.
Standing alongside with Saakashvili, Ivanishvili, whose coalition in lead up to the elections was a target of multi-million fines for alleged campaign funding violations and which was accusing the authorities of intimidating and arresting its supporters for political reasons, put it bluntly: "We managed to react in a dignified manner to all undignified actions of our opponents… We will treat our opponents not in a way they deserve it, but in a way our country, Georgian people… deserve it."
Third point, which Ivanishvili underlined, was that his coalition would continue the course of the outgoing government directed towards Georgia's Euro-Atlantic integration. He said foreign policy was an issue on which "we have concurring" point of views and added that "Georgia will definitely manage to become a NATO member state in the near future."
Twice in his three minute long press statement President Saakashvili pointed out that there were "fundamental differences" of views between him and Ivanishvili on "actually most of the issues."
He said that despite of these differences democratic transfer of power, which he described as "historic process", would take place in legal framework.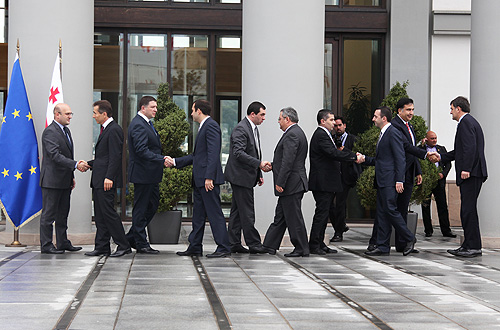 Georgian Dream leader Bidzina Ivanishvili arrived in the presidential palace, accompanied by some of his allies, where President Saakashvili welcomed them accompanied by his senior aides and allies. From left to right: outgoing chairman of parliamentary committee for legal affairs Pavle Kublashvili shaking hands with Ivanishvili; Tbilisi Mayor Gigi Ugulava shaking hands with Irakli Alasania, nominee for Defense Minister's post; Giga Bokeria, Secretary of National Security Council shaking hands with Davit Usupashvili, incoming parliamentary chairman; outgoing parliamentary chairman Davit Bakradze shaking hands with Irakli Garibashvili, incoming interior minister and President Saakashvili shaking hands with Sozar Subari, incoming minister for prison system. Photo: Guram Muradov/Civil.ge
President Saakashvili also indicated twice in his speech about having long-term political plans. He said protecting Georgian people's interests would remain his "driving force in months and years to come" and in the end of the statement he said he was sure that Georgia would have great future and "we also plan to be part of this future as citizens and politicians of this country."
Saakashvili also mentioned that ongoing process was about handover of "most" but not all of the executive government's powers.
According to existing constitution, which envisages strong presidential powers, Saakashvili's second and final term in office expires after the next presidential election, which is scheduled for October, 2013.
Ivanishvili has already made it clear that he would like to see Saakashvili resign, although he also said that it was neither demand nor ultimatum to the present authorities. He also made it clear that he wants to replace heads of the central bank and state audit office – posts now held by Saakashvili's allies.
Officials from the Georgian Dream coalition say that amending the current constitution would be on the agenda of the newly elected Parliament in which Ivanishvili-led coalition falls short of 100 seats required for passing a constitutional law.
"The constitution is now completely out of touch with the political reality we have after the elections," Irakli Alasania, one of Georgian Dream leaders and nominee for defense minister's post, said on October 9, adding that he understands logic behind questions being asked how positive it might be having president with strong authorities on the one hand and government and parliament dominated by opposing political force on the other.
"But I want to stress that this is an issue which is solely up to President Saakashvili himself to decide. We are not raising this issue [resignation of Saakashvili] and we are not raising this issue including in consultations with our opponents," Alasania told Maestro TV, referring to power handover talks.
Asked if he expects Saakashvili to resign at some point before his term in office expires, Alasania responded: "Nothing can be ruled out."