News
In War Anniversary Speech Ivanishvili Reaches Out to Sokhumi, Tskhinvali
'Tbilisi ready for direct dialogue with Abkhazian, Ossetian brothers';
'Georgia should have strength to forgive';
'We should admit our own mistakes too';
'Democratic and economic progress is the path towards restoration of territorial integrity';
'Restoration of diplomatic ties with Russia can be discussed if there is a progress in restoring Georgia's territorial integrity';
'We cannot find an explanation' to borderisation;
'Nonetheless, we remain calm and pursue pragmatic policy;'
'NATO and EU integration has no alternative for Georgia';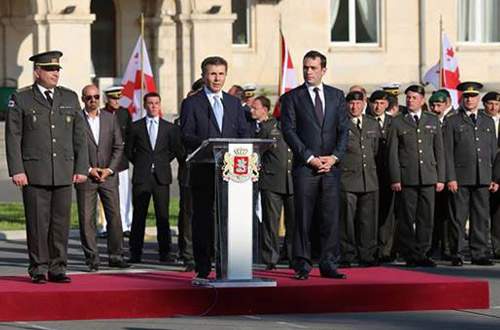 PM Ivanishvili addresses newly enlisted soldiers in the town of Gori on August 8 on the fifth anniversary of the war with Russia. Irakli Dzneladze, chief of the joint staff of the Georgian armed forces (left), and Defense Minister Irakli Alasania (right) seen standing beside the PM. Photo: government press office
Tbilisi is ready for a "direct dialogue" with Abkhazian and Ossetian "brothers", PM Bidzina Ivanishvili said in a speech on the occasion of the fifth anniversary of the August war with Russia and also added that Georgia should have strength "to forgive" and also to admit its "own mistakes".
PM Ivanishvili delivered the speech before 760 newly enlisted soldiers who were lined up in the central square of Gori, the main town of Shida Kartli, a region heavily affected by the August, 2008 war.
In the live televised speech after the oath-taking ceremony of soldiers, Ivanishvili said: "Development of the armed forces is of utmost importance to our country, Georgia's statehood, and the future of our children."
"We know that you are always ready to sacrifice your lives for the homeland. Not only here at home, but in a foreign land. Far away from Georgia, together with international peacemaking forces, our soldiers protect international security and peace at the expense of their own lives," he said and then noted about government's plan to increase monthly pension for the families of fallen soldiers.
"Today's oath of enlistment falls on one of the most tragic dates in Georgia's recent history," Ivanishvili said. "Destruction and losses, hundreds of perished victims, new occupied territories, tens of thousands of our compatriots forced to be refugees in their own country: these are the most grievous outcomes brought to us by the August 8 war."
"Memory eternal to those fallen in this war, be they our Georgian or Ossetian compatriots," he said.
"I believe that we will draw the right conclusion from these tragic days in Georgian history and will set properly calculated plans for the future. I am convinced that our consistent strategy will enable us to restore fully peaceful relations between the Georgians and the Ossetians, the Georgians and the Abkhazians."
He said that Georgia should have strength "to forgive."
"But it is not enough," Ivanishvili continued. "We should admit our own mistakes too. We should redress what is still possible to rectify."
"We are ready for direct dialogue with our Abkhazian and Ossetian brothers. I am convinced we will be able to find common language to build common future relations," he said. "Georgia's democratic development and economic progress will turn Abkhazians and Ossetians around to us and will convince them once and for all that Georgia is their homeland."
He said that five years ago Russia carried out "military aggression" against Georgia and its recognition of "occupied territories" as independent states was "the heaviest blow for Georgia's statehood."
"Unfortunately, the Georgian side has its share of responsibility for letting things the way they developed, which was also confirmed by the European Union 2009 report," Ivanishvili said, referring to the report by EU-funded fact-finding mission led by Heidi Tagliavini.
Ivanishvili said that while drawing clear conclusions from this "tragic experience", Georgia should also think about tomorrow.
"Therefore, despite of everything, we have to find forms of relations with Russia," he said and added that late last year his government launched direct dialogue with Russia through his special envoy Zurab Abashidze.
"At the initial stage, we aimed to solve concrete pragmatic issues," he said referring to trade and economic relations.
"At the following stage, we will have to solve an even more difficult problem. Good will among our peoples gives us a hope that this process will develop positively," he said and added that Georgia's international partners "commended the new format of relations with Russia as a constructive step toward mitigating tensions."
He, however, also said "we cannot find an explanation" to ongoing so called 'borderisation' process by the Russian troops along the administrative boundary line of Abkhazia and South Ossetia and moving dividing lines deeper into the Georgian-controlled areas.
"This is not an adequate answer to the steps taken by our government toward normalization of relations with Russia," Ivanishvili said.
"And nonetheless, we remain calm and we consistently implement our pragmatic policy," he said.
Ivanishvili then stressed that issue of restoration of diplomatic relations with Russia, cut off after the August war, "can be put on the agenda after we achieve progress in restoring our country's territorial integrity."
"We understand that these problems cannot be solved overnight. I am convinced that our strategic partners – the U.S., European Union member states, and international organizations – will support us in this undertaking," he said and added that Georgia's each and every step "must be calculated in a way which will ease our strategic partners to support us."
He again reiterated that NATO and EU integration was Georgia's "strategic choice that has no alternative."
"I am sure that we will achieve this goal, our country will overcome difficulties; we will ensure Georgia's de-occupation and restore ties with our brothers, Abkhazians and Ossetians," PM Ivanishvili said.
Earlier on August 8 PM Ivanishvili participated in a wreath-laying ceremony at a cemetery of Georgian soldiers in Tbilisi outskirts. He was accompanied by Defense Minister Irakli Alasania, Interior Minister Irakli Garibashvili and GD's presidential candidate Giorgi Margvelashvili.
President Saakashvili, who participated in a separate wreath laying ceremony at the cemetery of the Georgian soldiers fallen in the August war, said in remarks after the ceremony that those who say that Georgia is to blame for this war or that Georgia yielded to Russia's provocation "are parroting propaganda of the aggressor, which is directed against our country."
This post is also available in: ქართული (Georgian) Русский (Russian)