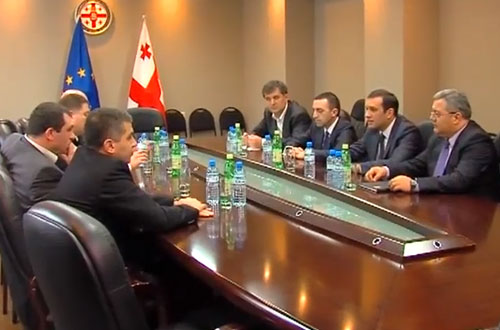 Grab from video footage showing a meeting between senior officials from the Georgian Dream and present authorities. Georgian Dream representatives are seen on the right side of table, from left to right: Sozar Subari; Irakli Garibashvili; Irakli Alasania; Davit Usupashvili. On the opposite side, from right to left: outgoing parliamentary speaker Davit Bakradze; Secretary of National Security Council Giga Bokeria; Tbilisi Mayor Gigi Ugulava and outgoing chairman of parliamentary committee for legal affairs Pavle Kublashvili.
Negotiators from the Georgian Dream coalition and the present authorities held first meeting on October 5 to discuss handover of government with the second meeting planned for Monday.
President Saakashvili's United National Movement (UNM), which was defeated in the October 1 parliamentary elections by Bidzina Ivanishvili-led Georgian Dream, was represented at talks by Giga Bokeria, Secretary of National Security Council; Tbilisi Mayor Gigi Ugulava; outgoing parliamentary speaker Davit Bakradze and outgoing chairman of parliamentary committee for legal affairs Pavle Kublashvili.
Georgian Dream was represented by Irakli Alasania, leader of Our Georgia-Free Democrats, Davit Usupashvili, leader of Republican Party and two senior figures from Ivanishvili's Georgian Dream-Democratic Georgia party Irakli Garibashvili and Sozar Subari.
The meeting was held in a government building, which also houses the office of the Secretary of National Security Council.
"Consultations on power transfer have started; these consultations will continue, probably on Monday, with discussing concrete issues," Irakli Alasania told journalists after the meeting. "Now the most important thing is to maintain stability in the country. All the processes will proceed within the legal framework and the incoming PM [referring to Bidzina Ivanishvili] will prepare for formation of the government. There is an agreement in principle on these issues."
"Concrete work within ministries and [state] agencies will start from Monday in order to make handover process fast and painless," Alasania added.

"Before the formal confirmation of new government, which will take several weeks, Georgian Dream will second its representatives to all the key state institutions, including in the power-wielding structures [interior, defense and justice ministries], to secure stabile and painless handover," Davit Usupashvili said.
He also said that Georgian Dream representatives would also get involved in the work of the Georgian delegation participating in the Geneva talks, launched after the August 2008 war with Russia.
Irakli Garibashvili said the first meeting was "productive and our team is satisfied with this meeting."
Giga Bokeria, the Secretary of National Security Council, also hailed the first meeting as "very constructive and positive" and said that all the key issues related to power handover were discussed.
"We have also talked about ongoing issues related to summarizing election results; you know there are some problems in this regard. We welcome a business-like atmosphere in which this meeting was held," Bokeria said.
"It [the meeting] has demonstrated that the both sides realize very well the responsibility that they bear before the country, as well as in terms of securing first democratic transfer of power in peaceful conditions," Davit Bakradze said.
Under the existing constitution President Saakashvili has to nominate new PM. Davit Bakradze, however, reiterated after the talks that the Georgian Dream "will have blank cheque" in forming the government and "no artificial problems" would be created.
"It was a very constructive and positive meeting," Bakradze said. "We will continue talks. The following meeting will be held on Monday and we will continue talks on those concrete steps and concrete issues, which are necessary to ensure peaceful and democratic handover of the government."