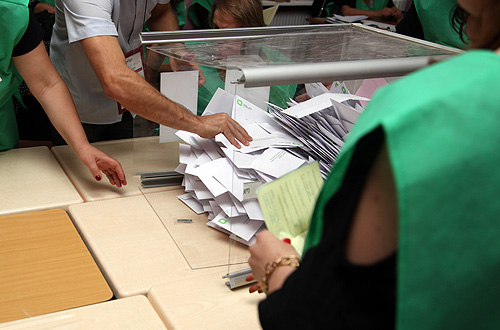 Election officials empty a ballot box to start counting at one of the Tbilisi's polling stations on October 1. Photo: Guram Muradov/Civil.ge
Early official results from Monday's highly-anticipated and hotly-contested parliamentary elections show six-party Georgian Dream opposition coalition, led by Bidzina Ivanishvili, winning popular vote over ruling United National Movement party.
But winning in the party-list, proportional race, which decides the fate of 77 out of 150 seats, is not enough in Georgia's mixed electoral system to gain majority of seats.
Remaining 73 seats are up for grabs under the first-past-the-post rule between the candidates running in single-mandate constituencies.
Results of the October 1 election are coming in slowly; the Central Election Commission started uploading vote summary protocols from precincts before 4am on Tuesday and as of 9am results from 15.3% of precincts were released.
According to these results the Georgian Dream is in lead with 52.77% and the UNM has slightly over 42%.
No other political group garners 5% required for endorsing candidates in the Parliament under the proportional system. Christian-Democratic Movement (CDM) has slightly over 2.2%, according to the early results .
UNM and its leader President Saakashvili have acknowledged losing in the popular vote.
But the Georgian Dream and UNM both claim winning most of the majoritarian races in single-mandate constituencies; UNM has also claimed that at the expense of winning at least 53 single-mandate constituencies outside Tbilisi, it would have majority of seats in the Parliament.
Returns from the precincts are too few at this point to exactly estimate how seats will be distributed in the new Parliament, which will elect new PM in late 2013 when power shifts from the presidency to the prime ministerial post.
If these result of popular vote stands, it means that the Georgian Dream coalition will have the right to nominate a prime ministerial candidate later next year. At least 76 votes will be required for a candidate to be confirmed as the PM.