News
Georgian, Kazakh Presidents Meet, Speak of Transit Cooperation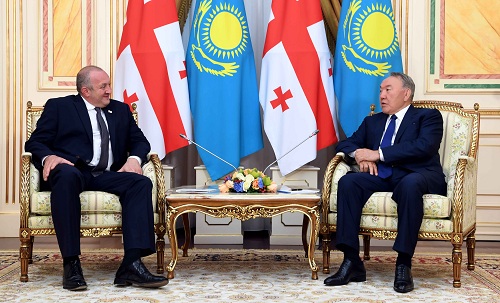 Presidents Margvelashvili and Nazarbayev, June 13, 2017. Photo: akorda.kz
On June 13, President Giorgi Margvelashvili paid an official visit to Kazakhstan and met his counterpart Nursultan Nazarbayev.
Following their face-to-face meeting, the two Presidents held a meeting in extended composition, where Margvelashvili stressed that Kazakhstan is one of Georgia's leading investors and added that Tbilisi "spares no efforts" for strengthening cooperation in all available areas and for identifying new domains of cooperation.
According to President Margvelashvili's administration, the sides underlined that Georgia and Kazakhstan have "a great potential for developing commercial and economic relations." They also highlighted Georgia's role, "as a transit corridor connecting Europe, Caucasus and Asia."
"Georgia welcomes all new initiatives in these areas and stands ready to discuss interesting and mutually beneficial proposals," the President's administration added.
Speaking on the Georgian-Kazakh relations at the joint press conference after the meetings, Nursultan Nazarbayev noted that that the two countries "have had historically good relations" and added that these relations "remain stable."
The Kazakh President said the two leaders spoke on a range of issues, including on the Georgian-Kazakh cooperation within China's "One Belt, One Road" initiative.
"There is an opportunity to make Georgia, like Kazakhstan, a transit state within the "One Belt, One Road" initiative," Nazarbayev said, adding that access to Europe through the Black Sea via Kazakhstan and Georgia "is very important."
"Transport corridors of gas and oil, which also pass through Caucasus, through Georgia, is extremely important [as well]. In this regard, we talked about the potential of the Batumi Oil Terminal and the Port owned by Kazakh companies," Nazarbayev also said.
"We discussed these questions to find solutions to the existing problems: if we agree on tariffs between the ministries, the route may become the most convenient for all [three countries] – for China, for Kazakhstan and for Georgia," Nazarbayev added.
In his remarks, President Margvelashvili noted that Georgia has always had "intensive relations" with Kazakhstan, but added that "there is a good potential for its further development." "First of all, this includes the development of economic relations, this includes the energy carriers and other products," he said.
Within his official visit to Astana, President Margvelashvili also held meetings with Prime Minister Bakytzhan Sagintayev, Majlis Chairman Nurlan Nigmatulin and Senate Chairman Kassym-Jomart Tokayev, and took part in the international exhibition Expo 2017, "Energy of the Future."
This post is also available in: ქართული (Georgian)