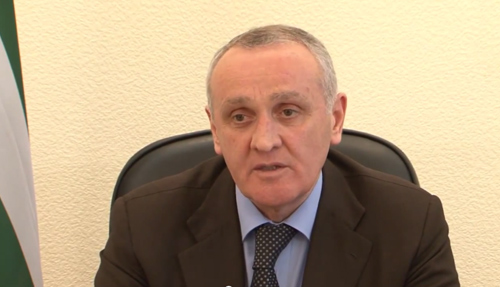 A screengrab from Alexander Ankvab's video address released by his press office on May 30, 2014, criticizing parliament's decision calling on him to resign.
Abkhaz leader Alexander Ankvab announced about resignation on June 1, five days after the opposition in the breakaway region broke into the presidential headquarters in Sokhumi.
"For the purpose of maintaining stability in the country… I am resigning from the post of President of the Republic of Abkhazia," reads Ankvab's written statement, denouncing opposition's actions as "coup d'état" and saying that consequences of these events "might be disastrous" for Abkhazia.
The announcement came less than 24 hours after the Parliament in breakaway region declared Ankvab "unable" to exercise his presidential powers, appointed legislative body's speaker Valery Bganba as an interim president and called snap presidential election for August 24.
Late on May 27 Ankvab had to flee presidential administration building after protesters took over the premises, hours after thousands of demonstrators gathered in the center of Sokhumi. Accusing Ankvab of "authoritarian" rule, inappropriate spending of Russian aid funds, and of failure to tackle corruption and economic problems, protesters were demanding his resignation.
Reports citing one of the senior figures in opposition, Sergei Shamba, were saying earlier on June 1, that Ankvab had signed a resignation letter, but at that time it was denied by Ankvab himself and his allies.
But just before 6pm local time on Sunday the Abkhaz official news agency carried Ankvab's written statement saying that he was stepping down; half an hour later the same statement, called "address to the Abkhaz people", was posted on president's website.
"I am addressing you in connection to the events, consequences of which might be disastrous for the fate of the Abkhaz state," it reads
Ankvab, who was elected for a five-year term in 2011, says that after "forceful seizure" of presidential administration and the state television by the opposition, the authorities tried to negotiate with them. Russian President's aide Vladislav Surkov was in Abkhazia on May 28-29, mediating between the opposition and the authorities.
"But those talks failed to lead to finding a compromise," Ankvab says in his statement. "My colleagues and I were understanding and understand that reaching of an agreement has not been the goal of our opponents. They had instructions opposite to this," Ankvab's statement reads.
He said that his major priority has always been prevention of bloodshed, "threat of which in the existing situation in extremely high – forces, which will stop at nothing, are struggling for the power." Ankvab said that these "forces" are ready to "sacrifice lives of their compatriots" and "freedom of Abkhazia" for the sake of their "ambitions."
Ankvab said that calls for reforms and other demands were just a pretext for the opposition, which, he said, is only interested in "distributing seats in the cabinet" among each other and whose "appetite" will grow and it will eventually create an existential threat to Abkhazia.
"In struggle for power it is easy to lose sacred for us living space – Abkhazia may no longer exist," Ankvab said.
He said he's confident that "forces", which were behind of attempt on his life are now supporting, including financially, the opposition.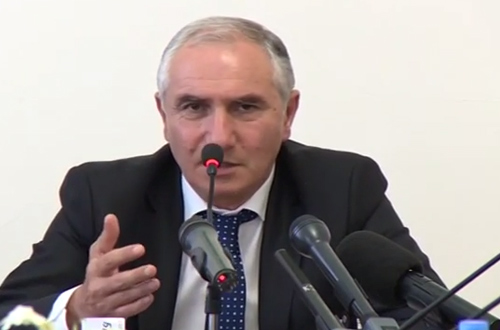 A screengrab from Sokhumi-based Abaza TV, showing parliament speaker, Valery Bganba, 60, who is now an interim president in the breakaway region.
"One of the goals of the coup d'état is to free those who are now defendants in this case of terrorist act," Ankvab said and also claimed that there was a plot to kill him on May 27 when protesters broke into the presidential administration building. He has been at the Russian military base in Gudauta since fleeing presidential premises.
There have been five, or possibly six, attempts on Ankvab's life since 2005 – most recently in February, 2012 when his convoy on the road between Gudauta and Sokhumi was attacked; two bodyguards of the Abkhaz leader were killed in that attack. Nine men are currently standing trial on charges of assassination attempts against Ankvab.
In the statement Ankvab has called on the supporters to drop plans of holding a rally in Sokhumi on June 2 and "not to yield to provocations."
He said that his decision to step down "does not correspond to sentiments of majority of our citizens", but it's the "only right decision."
Ankvab said that Parliament's May 31 decision was unconstitutional, but "in the existing circumstances", the decision to call snap presidential election is "politically acceptable".
Less than couple of hours after the statement was released, Ankvab met parliament speaker Valery Bganba, whom the legislative body appointed as interim president, and handed him over "seal of the president", Apsnipress reported.
Ankvab's statement does not mention anything about his future plans. One of the opposition leaders, Raul Khajimba, said earlier on June 1 that Ankvab will be able to run for re-election in the snap presidential election. "But I doubt it will have any sense," he added. Asked if he plans to run in early election, Khajimba responded that it will depend on the decision of his allies, RIA Novosti news agency reported.
Screengrab from Sokhumi-based Abaza TV's footage showing one of the opposition leaders, MP Raul Khajimba, addressing protesters on May 31, 2014 after parliament's decision to call early presidential election for August 24. If Khajimba, 56, decides to run in the snap election, it will be his fourth attempt to win presidency in the breakaway region; three previous attempts were unsuccessful. Khajimba, who graduated KGB's academy in Minsk in mid-1980s, was the breakaway region's vice-president in 2005-2009. He took that post as a result of a power-sharing agreement with then Abkhaz leader Sergey Bagapsh following a fiercely disputed presidential election in 2004 in which Khajimba was openly supported by the Kremlin. In the 2011 election in which Alexander Ankvab won the presidency with up to 55% of votes, Khajimba was third in the race with less than 20% of votes.
Build Up to Protests
The large outdoor protest rally on May 27, which eventually led to Ankvab's ouster, was led by a group of four opposition parties and seven public movements and organizations, known as Coordinating Council.
Political parties within the Council are: Forum of the National Unity of Abkhazia, led by MP Raul Khajimba; United Abkhazia, a formerly pro-government party led by former vice-premier Daur Tarba; Party of the Economic Development of Abkhazia, led by businessman Beslan Butba, who owns breakaway region's only private television, and People's Party, led by Iakub Lakoba.
Other organizations united in the Coordinating Council are: union of the Abkhaz war veterans Aruaa; public movement Akhatsa; union For Legality, Stability and Democracy, led by former interior minister Leonid Dzapshba; veterans union Abaash; veterans union Young Abkhazia; Coordinating Council of Compatriots of Russia in Abkhazia, and Congress of Russian Communities in Abkhazia.
In the midst of the political standoff on May 29 this group established Provisional National Council, claiming legitimacy to perform executive powers of the government; the 21-member provisional council is chaired by Khajimba and, apart of Coordinating Council representatives, also includes some other opposition figures, among them, breakaway region's former long-time foreign minister Sergei Shamba. The council said it aims at forming a coalition government and also expressed readiness to cooperate with pro-Ankvab political party Amtsakhara.

Coordinating Council was set up last year and originally it was established by opposition groups for the purpose of challenging Ankvab on "passportization" process in eastern parts of Abkhazia, including the Gali district, which is predominantly populated by ethnic Georgians. Ankvab's approach, also tried by his late predecessor and ally Sergey Bagapsh, which aimed at facilitating engagement of ethnic Georgians of Gali with rest of the breakaway region including through distributing Abkhaz passports, was slammed by opposition groups as threat to "Abkhaz sovereignty."
Although this issue has remained in focus of the Coordinating Council, its agenda has evolved since then to include challenging Ankvab on much broader issues ranging from social and economic problems to lack of democratic reforms. Ankvab was also accused of "authoritarianism" and directing Russian aid money to such infrastructure projects, which the opposition claimed, does not provide for sustainable economic growth.
In April, 2014 the Coordinating Council laid out number of demands to, as it put it, overcome "systemic crisis" in Abkhazia, which, among others, included sacking of the government and cutting of presidential powers at the expense of increasing Parliament's and PM's authorities. Ankvab at the time rejected demands as "ultimatum".
Tbilisi's Reaction
Next day after the presidential administration in Sokhumi was taken over by protesters, Tbilisi, which considers Abkhazia as its territory occupied by Russia, said that it's "concerned" over developments in the breakaway region.
In the view of opposition's hard-line stance over ethnic Georgian population of Gali district, which was demonstrated in debates over the issue of passportization in Abkhazia, in their remarks officials in Tbilisi were particularly focusing on vulnerability of ethnic Georgians in Gali.
Commenting on developments in the breakaway region, Georgia's state minister for reconciliation and civic equality, Paata Zakareishvili, said in an interview with Russian-language RTVi channel, recorded before Ankvab's resignation: "It's purely political struggle for power; there is no value-based conflict; political elite is homogeneous there."
He also said that Moscow "bets on no one" in this political standoff. "Moscow rules there on the ground," said the state minister, whose portfolio includes issues related with Georgia's breakaway regions. Zakareishvili also suggested that the fact that Kremlin sent its envoy Vladislav Surkov to mediate between the parties was demonstrating this level of Russian control. "They [conflicting parties] are communicating with each other through Russia. That's an answer to a question whether Abkhazia is occupied or not," Zakareishvili said.
This post is also available in: ქართული (Georgian) Русский (Russian)