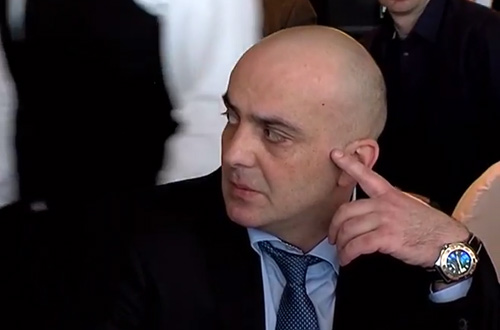 Screengrab from government press office video showing Otar Partskhaladze at a reception marking 36th anniversary of enthronement of the Patriarch of the Georgian Orthodox Church on December 27, 2013. It was Partskhaladze's first public appearance since taking the chief prosecutor's office on November 21.
Chief prosecutor Otar Partskhaladze had to step down on December 30, week after being embroiled in criminal record scandal and less than six weeks after taking the office.
"Because of questions that have been arisen over my biography, I feel obligated to respect and to take into consideration public opinion and to leave the post of chief prosecutor," Partskhaladze said in a written statement on Monday evening.
"The process of establishment of justice is ongoing in our country today and although holding of this post by me is not related to legal problems, I do not want legitimacy of investigations carried out by the prosecutor's office to be questioned," reads the statement.
"I do not want to cast a shadow by staying in office to the Prime Minister and the political force for which establishment of justice is a priority," Partskhaladze says in the statement and also thanks the PM and the government, adding that he has "served the country" and is ready to continue his service in any role.
Allegation that Partskhaladze had a criminal record first emerged on December 23 after Gigi Ugulava, who was suspended from Tbilisi mayoral office, said that the chief prosecutor was convicted for robbery and theft in Germany in January, 2001.
The very first response from the prosecutor's office was that the allegation was an attempt to discredit the chief prosecutor. Initial statement from the prosecutor's office sidestepped to answer a question whether Partskhaladze had a criminal record or not. But then the chief prosecutor had to partly confirm allegations against him and said in a written statement on December 24 that he had to appear before the German court after having an "incident" with the police in 2000; but he claimed court in Germany found him guilty of "verbal altercation" with a policeman and not for burglary or theft.
Up until now, senior figures from the Georgian Dream ruling coalition and government ministers were defending the chief prosecutor and maintaining that the allegations against him aimed at undermining recently stepped up investigation efforts into number of high-profile criminal cases, including against some former government officials.
PM Irakli Garibashvili, who appointed Partskhaladze as chief prosecutor on November 21, confirmed last week that Partskhaladze had a criminal record, but in an interview with the Rustavi 2 TV last week he actually ruled out his dismissal, saying that "noise" over the issue was "exaggerated." Parliament speaker, Davit Usupashvili, also defended Partskhaladze, saying last week that chief prosecutor's resignation was "irrelevant." Just several hours before Partskhaladze announced about stepping down, Usupashvili said on December 30 that he would not have appointed Partskhaladze on the post if he had known about the chief prosecutor's criminal record, but also added that he did not either think that Partskhaladze's dismissal now would be appropriate.
After Partskhaladze's announcement about the resignation, PM Garibashvili said it was "a dignified step" and "a right decision."

"It was his decision and I agreed," PM Garibashvili told journalists late on Monday evening.
He said that on the very first day when it emerged that there is "a dark stain" in the chief prosecutor's past, Partskhaladze asked for resignation.
"But I wished to clarify all the details," Garibashvili continued. "As it became known now that there is a concern in the society over this issue and questions have been arisen that this episode from his biography may somehow cast shadow on the process of restoration of justice, we have decided to accept Otar Partskhaladze's request for resignation."
Garibashvili said that this case demonstrated once again that the government "will not do anything that might be unacceptable for the society."
"That's our priority," he said, adding that prosecutor's office will have high legitimacy and there will be no reason to question this legitimacy either by the international community or the Georgian public.
The PM said that he has several possible candidacies on mind for the post of the chief prosecutor and would name replacement in several days.
A meeting of PM Irakli Garibashvili with GD coalition leadership was held just few hours before Partskhaladze's announcement about resignation.
Scandal over criminal record was preceded by allegations voiced by former PM Vano Merabishvili, who is now in pre-trial detention; Merabishvili reported on December 17 about pressure exerted on him personally by the chief prosecutor.
Commenting on Partskhaladze's resignation, a senior lawmaker from the UNM parliamentary minority group, Giorgi Gabashvili, said that the chief prosecutor had to yield to public pressure and step down. He stressed that this resignation was not removing from agenda need of investigating Merabishvili's allegations against Partskhaladze.
Parliament speaker, Davit Usupashvili, said earlier on December 30 that he's "not satisfied" by the pace of probe into Merabishvili's allegations.
"I think enough time has passed in order to already have precise and comprehensive answer from those agencies, which are carrying out probe into these allegations," Usupashvili told journalists at a news conference.
Ministry in charge of penitentiary system said on December 23 that it opened an internal probe into allegations leveled by Merabishvili.
This post is also available in: ქართული (Georgian) Русский (Russian)