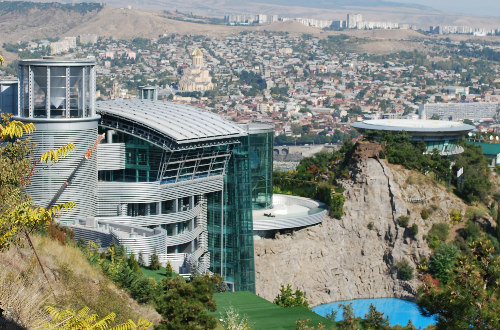 Bidzina Ivanishvili's compound with helicopter pad in Tbilisi, overlooking the capital city and a botanical garden. Photo: Civil.ge
Billionaire philanthropist, Bidzina Ivanishvili, who has announced about going into politics, wants to appear for the first time before TV cameras to answer journalists' questions.
His spokesman, Irakli Tripolski, said in a statement on Saturday, that Ivanishvili "is ready to answer journalists' questions in any format on the Georgian Public Broadcaster from October 14." The latter has already given its tentative positive response, expressing readiness to host the businessman-turned-politician.

Meanwhile, on October 12 Ivanishvili plans to release a new written statement in which he will "explicitly explain his attitude towards the political entities, media sources and other political institutions," Tripolski said.
He also said that Ivanishvili's statement released on October 7 in which he laid out his political goals, "has triggered a huge feedback from the society and mixed reactions."
Probably the most controversial in his October 7 statement was the part in which he attacked two Tbilisi-based television stations – Maestro and Kavkasia, which unlike three major nationwide broadcasters are critical to the government. But Ivanishvili claimed in his statement that these two stations, covering Tbilisi, only benefited President Saakashvili by creating façade of democracy in the country.
Some media commentators, who slammed Ivanishvili's media-related remarks, recalled his controversial treatment of a television station, which he owned. Ivanishvili closed down his Channel 9 in 2004 without providing reasons behind his decision. at that time the closure of the TV station triggered speculation that the move was a result of the authorities' efforts to consolidate grip over the broadcast media in the country which allegedly prompted Ivanishvili to shut down his TV station.
'I am a materialist; can't stand formalities'
Publicity-shy Ivanishvili's only interview to the press is dated with 2005, when he sat down with the Russian business daily Vedomosti.
Ivanishvili said in that interview that he's not a publicity-loving person, shunning away parties and public events.
"I don't like meeting journalists, participating in public events and various parties; one has to put on a mask [during such events], but I can't stand formalities. I am a materialist, I don't believe life after death and life itself is short and I don't want to do anything that may limit my freedom. In general I do not like being in the center of attention, I do not like celebrations, I even never celebrate my own birthday," he told the Vedomosti in the April, 2005 interview.
In the October 7 statement Ivanishvili says that it was not an easy decision for him to go into politics as always wanted to stay away from the political life. He said that after the fraudulent 2008 presidential elections he started to closely watch opposition parties with a purpose to decide to which of them provide support. Conclusion of his monitoring, he said, was that "without personal involvement it would have been very difficult to achieve needed result," so decided to personally engage in politics with a goal to change Saakashvili's rule through next year's parliamentary elections.
In the lengthy newspaper interview more than six years ago Ivanishvili recalls how he had built his financial empire in Russia and became a billionaire which he had never thought would be.
Born in 1956 in the village of Chorvila in Imereti region, Ivanishvili studied engineering and economics at the Tbilisi State University; in parallel he worked at a casting-mechanical plant as a cleaner.
He left for Moscow in 1982 for a postgraduate study at the labor research institute and then returned back to Tbilisi to work for the same institute's local branch as a senior researcher – the job with no future, as Ivanishvili said in the interview with Vedomosti. At that point, he recalls, he realized that the future was in computers and started importing them; but after making his first major deal worth of one million rubles, accounts of his firm were seized by the prosecutor's office promoting him to leave for Moscow, where he continued importing computers and home appliances together with his friend from his postgraduate study in Moscow, Vitaly Malkin, who became his long-time business partner. He said by 1990 they earned over USD 100,000, which was more than enough at the time to launch a bank, Rossiyskiy Kredit.
According to Ivanishvili, Malkin was a public face of the company and he was a main strategist, staying behind the scene, in charge of all key decisions, but also overseeing every detail of the business on micro management level. He said he shared his responsibilities in managerial duties to others only four years after launching the bank as his empire started to grow.
He was very careful in picking up business partners, even saying "I try to avoid partnership."
Ivanishvili was among those entrepreneurs who made most of thier fortune by taking advantage of the privatization of Russia's state assets, Ivanishvili said, at the time his bank had enough money to become the part of the process; Ivanishvili, however, said he was always avoiding bidding for those assets for which the competition was fraught with danger. So instead of targeting energy and metals sector, he was buying iron ore mines.
Financing Lebed's Presidential Bid
In the 2005 interview Ivanishvili said that his first and only (at the time of that interview) involvement in politics came in 1996 when he supported and financed a campaign of presidential candidate Alexander Lebed, who died in a helicopter crash in 2002. Ivanishvili said that while initially many were skeptical about his choice to support Lebed, eventually the candidate played key role in helping Boris Yeltsin to be re-elected. Lebed, who came third in the elections, endorsed Yeltsin in the runoff and in return received the post of secretary of national security council.
Selling assents in Russia
In his October 7 written statement, Ivanishvili said that third of his assets were in Russia, but would sell them before the next year's parliamentary elections in Georgia in order to prevent speculations about his Russian ties.
Ivanishvili manages his Russian assets through Unicor, a company with business interests in banking, construction and real estate, industrial sector, agriculture and runs chain of 422 drugstores Doctor Stoletov.
In his 2005 interview Ivanishvili said that he was planning to invest heavily in Russia's agriculture sector. He said it was challenging for him and it was kind of "sporting interest to build a successful company in a difficult sector."
In his October 7 statement Ivanishvili has pledged to invest USD 1 billion in Georgia's agriculture sector.
Ivanishvili launched investing in Georgia in mid-1990s; his business interests included a bank, agriculture and food sectors, but about six years ago he sold his Georgian assets, retaining Cartu Bank.
His teenage son, Bera, is a pop singer, who launched his record label, Georgian Dream, last year. In a Georgian-language post on his Facebook page on Friday, Bera wrote: "Today I finished writing a song 'Georgian Dream', which I dedicate to my father's decision" to go into politics.