News
Georgia, Sweden to Sign Convict Repatriation Deal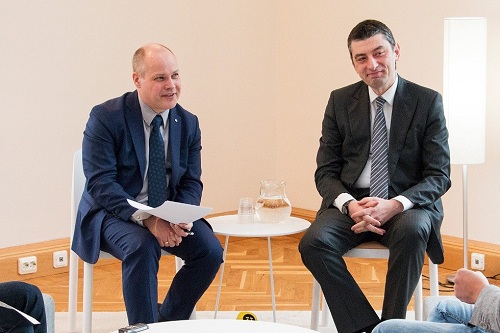 Morgan Johansson and Giorgi Gakharia in Stockholm, Sweden. March 13, 2018. Photo: police.ge
Georgia will intensify police cooperation with Sweden on countering organized crime, and will sign an agreement on repatriating its nationals who have been convicted of crimes in Sweden, the Georgian Ministry of Interior reported on March 14.

The announcement was made a day after the meeting of the Interior Minister of Georgia, Giorgi Gakharia, and his Swedish counterpart, Morgan Johansson, and few weeks after a number of European countries, including Sweden, voiced their concerns over the increased number of crimes and asylum seekers from Georgia, triggering doubts that the European Union would temporarily suspend the visa-free regime for Georgia.
"We had a meeting with the Justice and Home Affairs Minister to address the issues which have been raised by the Ministry … and we have agreed on a number of [joint] measures, including on deepening the operational cooperation between the law enforcement agencies," Minister Gakharia said after the meeting, adding that the sides "managed to reach an agreement" that Stockholm "would no longer raise the issue(s) as a problem."
Gakharia also noted that his Swedish counterpart "inquired into the possibility" of transferring the Georgian citizens to Georgian prisons, with Johansson saying the Georgian side agreed to the Swedish request. The Swedish media reported after the meeting that the respective interstate agreement would be concluded in two months time.
Morgan Johansson spoke on the Swedish concerns on March 8, ahead of the Home Affairs Council – a gathering of EU Justice and Interior ministers – in Brussels. The Minister said then that he wanted to have "a dialogue" with Tbilisi over the increased number of asylum seekers from Georgia, as well as on crimes committed by Georgian nationals.
The Minister specified that foreign criminal networks were behind nearly half of all burglaries in Sweden. "We have identified four countries that we are working especially with – Romania, Lithuania, Poland and Georgia; so, we want that the Georgian authorities take measures to combat that kind of activities," the Justice and Home Affairs Minister stated.
Johansson reiterated the points few days later, telling Radio Sweden that the country could not take responsibility for Georgian nationals after they were convicted. "We need the prison space in Sweden for our own villains," Johansson said, adding that Tbilisi had previously rejected to take in the convicts, citing lack of spaces in its prisons.
On March 9, Giorgi Gakharia visited the Europol headquarters in The Hague, where he concluded a Memorandum of Understanding on the secure communication channel between Europol and the Interior Ministry. The sides also signed a Liaison Agreement, enabling the Georgian authorities to post a Liaison Officer to the Europol headquarters.