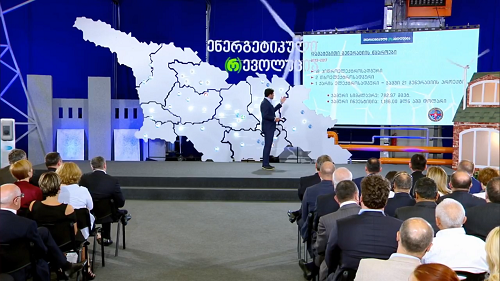 Kakha Kaladze presents results of his work, July 6, 2017. Photo: screengrab from facebook.com/kakhakaladzeofficial
Kakha Kaladze, the Energy Minister and the Deputy Prime Minister of Georgia, who was nominated by the ruling party as its mayoral candidate in Tbilisi, announced on July 6 that he will quit the ministerial position to run for elections.

"A very important stage is beginning in my life," Kaladze said at the presentation summarizing his work at the Ministry.

"If I am elected, I will do my utmost to make our capital, our Tbilisi successful. I believe that my team and Tbilisites will support me… With this unity we will manage to address all problems facing Tbilisi and its residents," he added.

In his speech, Kaladze focused mostly on energy projects and expressed gratitude to Prime Minister Giorgi Kvirikashvili for his support.

Speaking at the government's session earlier on July 6, PM Kvirikashvili expressed confidence that Kaladze would win the elections.

"We think that in an absolutely fair competition Kakha Kaladze will have no rivals; he will definitely win the elections and do a lot for our capital," he said.

The ruling Georgian Dream – Democratic Georgia named Kakha Kaladze as its mayoral candidate on July 1. Municipal elections will tentatively be held at the end of the third week of October, 2017.

Kakha Kaladze, former footballer who won UEFA Champions League with AC Milan twice, joined the then-opposition Georgian Dream-Democratic Georgia in 2011, leading the party list of the Georgian Dream coalition in the 2012 parliamentary polls. Kaladze was elected in the new Parliament after winning a majoritarian race in his native Samtredia constituency in western Georgia. Shortly after the elections, he was appointed the Energy Minister.
This post is also available in: ქართული (Georgian) Русский (Russian)