News
Georgian PM Meets EU's Barroso in Brussels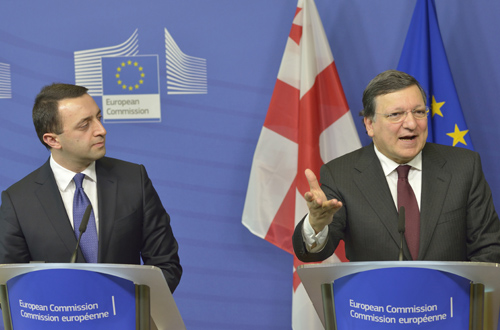 Georgian PM Irakli Garibashvili and President of the European Commission José Manuel Barroso at a news conference after their meeting in Brussels on February 3, 2014. Photo: European Commission Audiovisual Services
Georgia's current government has continued country's "reform path and European integration process with determination," European Commission President, José Manuel Barroso said after meeting Georgian PM Irakli Garibashvili in Brussels on February 3.
He said it is "crucial to sustain Georgia's important achievements towards good governance, strong political institutions and effective policies to promote economic growth" and stressed on the importance of ensuring that criminal prosecutions are free of political motivation.
"In the context of the major changes that have taken place recently in Georgian politics – a new President, a new Prime Minister, and a new constitution – I have urged Prime Minister Garibashvili to continue to pay careful attention to defending political pluralism and media freedom, the hallmarks of a healthy and pluralist democracy," Barroso said.
"I particularly emphasized the importance of ensuring that criminal prosecutions are evidence-based, transparent, free of political motivation, impartial, and fully in line with democratic values," he said. "Human rights, in particular the rights of minorities are vital and have to be taken as a priority."
Barroso said that preparations are now underway to sign the Association Agreement with Georgia, which was initialled at the Eastern Partnership summit in Vilnius in November, "hopefully not later than August."
"It is the intention of the Georgian authorities – that was today clearly restated here – to finalize through signature and afterwards [through] implementation this historic agreement with the European Union. Of course what we can say to everybody in the region is that this should be respected and we expect all the partners to respect precisely the free will of the country like Georgia and this is the line we are going to follow," Barroso said.
PM Garibashvili said that "major priority" for Georgia is to sign the Association Agreement with the EU "as soon as possible."
"Implementation of the Association Agreement is a challenging process," Garibashvili said. "The Georgian government stands ready to deliver on its commitments… In this process EU's solidarity and strong political support, as well as technical and financial assistance will be of critical importance."
The European Commission President welcomed the continuing dialogue between Georgia and the Russian Federation "as an important way to assure stability and security for the region."
"We have been advising our Georgian partners and friends to engage in the dialogue with Russia; that has been our proposition not only to this government, but also to previous government," Barroso said.
He expressed concern over erection of fences and barriers on administrative boundary lines of Georgia's breakaway regions, saying that this process has a "direct negative impact on the local populations."
PM Garibashvili, who is visiting Brussels on February 3-5, said after the meeting with Barroso that "against the background of continues pressure from Russia", Georgia pays particular importance to the EU's "vital role in promoting peace and stability in Georgia."
Also on February 3, PM Garibashvili met EU Commissioner for Enlargement and Neighbourhood Policy Štefan Füle; Commissioner for Home Affairs Cecilia Malmström and Commissioner for Energy Günther Oettinger.
Commissioner Füle's office said in a press release after the meeting that PM Garibashvili was assured of the EU's "full support for Georgia in preparing for signature and then in the implementation of this ground-breaking treaty" – the Association Agreement and its free trade component.
Füle also urged the Georgian PM "to continue to pay attention to defending political pluralism and media freedom in Georgia, as the hallmarks of a healthy democracy and reflection of the values on which the EU-Georgia relations are being built." He also stressed "the need for further strengthening of democratic institutions."
PM Garibashvili will meet President of the European Council Herman Van Rompuy on February 4 and plans a meeting with EU foreign policy chief Catherine Ashton on February 5.
During his visit to Brussels, the Georgian PM also plans a meeting with NATO Secretary General Anders Fogh Rasmussen.
This post is also available in: ქართული (Georgian) Русский (Russian)