News
Protesters Keep on Rallying After Minaret's Removal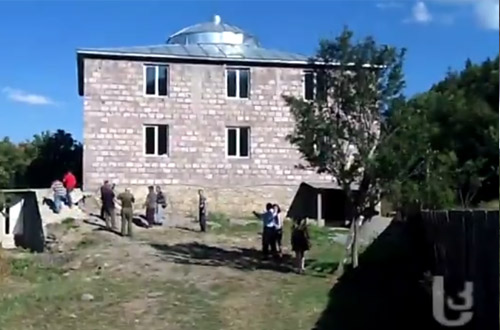 A screengrab from SKnews video showing a mosque in the village of Chela after the minaret was removed on August 26.
Protesters continue rallying outside the regional police headquarters in Akhaltsikhe on Tuesday, a day after the authorities forcibly removed a minaret from a mosque in the village of Chela in Adigeni municipality of Samtskhe-Javakheti region, sparking Muslim community's protest.
About hundred local residents of Chela and its nearby villages are gathered outside the police station in Akhaltsikhe demanding release of several villagers remaining in custody following the clashes with the police; the protesters are also demanding return of removed minaret back to the mosque in Chela, reported Akhaltsikhe-based TV station, Channel 9, and a local newspaper Samkhretis Karibche (SKnews) on its website.
According to the Interior Ministry total of 18 men were arrested and now nine of them remain in detention; three of them are facing criminal charges for resisting police and six others are in custody for administrative offenses, according to the Interior Ministry.
"We were told that detainees will be released in several hours so I call on the people for restraint," SKnews quoted chairman of the Georgian Muslims Union, Tariel Nakaidze, who arrived at the protest venue in Akhaltsikhe.
Small village of Chela, like several other nearby villages in Adigeni municipality, is populated by ethnic Georgians – some of them Muslims, who resettled there from Adjara and others are Orthodox Christians, who migrated from Racha region.
Since November, 2012 there have been several cases in three villages with mixed Muslim and Christian population when local Christian community confronted local Muslims and barred them to perform prayer in houses converted into mosques. Such incidents occurred in Nigvziani in western Georgian region of Guria, Tsintskaro in Kvemo Kartli region and Samtatskaro in Kakheti region.
The case of Chela is different from developments in those three villages as no conflict between local Muslim and Christian residents of Chela was reported. After the minaret was erected at the mosque in Chela in July, and before it was removed on August 26, the local newspaper Samkhretis Karibche was reporting, quoting local Christian residents of the Chela village, that they had no problems with their Muslim neighbors and were not also against of building the minaret.
Chairman of the Georgian Muslims Union, Tariel Nakaidze, said on August 27 that it was not a confrontation between local Muslim and Christian communities. "I am impressed by the stance of the local Christian residents, who have condemned this situation; it is not a religious confrontation. I hope the government will take reasonable decisions," he said.
SKnews reported that some Orthodox Christians from the Chela village have also joined the protest rally in Akhaltsikhe on August 27.
On August 20 a local city council (Sakrebulo) in Adigeni passed a decision according to which the minaret was constructed illegally without obtaining permission from the local authorities. But formally the reason for removal was not this decision of Sakrebulo; the Revenue Service at the Finance Ministry said it was behind the move. It said that the minaret was removed for the purpose of its inspection to verify if the metal construction materials, used for building of the minaret, were properly declared when cargo was imported into Georgia on July 14. An official from Revenue Service's press office told Civil.ge on Tuesday that examination of the minaret was ongoing, but she was not able to say when the process would be over.
After the minaret was erected in Chela, a local non-governmental organization based in Adigeni, chaired by Goderdzi Kublashvili, started a campaign demanding its removal. Kublashvili, who chaired the Adigeni Sakrebulo in early 2000s, was planning a protest rally in Adigeni to demand minaret's removal, but on August 6 he told Akhaltsikhe-based Channel 9 TV that he decided to cancel the rally "to prevent provocations" and to "give the authorities reasonable timeframe to resolve the issue." Signatures of citizens were reportedly also collected requesting minaret's removal, but locals in Chela were telling SKnews that they were not aware who was behind the campaign and that they were not joining it.
"Someone tries to artificially stir confrontation between Muslims and Christians here," a local elderly man from the Muslim community told the Akhaltsikhe-based television station.
This post is also available in: ქართული (Georgian) Русский (Russian)