News
Georgian Orthodox Church Leader on Surrogacy, Family and EU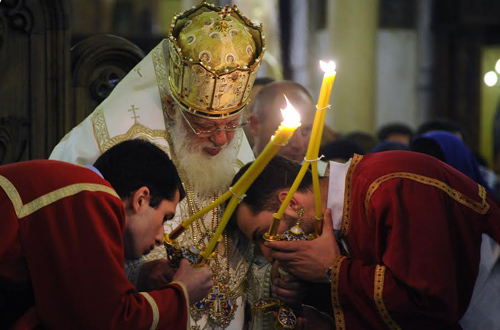 Head of the Georgian Orthodox Church, Partriarch Ilia II, who turned 81 on January 4, seen during Christmas midnight mass in the Holy Trinity Cathedral in Tbilisi, January 7. Photo: InterPressNews
Georgia is part of "Christian Europe", but the EU should take into consideration country's "traditions and mindset", Patriarch of the Georgian Orthodox Church Ilia II said in his Christmas message in which he laid out Church's strong opposition to surrogacy, artificial insemination and in vitro fertilization, suggesting that families having children born by surrogate mothers will not be happy.
"How can a family, where abortion is made, be happy," the address reads. "How can a family, where a child born by a surrogate mother is raised, be happy. This little [child] is doomed to be deprived of love and is doomed to loneliness from the very beginning."
"Those children born through artificial insemination will be problematic too," reads the address.
Patriarch's Christmas epistle was read out by a senior Orthodox cleric in the Holy Trinity Cathedral in Tbilisi just before midnight on January 6, before the Orthodox Christmas mass.

The address says that the Christianity nowadays faces multiple "mega-challenges"; it then lays out "fundamental difference" between freedom of choice as seen by the Christianity and by "pseudo-liberals", saying that for the latter everything "is equally good" and the former differentiates between right and wrong. "Principle of Christianity is: I respect the freedom of your choice, but not any kind of choice," reads the message.

"An all-out struggle is ongoing against traditional views, upbringing and moral. It is very regrettable that minority groups, notable by their markedly negative stance towards the Christianity, are portrayed as being renowned representatives of humanism. They have privileges, advertisement, media works for them, they are protected by various non-governmental organizations; laws are being amended for the purpose of implementing their goals; and those who are against of these principles, especially the Church, appear in discrediting torrent," the address reads.
The message then continues by saying that the family is becoming "the major target of attack", which faces a threat from same-sax marriages and from allowing same-sax couples to adopt children. "Such a law distorts whole sense of marriage and actually turns a child into item, which can be owned by everyone," it reads.
"With its development and culture, Georgia is part of the Christian Europe and for that reason there genuinely is an aspiration towards [Europe] in our people. But on this and above mentioned fundamental issues the European Union, the European parliament should take into consideration individual countries' traditions and mindset and give them a possibility to make a free choice in order for the local population to sincerely wish to connect themselves with modern European culture. The Georgian Church welcomes a position of the European Union that legalization of same sex marriage does not represent a precondition for our country to become a full-fledged member of the European Union – the position which was voiced by the EU ambassador Mr. Philip Dimitrov in his December, 2013 statement," reads the Georgian Patriarch's address, apparently referring to Ambassador Dimitrov's remarks made in an interview with the Georgian weekly Kviris Palitra newspaper last month; he said that he had heard a wrong notion in Georgia as if the EU would impose same-sex marriage as a precondition for its EU integration; he stressed on importance of protection of minority rights and added that violence against minorities would cause a "trouble" for the country.
The Christmas message also reiterates the Georgian Church's position on homosexuality, saying that "such persons need a help in order to overcome this sinful inclination and get back on the right way of life."
"But it does not mean that we should support propaganda of their sin," it reads.
The message then continues by praising a family where, as it put it, a man is "a guardian and breadwinner" and a woman is "responsible" for housekeeping and raising children.
"And even if it may seem impossible, a woman should obey husband based on God's commandments (but it does not imply obedience in wrong and sinful actions)," it reads.
This post is also available in: ქართული (Georgian) Русский (Russian)