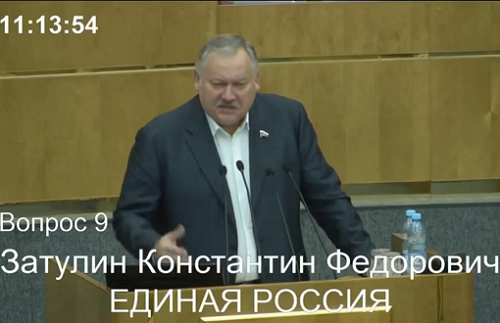 Konstantin Zatulin, member of the Russian Duma, addresses the Duma hearing on medical assistance to Abkhazia. Photo: screengrab from Duma hearing
January 22-28
Moscow ratifies Tskhinvali deal – Karasin chats regional politics with Medoev – Sees him off to Nauru – Abkhazia Cossacks (surprise!) back Putin re-election – Russia mulls medical center in Abkhazia – MFA hits back at Karasin interview – Serbian speaker tries to patch up ties in Tbilisi – Abkhaz opposition would like to see Khajimba's back…while he tours villages to whip up support – Sokhumi, Tskhinvali reps in Nauru.
Russia's Network – Duma ratifies Tskhinvali military agreement: Russian legislature ratified the agreement "on the procedure of inclusion of separate units of the armed forces of the republic of South Ossetia into the armed forces of the Russian Federation." The document is to regulate service of the residents of the Russian-occupied Tskhinvali Region/South Ossetia in the Russian military, in particular Moscow's military base stationed in the region. It was ratified in Duma unanimously, with 411 Russian MPs voting for it.

View from Tbilisi – Georgia condemns Russian occupied territories moves: Russian Duma's ratification of a military agreement with Tskhinvali and opening of a new "customs point" in the occupied Akhalgori Municipality of Tskhinvali Region/South Ossetia where attacked by the Georgian MFA in two separate statements. One pointed out that the ratification "represents another unlawful step by the Russian Federation towards factual annexation of Abkhazia and Tskhinvali regions of Georgia, in full disregard for the fundamental norms and principles of international law." Another said that the "customs" opening was "aimed at integration of occupied Abkhazia and Tskhinvali regions within the customs sphere of the Russian Federation" and represented "another illegal step towards factual annexation of these regions by the Russian Federation."
View from Tbilisi – Georgian MFA responds to Karasin: In response to Deputy Foreign Minister Grigory Karasin's claim that by the 2011 trade monitoring agreement Georgia had accepted its "customs border" started at points beyond the Russian-occupied territory, Georgian Deputy Foreign Minister David Dondua issued a statement of his own, saying that customs territory of Georgia "comprises the whole territory of the country within its internationally recognized borders," and that it was "totally unacceptable to politicize, misinterpret and hamper the implementation of the 2011 Georgia-Russia Agreement."
Western Voices – U.S. joins Tbilisi in Tskhinvali military agreement condemnation: The U.S. State Department also condemned the Russian ratification of the Tskhinvali military agreement. "We do not recognize the legitimacy of this so-called "treaty," which does not constitute a valid international agreement," its spokesperson Heather Nauert said in a press statement, adding that the United States had an "unwavering" position on Abkhazia and South Ossetia: "the United States fully supports Georgia's territorial integrity within its internationally recognized borders."
Russia's Network – Karasin receives Tskhinvali representative in Moscow: In the meantime Grigory Karasin talked to the "foreign minister" of Tskhinvali Russian-backed authorities Dmitry Medoev in the Russian MID building on January 22. The topics reportedly included "foreign political coordination and situation in the South Caucasus."
Members of the Russian-backed authorities go to Nauru: Sokhumi and Tskhinvali representatives (the latter including the very same Medoev) are on a long visit to Nauru – one of the four countries that have recognized the Russian-backed regimes' "independence" along with Russia, Venezuela and Nicaragua – in late January and early February.
Russia's Network – Abkhazia Cossacks back Putin: A delegation of the Cossacks based in Abkhazia took part in an all-Russian Cossack meeting in Moscow. The Cossacks decided to create a special movement, called Rubezh ["frontier" or "edge" in Russian], for the purpose of supporting Vladimir Putin in his March 18 presidential election. The Cossacks from Abkhazia joined Rubezh, issuing a statement which says: "we, representatives of the Russian World [Russkiy Mir] in Abkhazia, consider Vladimir Putin to be a worthy candidate and will support his candidacy at the 2018 election." The Cossacks believe that during Putin's tenure "Russia has gained strength, power and confidence on the international arena."

Russia's Network – Zatulin statement: During a discussion in the Russian Duma regarding ratification of medical supplies agreement with the Sokhumi Russian-backed authorities, a Duma member from Putin's United Russia ruling party Konstantin Zatulin suggested opening of a "Russian medical center" in Abkhazia in the future, specifically because it would have "great political importance, not just for healthcare," since Georgia had a medical center in Zugdidi Municipality, where Abkhazia residents can get medical service for free.

Serbia and Georgia vow mutual support for territorial integrity: President of the National Assembly of Serbia Maja Gojkovic visited Georgia, meeting the country's senior officials. Both sides highlighted the two nations' firm support for each other's territorial integrity and the shared aspirations regarding European integration.
Sokhumi Happenings – Abkhaz opposition wants to see Khajimba's resignation: New opposition-led "union of political parties and public organizations of Abkhazia" held its first press conference, where it stated its purpose to achieve early resignation of the Russian-backed Sokhumi leader Raul Khajimba. The union had been established following protest rallies in response to Russian-backed Sokhumi leader Raul Khajimba's decision to release prisoner Giorgi Lukava, whom Sokhumi accuses of murder and kidnapping.
Sokhumi Happenings – Khajimba keeps touring Abkhazia seeking political support: Last week Raul Khajimba continued his tour of Abkhazia's districts, making his case against the attack the opposition in the region has been waging on him since early January. On January 23 Khajimba was in Gali, on January 24 – in Gulripshi, where he accused the opposition of seeking "destabilization" and making "call for chaos," and on January 25 in Tkvarcheli.
On the Line – IPRM meeting in Ergneti: 84th meeting of the Incident Prevention and Response Mechanism was held in village Ergneti, on Tskhinvali Region/South Ossetia occupation line. Participants discussed the impact of "borderization" on local residents, among other issues. The matter of investigation of the case of David Basharuli, who in 2014 went missing in the occupied Akhalgori Municipality and was later found dead, also was raised at the IPRM.