News
Georgian Opposition MPs Meet Russian Lawmakers in Moscow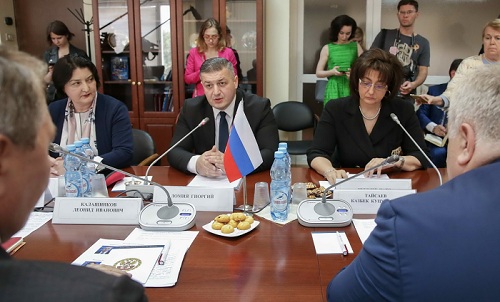 MPs of the Alliance of Patriots in the State Duma, July 11, 2017. Photo: duma.gov.ru
Lawmakers of the opposition Alliance of Patriots party, which has a six-member faction in the Parliament of Georgia, paid a two-day visit to Moscow, where they met with the lawmakers of the Russian State Duma and agreed to set up an informal group of cooperation.
The three-member Georgian delegation, consisting of MPs Giorgi Lomia, Ada Marshania and Nato Chkheidze, held talks with the Chairman of the State Duma Committee for CIS Affairs and Eurasian Integration, Leonid Kalashnikov, on July 11.
The sides discussed the prospects of restoring the Russian-Georgian relations; NATO-Georgia cooperation, as well as the current situation in Abkhazia and Tskhinvali regions of Georgia, according to the Russian State Duma press release.
"We managed to hold a substantial discussion and set up a joint informal group with Georgian lawmakers," Kalashnikov said, adding that the MPs from the two countries "meet rarely and it is not normal, because the parliament is exactly about meetings, talks, dialogues and compromises."
MP Ada Marshania of the Alliance of Patriots said after the meeting that the party will propose to the Georgian Parliament to set up a similar informal group. She also touched upon "the direct dialogue" with the Abkhaz and South Ossetians, noting that she hopes for Russia's support on this matter.
Speaking on the visit, MP Giorgi Lomia noted that although "it is a politically unpopular step," "it is necessary to deliver rather than to be constantly involved in a political PR campaign."
"We want to offer Moscow a new format of dialogue – a trilateral Georgia-Russia-NATO format, which should enable our country to feel secure," he added.
Speaking at a joint news briefing with his Belgian counterpart in Brussels on July 12, Russian Foreign Minister Sergey Lavrov said that Georgia and Russia already have "a channel" of relations, referring to an informal direct dialogue between Zurab Abashidze, Georgian Prime Minister's special representative for Russia, and Russia's Deputy Foreign Minister Grigory Karasin.
He, however, expressed readiness for establishing other formats that "will be acceptable for both sides." "We think, it will be beneficial," Lavrov added.
Commenting the lawmakers' visit to Moscow, Georgian Parliamentary Chairman Irakli Kobakhidze slammed it as "a partisan visit" and noted that "it has nothing to do with the Georgian Parliament." "We distance ourselves from similar visits," Kobakhidze said.
This post is also available in: ქართული (Georgian) Русский (Russian)