News
UNM Names Mayoral Candidate in Tbilisi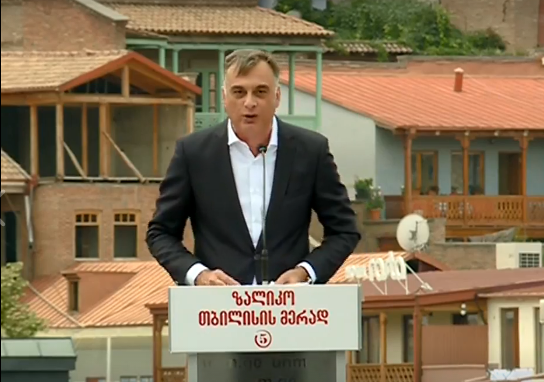 Zaal Udumashvili will enter the mayoral race in Tbilisi, June 26, 2017. Photo: screenshot from facebook.com/zalikoudumashvili/
Zaal Udumashvili, long-time anchor and deputy director general of Rustavi 2 TV, will enter the mayoral race in Tbilisi on behalf of the United National Movement, while Nika Melia, head of the party's political council, will compete for Tbilisi's 50-member Municipal Council (Sakrebulo) chairmanship.
The two candidates were presented at a campaign meeting in front of the Metekhi Church in downtown Tbilisi on June 26.
Nika Melia, who ran for the mayoral post in 2014, spoke at the gathering before Udumashvili, saying the party will be entering "a decisive battle" to end "desperation, homelessness, poverty, mafia networks, oligarchic rule, nepotism and corruption."
"For five years already, the government has been trying to destroy us and despite that, we are standing here with new determination, new enthusiasm, more motivation, new approaches, and are declaring a decisive battle for defeating the oligarch," Melia noted, referring to Bidzina Ivanishvili, the country's former Prime Minister.
"The struggle for liberating Georgia from Ivanishvili will start from Tbilisi and we will win [in this battle] with your support," Melia noted, adding that he would quit the Parliament to "defeat the Georgian Dream government from Tbilisi Sakrebulo."
Melia also proposed partnership to other political parties, offering "to all forces with western values to gather in this battle and defeat Ivanishvili's regime together in Tbilisi."
Nika Melia, who presented Zaal Udumashvili at the end of his remarks, emphasized that Udumashvili "is already a winner as a journalist, as a professional and as a citizen, who defended freedom of speech together with the people."
"He is now entering politics to win a decisive battle for Tbilisi and Tbilisites together with Georgia's most energetic, strong, motivated political team," Melia added.
Zaal Udumashvili, who spoke next at the meeting, underlined in his speech that he would be the candidate of "angry Tbilisites." "Today, Tbilisites are angry because our city has never been left as neglected as today, because there has never been so much unaddressed problems and challenges as today," Udumashvili noted.
"I am a mayoral candidate of angry Tbilisites and I want to become the mayor of your city to turn Tbilisi into the city of happy people," Udumashvili added, pledging to end nepotism, corruption and partisan appointments in the mayoral office. He also vowed to complete a number of infrastructural projects and bring "even development" to the suburbs of Tbilisi.
Udumashvili also stressed that he joined the United National Movement "as the only political force in this country, which has an experience in building and which put the country on western rails." "This team has made mistakes as well," Udumashvili went on, "I would like to share the positive experiences of this team entirely and do not repeat its mistakes."
This post is also available in: ქართული (Georgian)