News
Republika Srpska President Meets South Ossetian Leader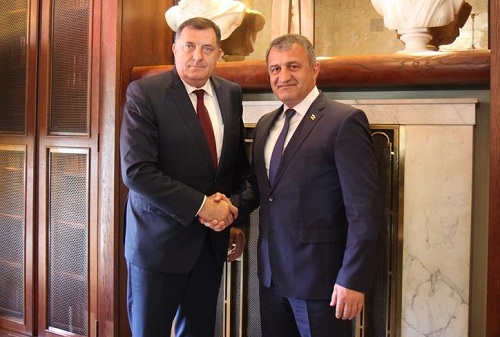 Milorad Dodik and Anatoly Bibilov, June 1, 2017. Photo: cominf.org
Milorad Dodik, President of Republika Srpska, a constituent entity of Bosnia and Herzegovina, held a meeting with South Ossetian leader Anatoly Bibilov on June 1 on the sidelines of the St. Petersburg International Economic Forum.
According to Bibilov's press service, at the meeting, Dodik spoke about the pressure that the Western countries apply against [his] republic, and the wish to develop into a self-governing state.
Dodik also expressed his readiness for cooperation with Tskhinvali. "I am glad to get to know you, we [closely] watched the events in South Ossetia, we know what happened there, we felt sympathy for you," the head of the Republika Srpska was quoted as saying.
Bibilov responded that South Ossetia and Republika Srpska have "similar fates." "Our peoples have faced similar problems, we have common goals, common friends and the same faith," he added.
According to Bibilov's press service, the two agreed tentatively that Dodik would visit Tskhinvali on September 20, when the region marks "the Day of the Republic," while Milorad Dodik invited Bibilov to take part in the Day of Republika Srpska celebrations on January 9.
This post is also available in: ქართული (Georgian)