News
Ex-Security Official Arrested over 'Fake IDs for Ballot Fraud'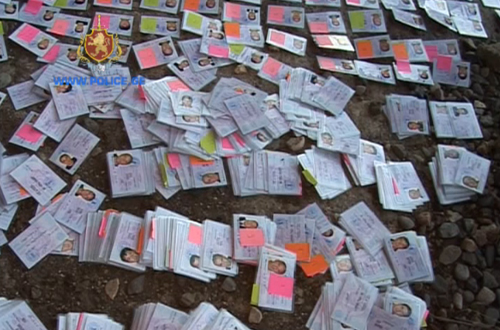 A grab from police video showing what the Interior Ministry says is part of "thousands of fake IDs" it recovered in Batumi and Zugdidi.
Police have recovered "thousands of fake" IDs which were used in number of previous elections in ballot fraud scheme in favor of former ruling UNM party, the Georgian Interior Ministry said on October 25, two days before Sunday's presidential vote.
It said former head of the Interior Ministry's Department for Constitutional Security (DCS) in the Adjara region, Teimuraz Pataridze, was arrested for "organizing producing and using of fake IDs" in 2008-2012.
These fake identification documents, the Interior Ministry said, were handed out to employees of DCS enabling them to engage in 'merry-go-round' voting – a scheme when a person casts ballot for multiple times at several polling stations, in elections held in Georgia between 2008 and 2012, including early presidential polls in January, 2008.
"Regional units of DCS throughout the country were thoroughly studying voter lists, identifying politically passive citizens and those who left the country years ago and providing Pataridze with data of these citizens; these data were then included in fake IDs containing photos of DCS employees," the Interior Ministry said, adding that a single DCS employee was holding multiple fake IDs with his or her photo in it and casting ballot multiple times for UNM and its candidate in the elections.
"Several thousands of fake IDs were recovered in Zugdidi [town in Samegrelo region] and Batumi [Adjara Autonomous Republic]," the Interior Ministry said without specifying an exact figure.
It said that investigation is ongoing to identify other "organizers" of the scheme.
This post is also available in: ქართული (Georgian) Русский (Russian)