News
In Brussels Ivanishvili Called to Avoid 'Selective Justice'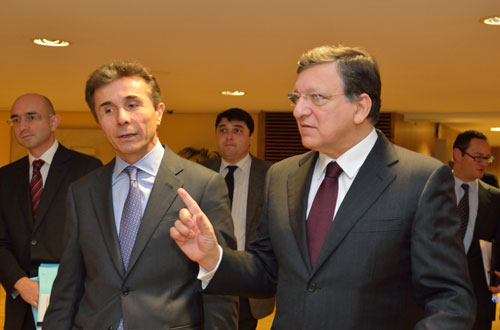 PM Bidzina Ivanishvili (left) and President of European Commission José Manuel Barroso (right), Brussels, November 12. Photo: European Commission Audiovisual Services
President of the European Commission, José Manuel Barroso, has called on Georgia's new government to avoid "situations of selective justice", which could weaken rule of law and harm Georgia's image abroad.
Speaking at a joint news conference after meeting with visiting PM Bidzina Ivanishvili in Brussels on November 12, Barroso praised both Georgia's new PM and President Saakashvili "for the way in which they steered transition to the new government."
He urged "all political actors in Georgia to continue using their leadership and statesmanship to maintain constructive, responsible political atmosphere."
"Democracy is about the rule of majority, but also about respect of minorities. Democracy is more than elections, it's the culture of political relations in a democratic environment," Barroso said.
"In this respect, situations of selective justice should be avoided as they could harm the country's image abroad and weaken the rule of law," he said.
"I've addressed this issue with PM and he responded to me in a very concrete way," Barroso added.
He said that he had "a very open and fruitful" exchange of views with PM Ivanishvili about the ways to further deepen ties between the EU and Georgia.
Barroso said that PM Ivanishvili's choice to visit Brussels in his first official trip abroad was "a clear sign of Georgia's continued engagement with the European Union."
He said that the EU and Georgia "are making real progress" in talks over deep and comprehensive free trade agreement.
"We hope that the pace of trade reforms in the country will allow us to finalize these negotiations in time for the 2013 Eastern Partnership summit in Vilnius," Barroso said, adding that EU and Georgia were also "moving forward" on visa liberalization dialogue.
PM Ivanishvili reiterated his commitment to Georgia's European and Euro-Atlantic integration and said that his government "will spare no efforts to deepen and accelerate this process."
"I assured the President that Georgia and its new government will do its best for protection of human rights in Georgia. We will continue and deepen building of democratic institutions," PM Ivanishvili said.
"Our major goal is to sign Association Agreement before the Vilnius [Eastern Partnership] summit," he said.

PM Ivanishvili said that Georgia was looking forward to the visit of EU Commissioner for Home Affairs Cecilia Malmström in December, who would present Visa Liberalisation Action Plan (VLAP) – a set of detailed requirements that a country should meet in order to be granted short-term visa-free regime with the EU.

Also on November 12, PM Ivanishvili met with President of the European Council Herman Van Rompuy, who underlined EU's "firm commitment of the European Union to work closely and intensively with both his government and with the President".
After that meeting PM Ivanishvili said that he was looking forward to the visit of EU foreign policy chief Catherine Ashton to Georgia on November 26.
This post is also available in: ქართული (Georgian) Русский (Russian)