News
Ivanishvili's Incoming Cabinet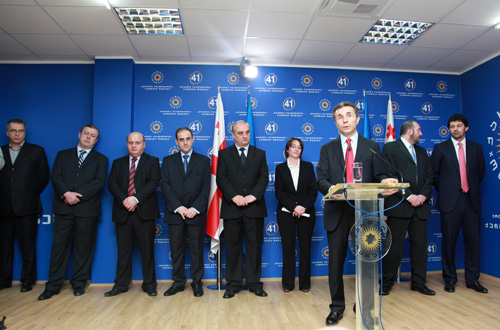 Georgian Dream leader and incoming PM Bidzina Ivanishvili announces his cabinet members on October 16. Photo: Guram Muradov/Civil.ge
More than a week after nominating most of the picks for cabinet posts, leader of the Georgian Dream coalition and incoming PM, Bidzina Ivanishvili, announced on October 16 candidates for rest of the ministerial posts in his incoming government.
There are several changes in the nominations announced a week ago.
In one change, ex-footballer Kakha Kaladze, who was initially named for the post of minister for infrastructure and regional development, was now moved to the post of the Minister of Energy and Natural Resources.
"I want to stress on his success and how he has grown up as politician over the past one year since he joined our newly established party and you, journalists, probably also noticed how fast he grows up and how much success he has achieved recently," Ivanishvili said of Kaladze while presenting his incoming cabinet.
In another change, Amiran Gamkrelidze, whom Ivanishvili initially named as healthcare minister, was replaced by Davit Sergeenko, a doctor who has led a hospital built by Ivanishvili in his native Sachkhere.
Other ministerial nominees, announced on October 16, are:
Minister of Finance – Nodar Khaduri;
Education Minister – Giorgi Margvelashvili;
Minister in charge of IDPs issues – Davit Darakhvelidze;
Minister of Environmental Protection – Khatuna Gogoladze;
Minister of Economy and Sustainable Development – Giorgi Kvirikashvili;
Minister for Infrastructure and Regional Development – Davit Narmania;
A week ago Ivanishvili named Nodar Khaduri, an elected MP from Ivanishvili's Party Georgian Dream-Democratic Georgia (GDDG), as incoming chairman of the parliamentary committee for economic policy. But a week later Khaduri has been named as the Finance Minister. He will not be a newcomer in the ministry. Khaduri served as deputy finance minister and the ministry's parliamentary secretary in 2003-2004. Before that he worked for three years as chief of staff at the parliamentary committee for revenues. Before joining Ivanishvili's part, Khaduri was with ex-parliamentary speaker Nino Burjanadze's party. He was a lecturer of economics at the Tbilisi State University until August, 2012, when he accused the university administration of sacking him because of his affiliation with Ivanishvili's party.
Minister for Infrastructure and Regional Development will be a short-term post for Davit Narmania, who is a founder of Caucasian Institute for Economic and Social Research (CIESR). Ivanishvili said on October 16, that the ministry will be scrapped based on which two separate agencies would be established – the regional development service will be under the direct subordination of the PM and infrastructure development will go under the ministry of economy. After that Narmania, according to Ivanishvili, would become the first deputy finance minister.
Giorgi Kvirikashvili, who is set to become economy minister, was member of board of directors of Ivanishvili-affiliated Tbilisi-based Cartu Bank; he was a lawmaker in 1999-2004 with the New Rights Party and a member of parliamentary committee for economy.
Incoming education minister, Giorgi Margvelashvili is a rector of the Georgian Institute of Public Affairs (GIPA). He has been a frequent commentator on political affairs and a supporter of the Georgian Dream.
Ivanishvili said that a state commission would also be established to work on reforms in education and science; the commission will be established at the Prime Minister's administration. Ivanishvili said that he had invited as chairman of this commission Georgi (Gia) Dvali, professor and chair of the Theoretical Elementary Particle Physics at the Arnold-Sommerfeld Center for Theoretical Physics at the Ludwig Maximilian University of Munich.
Incoming minister for environment protection, Khatuna Gogaladze, was the national coordinator in Georgia for OSCE-administered Environment and Security Initiative (ENVSEC). Gogaladze, little known to the wider public, served as deputy head of the department of integrated environmental management at the ministry of environment in 2006. She earned a master's degree from Indiana University's School of Public and Environmental Affairs as an Edmund S. Muskie Graduate Scholar in 2008.
Davit Darakhvelidze, incoming minister in charge of internally displaced persons, was a governor of Racha-Lechkhumi region during Eduard Shevardnadze's presidency. Darakhvelidze, who is a native of Gulripshi in breakaway Abkhazia, will be the only member of the incoming cabinet representing National Forum party, part of the Georgian Dream coalition. In the October 1 parliamentary elections he was Georgian Dream's majoritarian MP candidate in Ambrolauri single-mandate constituency in Racha-Lechkhumi region; according to official results, he was defeated by UNM's candidate in a tight race.
Rest of the incoming cabinet members, announced on October 8, are:
Minister of Defense and Vice Premier – Irakli Alasania, leader of Our Georgia-Free Democrats (OGFD) party;
Interior Minister – Irakli Garibashvili (GDDG);
Minister of Justice – Tea Tsulukiani (OGFD);
Minister of Foreign Affairs – Maia Panjikidze (GDDG);
Minister of Agriculture – Davit Kirvalidze (he held this post in 2001-2003);
Minister in charge of penitentiary system – Sozar Subari (GDDG);
Minister of Culture and Monument Protection – Guram Odisharia (GDDG);
Minister of Sports and Youth Affairs – Levan Kipiani (GDDG);
State Minister for European and Euro-Atlantic Integration – Alexi Petriashvili (OGFD);
State Minister for Reintegration – Paata Zakareishvili (Republican Party);
State Minister on the Diaspora Issues – Kote Surguladze (OGFD);
The only remaining post for which the Georgian Dream has not yet named a candidate is the State Minister for Employment, which was established by the outgoing authorities ahead of the elections as employment was one of the key areas of UNM's electoral campaign. The nomination of a candidate for this post, however, will be a formality because the Georgian Dream plans to scrap this cabinet post.
Ivanishvili's GDDG party will have seven seats, including Ivanishvili himself as PM, in the 21-member cabinet (total number of ministerial portfolios will go down after planned structural changes within the government).
Irakli Alasania's OGFD party will be represented by four cabinet members; Republican Party and National Forum will have one minister each. Other incoming ministers are not members of any party.
The oldest cabinet member will be a writer Guram Odisharia, 61, who is set to become minister of culture and the youngest one will be nominee for interior minister's post Irakli Garibashvili who is 30 years old.
There will be three female ministers in the new cabinet.
This post is also available in: ქართული (Georgian) Русский (Russian)