News
Ivanishvili: 'Govt will Be Replaced through Elections'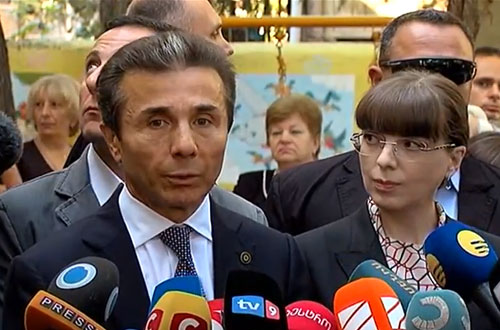 A grab from footage showing Bidzina Ivanishvili and his wife Ekaterine Khvedelidze outside a polling station where Khvedelidze cast vote in the October 1 parliamentary election.
Bidzina Ivanishvili, leader of the opposition coalition Georgian Dream, said on October 1 that "today, for the first time in Georgia's history, the government will be replaced through the elections."
"For the first time in the history of Georgia, Georgian people manage to make genuinely democratic, close to democratic elections. I say it [close to democratic] because the authorities have committed a lot of violations; there was a huge violence before the day of elections. They probably will still manage to do something today. But the wisdom of the Georgian people, the huge historical experience of Georgian people helped to create conditions that will enable us to replace these authorities through the elections," Ivanishvili said.
He made these remarks outside a polling station in downtown Tbilisi where his wife cast her ballot.
Ivanishvili himself did not vote as he has refused to use a constitutional amendment, which was passed specifically for him allowing Georgian-born citizen of EU-member state to elect and be elected in Georgia's elections.
In separate remarks also made on October 1, Ivanishvili reiterated his expectation that his Georgian Dream coalition would gain at least two-third of parliamentary seats.
"We will receive no less than two-thirds of seats in the Parliament," he told journalists. "If elections are ideal – I don't have a hope that will be the case – there is a high probability that the [ruling United] National Movement party won't even enter into the Parliament. No one wants to even hear about them, I am sure even many of those, who are regarded as their team, will not vote for them."
This post is also available in: ქართული (Georgian) Русский (Russian)