News
Europol, Georgia Sign Cooperation Agreement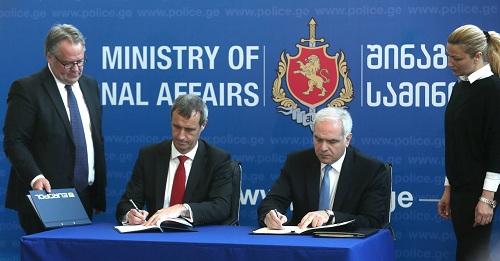 Europol Director Rob Wainwright and Interior Minister Giorgi Mghebrishvili sign cooperation agreement in Tbilisi, April 4, 2017. Photo: Government Administration
Georgian Interior Minister Giorgi Mghebrishvili and Europol Director Rob Wainwright signed an Agreement on Operational and Strategic Cooperation to expand cooperation in combatting terrorism, as well as serious and organized cross-border criminal activities, such as drug trafficking, organized property crime, cybercrime and migrant smuggling.
The agreement covers all areas of crime within Europol's mandate and allows for the exchange of information, including personal data of suspected criminals, and the joint planning of operational activities. As part of the document, Georgia will designate a national contact point to act to liaise between Europol and the law enforcement agencies of Georgia.
"This is a historic agreement, an important step forward for Georgia on its way to European integration. From today on, Georgia will become Europol's operational and strategic partner, which brings us to an entirely new level of cooperation with Europol … This means more security, more cooperation with European law enforcement agencies and more effective fight against transnational crime. This [also] means that we have become a member of the European family in the law enforcement field," Giorgi Mghebrishvili stated after the signing ceremony on April 4 in Tbilisi.
Europol's Director Rob Wainwright stated that "Europol is committed to strengthening cooperation with Georgia and recognizes that effective law enforcement cooperation is an important element of Georgia's deepening relationship with the EU."
The cooperation agreement between Georgia and Europol was approved by the Council of the European Union and backed by the European Parliament. The agreement will enter into force after ratification by the Parliament of Georgia.
Headquartered in The Hague, the Netherlands, Europol is the European Union's law enforcement agency, which assists the 28 EU Member States in their fight against serious international crime and terrorism.
The organization also partners with many non-EU partner states and international organizations. It runs Operational and Strategic Cooperation agreements with 16 countries around the world.
This post is also available in: ქართული (Georgian) Русский (Russian)