News
New Chairperson of CEC Appointed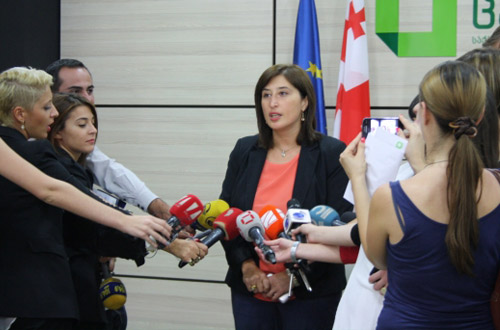 New chairperson of the Central Election Commission (CEC), Tamar Zhvania, speaks with journalists after being confirmed on the post on September 11. Photo: CEC
Tamar Zhvania, a former head of Tbilisi-based election watchdog group, has become new chairperson of the Central Election Commission (CEC) for a five-year term after enjoying endorsement from major political forces, as well as from civil society groups.
Zhvania was recommended for the position by a group of eleven civil society organizations, then nominated, together with two other candidates as envisaged by the law, by President Saakashvili and approved by Georgian Dream members of the CEC.
Tamar Zhvania was with Tbilisi-based election observer group International Society for Fair Elections and Democracy (ISFED) for seven years till 2007, working as its executive director in 2004-2007 before joining UNDP Tbilisi office as a manager of electoral assistance project. With a 13-year experience of working on electoral-related issues, Zhvania also served as election consultant and observer in Bangladesh, Ukraine and Kazakhstan.
"I want to tell the voters that we will be maximally transparent, professionals and we will be adhering law and of course we will be impartial… in order to secure holding of the best elections ever held in Georgia," Tamar Zhvania said after she was confirmed on the post
CEC chairperson's post became vacant after Zurab Kharatishvili filed resignation on August 12 to pursue career in politics.
After President Saakashvili nominated three candidates for CEC chair, including Tamar Zhvania, it was then up to the political party-appointed members of CEC, except of UNM-appointed member, to select one from the three candidates. All six Georgian Dream representatives in the CEC voted for Zhvania. The candidate required four votes for being confirmed on the post, otherwise the Parliament should have elected new CEC chair out of three candidates nominated by the President.
This post is also available in: ქართული (Georgian) Русский (Russian)