News
Two Clerics Charged over May 17 Violence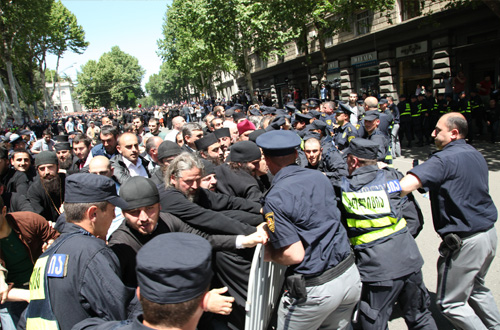 Anti-gay protesters, led by Orthodox priests, push their way through police cordons as they move towards the Freedom Square to thwart a rally marking the International Day Against Homophobia. Photo: Guram Muradov/Civil.ge
Criminal charges have been filed against two clerics of the Georgian Orthodox Church in connection to the May 17 violence when an attempted anti-homophobia rally was disrupted, the Interior Ministry said on Thursday.
The two clerics were charged without being arrested.
Archimandrite at the Holy Trinity Cathedral, Antimoz (Tamaz) Bichinashvili, and father superior at Ioane-Tornike Eristavi Monastery, Iotam (Irakli) Basilaia have been charged under the first part of article 161 of the criminal code, the Interior Ministry said.
The criminal charge involves illegally impeding right to assembly and demonstration with use of force or threat of force and carries either fine or one year of "corrective work" or imprisonment for two years.
"Investigation into the May 17 incident continues," the Interior Ministry said in its brief written announcement on its website.
One of the two clerics facing criminal charges, Antimoz Bichinashvili, is seen in one video footage from the May 17 developments, swearing and shouting as the crowd was moving violently towards the gay rights activists: "We will kill you."
Three young men and a 16-year-old boy were arrested by the police on May 19 and fined by the court on May 21 with GEL 100 each and released after they were found guilty of petty hooliganism during the May 17 developments.
This post is also available in: ქართული (Georgian) Русский (Russian)