News
Azerbaijani, Georgian, Turkish Defense Ministers Sign Cooperation Memorandum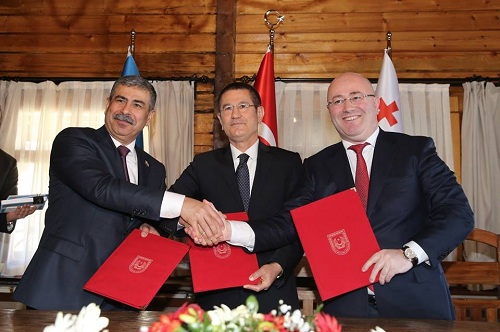 Zakir Hasanov, Nurettin Canikli and Levan Izoria, April 1, 2018. Photo: msb.gov.tr
Defense Ministers of Azerbaijan, Georgia and Turkey, Zakir Hasanov, Levan Izoria and Nurettin Canikli, respectively, held their sixth defense ministerial in the Turkish city of Giresun on April 1 and signed a memorandum that envisions closer trilateral defense partnership.
In a joint press briefing after the meeting, Georgian Defense Minister Levan Izoria praised the overall cooperation among the three countries as "exemplary," saying "every [regional] project, be energy-related, trade-related or other, largely depends on the level of our cooperation."
"Our cooperation has been growing progressively, increasing the need for intensifying it in the security field as well," Izoria also noted, stressing that the past year was "one of the most successful" in terms of defense cooperation, "especially with respect to joint military exercises."
"I am happy that we signed a memorandum that envisions enhanced cooperation formats and adequately reflects the [positive] dynamics that we have had for years and that will establish a solid ground for future advancement [of our trilateral partnership]," Minister Izoria added.
On the sidelines of the ministerial, Levan Izoria and Nurettin Canikli held a separate meeting as well, with the two defense ministers discussing bilateral defense cooperation and Georgia's NATO integration bid, according to the Georgian Defense Ministry.
The first meeting of defense ministers in the trilateral format was held in August, 2014 in Nakhchivan, Azerbaijan, where the sides agreed to hold the ministerial meetings on a regular basis. Foreign ministers of the three countries have also been gathering in the trilateral format since 2012.