News
Security Service Detains Five, Claims Chatayev Group Plotted Terrorist Attacks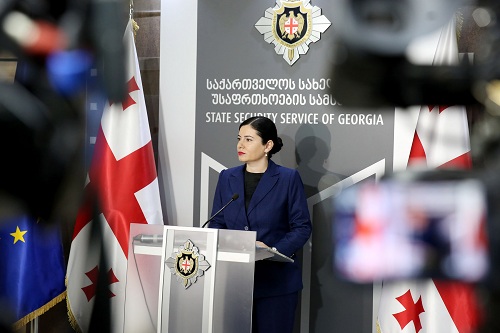 Nino Giorgobiani, spokesperson of the State Security Service, December 26, 2017. Photo: ssg.gov.ge
The Counter-terrorism Department detained five citizens of Georgia in a double operation in Tbilisi and Pankisi gorge of Akhmeta District, the State Security Service spokesperson, Nino Giorgobiani, said at her press briefing today.
According to the Security Service, Zurab Gornakashvili, Ruslan Aldamov, Ramaz Margoshvili, Badur Chophanashvili, and Temirlan Machalikashvili were arrested on charges of assisting the group of militants, who fought against the Georgian security forces on November 21-22 in Tbilisi.
The SSS representative added that one of the suspects – Temirlan Machalikashvili – was shot in the head and hospitalized following his failed attempt to activate a hand grenade against the counter-terrorism officers.
According to the State Security Service, the group members facilitated the transportation of Akhmed Chatayev, a senior ISIS member who was killed in the November 21-22 operation, and his accomplices in Turkey and assisted them in "illegally crossing" the Georgia-Turkey border in the Kirnati-Maradidi section in Adjara region.
The detainees facilitated the group members' transportation to Tbilisi and helped them in renting an apartment and in obtaining the arms, the SSS also reported. The weapons cache, Giorgobiani noted, was discovered through examination of mobile phone data, and the arms were seized "in a joint operation with [our] American colleagues."
The spokesperson also informed that the State Security Service verified the identity of the single detained member of Chatayev's group, and identified him as Shoaip Borziev (previously, the suspect was named by different initials – S.D.), a 23-year-old Russian citizen of Chechen origin as reported by Interpol's wanted persons list.
Two other deceased members of Ahmed Chatayev's group were identified as Ibragim Adashev and Aslambek Soltakhmadov. The former, Giorgobiani explained, visited Georgia in 2010-2012 "with various fake passports."
Giorgobiani spoke on the group's intentions as well, saying the examination of audio recordings from Ahmed Chatayev's computer and other electronic devices, exposed that Chatayev and his accomplices planned to carry out terrorist attacks against diplomatic missions in Georgia and Turkey.
The planning process, the SSS representative noted, was intercepted as a result of the November 21-22 operation.
Giorgobiani added that investigation against the five detained suspects was launched under Part 3 of Article 3311 of the Criminal Code of Georgia, involving funding and assisting terrorist activities, which is punishable by imprisonment for any term of not more than 20 years or less than 17 years, or by life imprisonment.
Investigation for identifying other individuals who might be linked to the criminal group continues, the spokesperson also noted.