News
Rustavi 2 Anchor Quits TV, Enters Mayoral Race in Tbilisi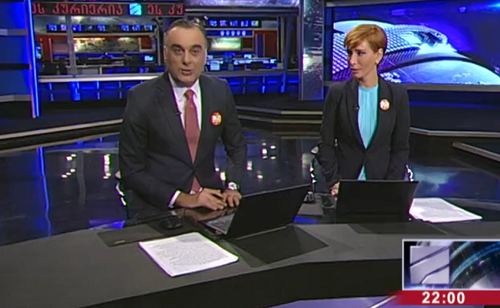 Zaal Udumashvili announces his decision to enter politics, June 19, 2017. Photo: Rustavi 2 TV
Zaal Udumashvili, long-time anchor and deputy director general of Rustavi 2 TV, announced on June 19 that he will enter the mayoral race in Tbilisi in October, 2017.
Speaking at the end of Kurieri, the television channel's main news program, Udumashvili said he was ending his 25-year-long television career to go into politics and "defeat [Bidzina] Ivanishvili's (former Prime Minister) corrupt and anti-democratic regime in the Tbilisi mayoral elections."
"The TV screen will no longer divide us from now on," Udumashvili told his viewers, pledging to maintain active communication "through direct engagement."
"As a journalist, for all these years, I have been your daily guest, informing you about current developments in the country. But now, I think that time has come when I should enter politics and make my contribution to the fight that will put an end to the total disorder and unilateral rule in the country," Udumashvili added.
The announcement comes two weeks after Udumashvili visited Kyiv, where he met with ex-President Mikheil Saakashvili and other representatives of the United National Movement. Udumashvili, however, did not specify in his June 19 statement whether he would run on UNM ticket or not.
This post is also available in: ქართული (Georgian)