News
Amendment in 'Liberty Charter' Confirmed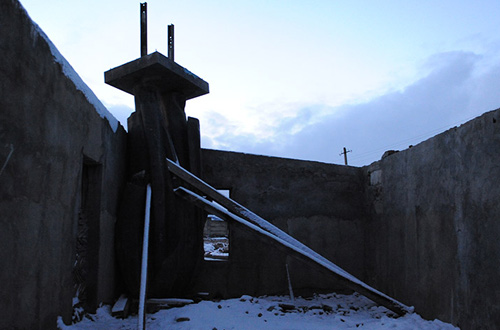 A large bronze statue of the Soviet dictator, which stood on the main square of his hometown of Gori for almost sixty years before it was removed in 2010, is now dumped outside the town, upside-down with its head in the ground; pillars keep it from falling down; December 9, 2013. Photo: Eana Korbezashvili/Civil.ge
Parliament adopted on December 25 with its third and final reading with 87 votes to 2 amendment to the Liberty Charter aimed at actual enforcement of measure to prevent public display of symbols of totalitarian communist regime.
The bill, according to one of its co-sponsors MP Levan Berdzenishvili from the Georgian Dream parliamentary majority group, was prompted by several cases of restoration of Stalin monuments in the provinces.
In May, 2011 the Georgian Parliament adopted Liberty Charter, which, among other issues, also envisages creation of a state commission at the Interior Ministry in charge of gathering information about existence of symbols, monuments, statues, inscriptions, names of streets or squares, reflecting or containing "elements of communist or fascist ideology and propaganda." This commission, however, has never been established.
The amendment, which will go into force after it is published in the state online registry of legal acts following a signature by the President, sets timeframe of two months within which the state commission, which will also include representatives from parliamentary factions, should be established.
According to the existing law the commission has the right to issue a non-binding "recommendation" in case it finds that a symbol violates provisions of this law. The amendment, after it is enacted, will make enforcement of commission's decisions legally binding. Failure to enforce the decision will result into "warning" and repeat failure will carry fine of GEL 1,000, according to the bill.
Photos: Stalin in His Hometown and Beyond
The bill was passed with the second reading on December 24 with 83 votes to 3. Three MPs who voted against were GD lawmakers: Soso Jachvliani, an actor; Gogi Kavtaradze, an actor and film director, and Gela Gelashvili, majoritarian MP from Signagi single-mandate constituency in the Kakheti region.
UNM lawmakers voted for this GD-proposed bill; but discussions on the proposal anyway caused debates during a parliamentary session on December 24 after UNM MP Giorgi Kandelaki accused GD activists of being behind those several cases when Stalin statues were re-erected in number of locations in the provinces. MP Kandelaki said that this bill itself reflects "certain friction" within the ruling GD coalition, claiming that those with negative stance towards Stalin are only in minority within the coalition. He also said that some of those who are now in the GD coalition were criticizing previous authorities' decision to remove a huge Stalin monument from the main square of the Soviet dictator's hometown of Gori in 2010.
GD lawmaker from the Republican Party, Davit Berdzenishvili, responded that criticism over removal of the Stalin monument was mainly in respect of the way it was done, which, he said, was not done in line with the law. He continued that getting rid of Stalin statues will now be done based on decisions endorsed by the Parliament "in the daylight, instead of in the dead of night and stealthily" as it was done in 2010.
"The end of the post-Soviet era in Georgia means that the country is getting free from Stalinism, totalitarianism, Bolshevism and their symbols and it is being provided by the law; it becomes part of the state policy," he said, adding that although the Liberty Charter was passed at the time when UNM was in government, "not a single step was made to actually enforce this law." He also criticized MP Kandelaki for bringing in "confrontational" tone in the discussion despite of the fact that UNM was supporting the bill and also for laying out his arguments based on, as he put it, inaccurate facts.
This post is also available in: ქართული (Georgian) Русский (Russian)