News
President Margvelashvili Concludes Baku Visit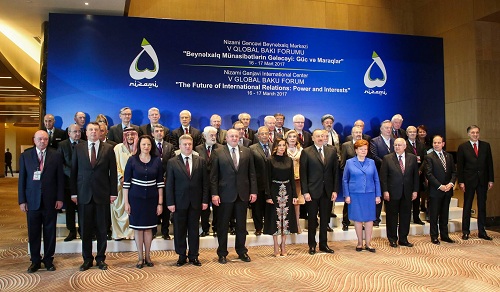 President Giorgi Margvelashvili at the Baku Global Forum (fifth from the left), March 16, 2017. Photo: Presidential Administration
Georgian President Giorgi Margvelashvili travelled to Baku on March 16 to participate in the fifth Baku Global Forum.
Hosted by President Ilham Aliyev and dubbed as "The Future of International Relations: Power and Interests," the two-day Forum gathered nearly 300 delegates from 53 countries, including several heads of state and politicians, as well as the international relations and security experts.
Following the official opening ceremony, the Forum featured a session on "The Future of Foreign Relations," with participation of a high level panel, including the Latvian President Raimonds Vējonis, Macedonian President Gjorge Ivanov, Albanian President Bujar Nishani, Montenegrin President Filip Vujanovic, Georgian President Giorgi Margvelashvili and Saudi Arabian Prince Turki Al-Faisal.
In his opening remarks at the session, President Margvelashvili emphasized that Georgia has been "an actor and a factor in global security and stability" for the last 25 years.
"Right now we are active in international missions in Afghanistan and Africa and we believe that contributing to this process makes Georgia more stable, but at the same time Georgia is an unfortunate example of hypocrisy of international relationships that is built around the concept of privileged interest areas," he stated.
"Georgia has been occupied by its neighboring, very strong nuclear country, Russia," he added.
"Georgia was occupied in 2008 by the regular Russian army, but Georgia has been occupied before with something that we [now] are calling hybrid war, in the beginning of 1990's, when we stated our independence … This is a fact that we all have to face and we have to acknowledge that facing this fact should bring us to clearer solutions and visions," Margvelashvili noted.
Margvelashvili noted that because Russia's actions in 2008 in Georgia were not met with "blunt" international reactions, six years later, a similar crisis emerged in Ukraine.
"We have to be very blunt and not hypocritical in condemning any type of aggression, being it from a strong neighbor, or relatively strong neighbor, or maybe just a strong party towards its neighbors and allies," President Margvelashvili noted.
In his remarks, the President also touched upon Moscow's decision to incorporate "the so called army of the occupied Tskhinvali region," saying that it represents "a mockery" of international relations.
On March 16, Margvelashvili also held a meeting with his Azerbaijani counterpart Ilham Aliyev. The two discussed the Georgian-Azerbaijani bilateral relations focusing particularly on projects related to energy security.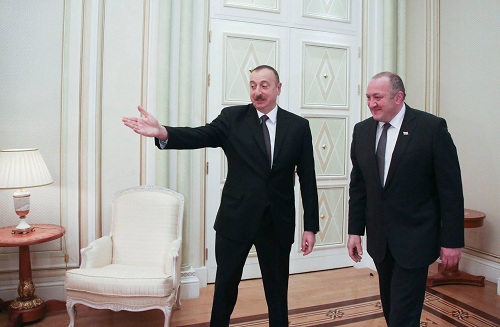 President Aliyev and President Margvelashvili, March 16, 2017. Photo: Presidential Administration
According to the Georgian President's administration, Margvelashvili emphasized that "as a consumer, as well as a reliable medium of transportation" of Azerbaijan's energy resources, Georgia is "highly interested" to further develop relations with Azerbaijan in the energy sector.
The conversation also touched upon the "Southern Gas Corridor" project, which, as President Margvelashvili noted, "plays a key role in strengthening security in the region, as well as in the entire Europe."
According to the President's administration, the parties also spoke on "the strong commercial and economic ties" between Georgia and Azerbaijan. President Margvelashvili pointed out that the potential for economic relations between the two countries "is not yet fully developed and opportunities exist for increasing the economic turnover."
The Azerbaijani President's administration reported in its press release of the meeting that Ilham Aliyev "praised close collaboration between the two countries and the high level of Azerbaijan-Georgia bilateral relations," which, in his words, plays "an important role in the region, and in general on the international arena."
On the sidelines of the Baku Global Forum, President Margvelashvili also met with the Albanian and Montenegrin Presidents.
This post is also available in: ქართული (Georgian) Русский (Russian)