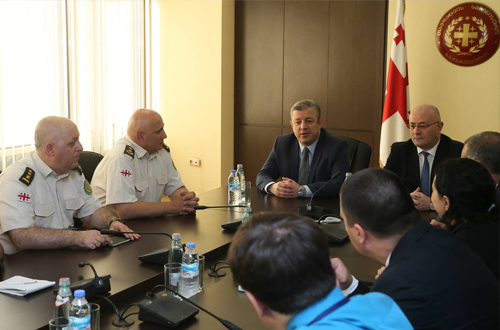 PM Giorgi Kvirikashvili (left) and newly appointed Defense Minister Levan Izoria (right) at a meeting with army top brass at the Ministry of Defense, August 2, 2016. Photo: PM's office
PM Giorgi Kvirikashvili presented newly appointed Defense Minister Levan Izoria to MoD and army top brass on August 2.
Izoria, 42, who served as Deputy Head of the State Security Service before becoming the fourth Defense Minister since the Georgian Dream came into government in late 2012, said that his priority will be to pursue "sober policy."
"First, it implies securing peace and security, and second – deterring threats and risks through sustainable development of our defense capabilities and integration to the Euro-Atlantic structures," Izoria said at a meeting with the army top brass at the Ministry of Defense.
"In the first component I of course mean securing peace internally, as well as our active participation in NATO Resolute Support [mission in Afghanistan] – we will pursue it with our strategic partner, the United States," he said.
"The second component – I see strengthening of our self-defense capabilities as deterrence to threats and risks. I mean that our policy will not contain threat towards anyone – it will only be directed towards strengthening of our self-defense capabilities, which we have been achieving for years already through the assistance from the NATO members and from the United States; this policy will continue," Izoria said.
He said that Georgia will be able "to bring to higher level strengthening of its self-defense capabilities" through a memorandum, which was signed with the United States on July 6, when U.S. Secretary of State John Kerry visited Tbilisi.

When presenting the new Defense Minister to the MoD and army top brass, PM Giorgi Kvirikashvili stressed on importance of keeping the Ministry of Defense "maximally distanced" from the political processes.
"Of course, those reforms, which have been implemented, are now underway and will continue to be implemented, are extremely important for our country's Euro-Atlantic integration and, as Levan [Izoria] has noted, the recent memorandum on military cooperation signed with the United States is an important cornerstone of our military reforms and strengthening of our self-defense capabilities," PM Kvirikashvili said.
"Personally I will do everything in order for the MoD not to be politicized. The MoD should be maximally distanced from any kind of political confrontation and in general political confrontation should be over in the country. For some reasons, some deemed my calls for ending political confrontation to be Bolshevism, but I think that all of you are sure that this is not the case. I want the country to calm down, to end polarization in the country and to maximally consolidate the society – that's my goal," he said.
"The Defense Ministry is an agency, where the unity of the country should be felt the most," the PM continued. "I am sure that batoni [a Georgian polite form of addressing a man] Levan will lead it with success; I have no doubt whatsoever about it. Of course, he will need our assistance and I am sure that we will together implement very important reforms in our defense system. I think, nobody doubts that the defense system needs strengthening and reforms."
Izoria, who was appointed as the Defense Minister on August 1, replaced Tina Khidasheli, a member of the Republican Party, who held the post since May, 2015.
Resignation of Khidasheli, as well of another Republican member of the cabinet, Paata Zakareishvili, who was replaced on the post of State Minister for Reconciliation by Ketevan Tsikhelashvili, marked the end of a coalition government between GDDG ruling party and the Republican Party.
Khidasheli criticized PM's decision to appoint Izoria, an official from the security apparatus, as head of the MoD as a "mistake".
"It is a wrong message to our partners abroad, as well as internally, when at first Irakli Alasania, a political figure, was replaced by a security official [Mindia Janelidze] as defense minister and then Khidasheli was replaced again by a security [official]… It indicates on a very negative trend," Khidasheli told journalists shortly after the new defense minister was appointed.
When Irakli Alasania resigned after his Free Democrats party quit the GD ruling coalition in 2014, he was replaced by secretary of the State Security and Crisis Management Council Mindia Janelidze; the latter was replaced on the Defense Minister's post by Khidasheli in May, 2015.
Parliament Speaker, Davit Usupashvili of the Republican Party and husband of Khidasheli, also criticized Izoria's appointment as the Defense Minister for the same reason, citing by the ex-Defense Minister.

Commenting on this criticism, PM Kvirikashvili told journalists on August 2 that remarks by Khidasheli and Usupashvili were very irrelevant and added that their reaction would be different after they "overcome emotions."
Izoria was the Deputy Head of the State Security Service since August, 2015, when the security and intelligence agencies were separated from the Interior Ministry.
Before that he served as Deputy Interior Minister. Izoria was with the Free Democrats party, but when the party quit the Georgian Dream coalition in November, 2014 and some of its leaders resigned from cabinet posts – including Defense Minister Irakli Alasania, Foreign Minister Maia Panjikidze and State Minister for Euro-Atlantic Integration Alexi Petriashvili, Izoria opted to quit the FD party and to remain in the government.
He served as rector of the Police Academy in 2004-2006. Before becoming the Deputy Interior Minister in late 2012, Izoria, who graduated as a doctor of law from University of Göttingen in 2002, had mostly academic career.
This post is also available in: ქართული (Georgian) Русский (Russian)